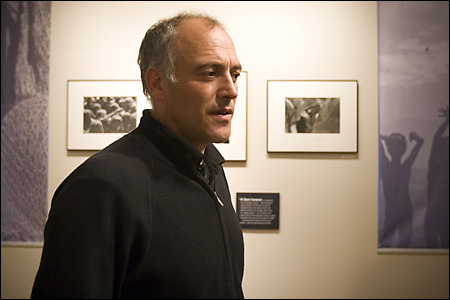 As a young photojournalist in South Africa in the 1980s, Guy Tillim found that photography could be a way of bridging the racial gap that apartheid had imposed on his society.
"A camera was the perfect tool to cross those boundaries, to see what was going on in my own country."
Working for both local and foreign media, Tillim produced a powerful body of work and won a number of important awards for his documentation of social conflict and inequality in the countries of Africa. He has exhibited his photos in more than a dozen countries and has published in numerous volumes and journals.
Tillim's powerful images and his commitment to using photography as a way of exploring the human condition so impressed members of a search committee representing the Peabody Museum of Archaeology and Ethnology that they chose him as the first recipient of the Robert Gardner Fellowship in Photography.
Endowed by filmmaker and photographer Robert Gardner, founder and former director of the Harvard Film Archive, the fellowship will be awarded to an established practitioner of the photographic arts whose work focuses on human society. The fellowship provides a stipend of $50,000, plus additional funding for travel and equipment, allowing the recipient to spend a year pursuing a project of his or her choice, which will later form the basis of a book of photographs to be published by the Peabody Museum.
"I think that making art is a way of making sense of the world, of revealing things and providing knowledge," said Gardner. "I'm convinced that nice things will happen as a result of this fellowship, especially with someone as gifted as Guy Tillim."
According to William Fash, Peabody Museum director and Bowditch Professor of Central American and Mexican Archaeology and Ethnology, Tillim was selected from a group of five finalists, each of whom presented an extremely strong body of work.
"Guy's work had great impact," Fash said. "And he seems to have a knack for getting into the most compelling places at just the right time."
Tillim plans to use the fellowship to conduct photographic explorations in Nigeria and Angola.
"This is an amazing opportunity," Tillim said. "It gives me the opportunity to think about my work and to narrow down the options."
Tillim said that his approach to photography has changed over the years and that he now sees himself as more of a documentary photographer than a news photographer.
"A news photographer thrusts an image in your face and says, look how different this is from your world. A documentary photographer shows you an image and says, look how much the same this is. I like to show similarities between people. I think that's a worthwhile thing to do."