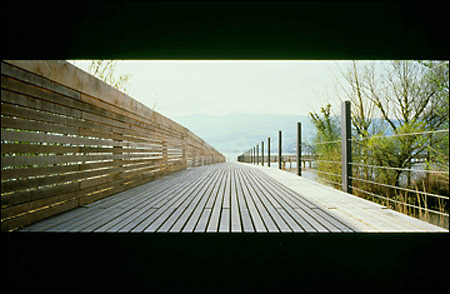 The hills, alas, are alive with the rumble of bulldozers and dump trucks.
While the Swiss Alps may conjure up in Americans idyllic visions of Julie Andrews frolicking on a grassy hillside, a group of Swiss landscape architects recently brought to Harvard cautionary tales of their design battles against the ugly sprawl threatening to overrun parts of the iconic countryside.
"The banality of the Swiss periphery is all too real to avoid asking ourselves fundamental questions about its identity and sustainability," said Christophe Girot, chair of the Institute for Landscape Architecture at Eldgenössische Technische Hochschule (ETH), the Swiss science and technology institute.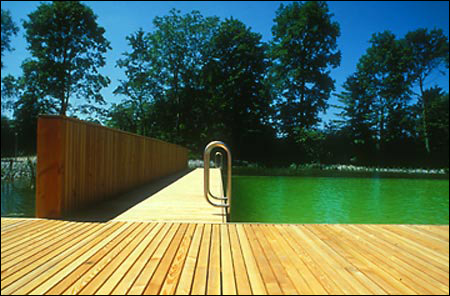 Girot was one of several prominent architects and art historians visiting from Switzerland who spoke at the Harvard Graduate School of Design's "Constructing the Swiss Landscape" symposium Dec. 1 and 2. In his "Landscapes of the Periphery" lecture Saturday afternoon, Girot told a large audience in Gund Hall's Piper Auditorium of a literally alien landscape soon to rise on the outskirts of the lakeside town Lagano – a terrain better suited to Neil Armstrong than Julie Andrews.
"The Swiss are reproducing the moon right by one of the most picturesque towns in the south of Switzerland," joked Girot.

Some 141 million cubic feet of ground-up rock dust excavated for a high-speed train tunnel through the Alps will be heaped up into a gray, roughly pyramid-shaped mound nearly 500 feet tall atop what is now a wooded valley, he said.
Girot was called in by Swiss project managers to act as a sort of buffer between indignant ecologists and narrowly focused engineers, who "were going at each other's throats."
The ambitious Alp Transit rail system eventually will link Milan and Zurich with high-speed trains running along a straight and flat course bored through the mountains in a series of tunnels of up to 50 miles long.
---
'Constructing the Landscape,' Graduate School of Design, Gund Gallery, 48 Quincy St., through Jan. 15. Hours 9 a.m. to 5 p.m. daily.
'From Jean-Jacques Rousseau to Studio Basel, Switzerland has been described as a thoroughly urbanized nation. This exhibition takes a different tack, examining Switzerland as a landscape – a landscape of mountains and lakes, agglomeration and infrastructure, and design interventions large and small.'
-Dorothée Imbert,
associate professor of landscape architecture,
Harvard Graduate School of Design
---
The problem, Girot said, is that the excavated rock powder, much of which has been pulverized to the consistency of flower, is so alkaline not even the Dutch wanted it as fill against the encroaching sea. So the material instead will be piled and compacted into the Sigirino Mound, a manmade feature Girot dubbed a "real fake mountain."
"What does it mean to put a piece of the moon in such a picturesque landscape?" Girot wondered, explaining that his job was to help make the project more palatable to townspeople and ecologists.
"Ecologists were saying, 'You have to repair the odious crime you've committed. We want to get topsoil from an agricultural field and glue it on this hill. We want to replant all the poor chestnut trees that have been murdered,' " he recalled.
But that approach makes no sense to Girot, who notes the topsoil would likely wash into the valley within a few weeks in that famously wet region of Switzerland.
Instead, Girot broached the at-first sacrilegious questions: "Could this thing be nice? Could it have a shape? Could it be visited by people? Could it become a place of interest?"
"There is something totally irresponsible about this ecologist stand saying let's reproduce a valley condition on a hillock," Girot argued.
In the end, he convinced ecologists and project engineers to replace a planned truck road that looped gratuitously back and forth around the mound with a Z-shaped roadway spanning the entire slope face. A narrow corridor of vegetation alongside the zigzagging road will connect forested areas on either side of the artificial hill to allow animals to safely cross its barren face.
Rather than trying to graft a forest onto a "moonscape," Girot's plan envisions a rugged, rocky landscape softened eventually by scrub brush and a few hardy trees. In essence, his vision calls for the Swiss to embrace the mound for what it is rather that trying to artificially re-create the original landscape buried deep beneath it.
The Sigirino Mound will rise slowly as the nearby tunnel is excavated, with completion expected sometime between 2015 and 2018.
In the meantime, the Swiss will continue to grapple with collisions between development and pristine Alpine landscapes.
Several speakers at the two-day symposium, which is complemented by an exhibit in the lobby of Gund Hall though Jan. 15, probed innovative design approaches to avoid sprawl and smooth the interfaces between nature and built-up areas.
"The Swiss landscape structure as such has been unable to resist the forces of global replication and banality," Girot warned. "There is therefore a real, or urgent, need to work, to look, to analyze and to design landscapes at an entirely different level than the garden."