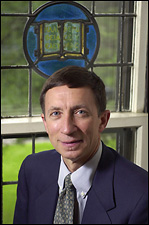 You might think Harvard University has already mastered Islamic studies. It has offered courses in Arabic and in the history of the Ottoman Empire since the 19th century. Its endowed chair in Arabic has been in place for nearly 100 years.
Harvard has had chairs in Islamic art and architecture for decades, and extensive collections of Islamic art and artifacts for much longer. Academically, Harvard has one of the English-speaking world's best collections of experts in Islamic tradition.
But a $20 million gift to establish a formal Islamic studies program has Harvard looking inward, testing itself for strengths and weaknesses. What gaps would a new program have to fill?
A faculty roundtable on Dec. 8 took a two-hour look at that question. There was no consensus, but plenty of advice. Included: Harvard needs more scholars of modern Islam, a wider range of survey offerings for undergraduates, an expanded program in Arabic, more doctoral fellowships, a stronger program for visiting scholars, and an Islamic studies program that is interdisciplinary and comparative.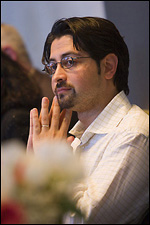 That last view was widely shared. The world's great religions represent a complex of interlocking traditions, and none can be understood without understanding the others.
"I'd like to see a study of the links … of the shared values," said roundtable member Christopher Jones, George Martin Lane Professor of the Classics and of History. Any new program, he said, "should foster the study of what we all share, not what makes us different."
Islamic studies should ground students in history and language – but allow them to be conversant with other disciplines and religions and cultural traditions," said William A. Graham, dean of Harvard Divinity School.
"Meaning is contextual," agreed Roy P. Mottahedeh, Gurney Professor of History. "We need these contexts."
In July, Mottahedeh was appointed inaugural director of the new Prince Alwaleed Bin Talal Islamic Studies Program at Harvard.
An inventory of Harvard offerings found 17 degree programs related to Islamic studies and many courses. In an Internet search of current Harvard courses, 107 contained the word "Islam."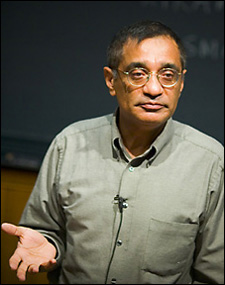 Harvard's Islamic studies program will fund four endowed chairs (a search is under way for the first); four graduate fellowships (two are already in place); research facilities; a library portal to make rare Islamic texts and maps available online; and a Web site (up by the end of the year, at http://www.islamicstudies.harvard.edu).
In the meantime, cautions and hopes arose from the roundtable, held in the Barker Center's Kresge Room.
"We want to think together in as plural a way as possible," said moderator and acting Dean for the Humanities Diana Sorensen, James F. Rothenberg Professor of Romance Languages and Literatures, and professor of comparative literature.
Harvard "lacks a sufficient coverage of modern Islam," said Wolfhart P. Heinrichs, James Richard Jewett Professor of Arabic, Department of Near Eastern Languages and Civilizations. That includes gaps in coverage of geographical areas with wide Islamic influence, including Indonesia, China, and Central Asia.
A chair in his department might start to cover those needs, said Heinrichs hopefully. He is one of six members of a 2006-09 steering committee named to guide the new program into place.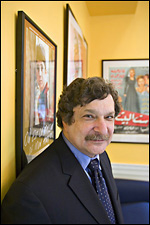 Another steering committee member, Ali S. Asani, professor of the practice of Indo-Muslim languages and cultures, strongly advised that the new program establish a core of undergraduate courses to dispel what he called the "cultural illiteracy" regarding Islam.
"For me, this is the issue of our time," he said, describing a popular view of competing religions that is not a "clash of worlds," but a "clash of ignorances."
"A lot of people in the world see [Islam] in a very polarized way," said Asani, who has taught core and general education courses on the subject. "They pick up these things and bring them into the classroom. They have to unlearn before they relearn."
Creating a new generation of scholars of Islam also means finding a way to blend the study of texts with the study of practices. "There's a methodology here to find out," said Jocelyne Cesari, a visiting associate professor of Islamic studies and a research associate in Harvard's Center for Middle Eastern Studies. She teaches courses on Islam at Harvard Divinity School.
Harvard needs more Arabic language scholars and more of the "intellectual components" required to expand the study of Arabic beyond the language into the range of cultures the language inhabits, said William Granara. He directs the Arabic language program at Harvard, where 260 students are enrolled this year.
Expand Islamic studies to include the whole geographical and cultural reach of modern Islam, said historian Marwa Elshakry, Joy Foundation Fellow at Radcliffe. That means more scholarly investigations of Southeast Asia, China, Russia, and the Caucasus of Eurasia, she said.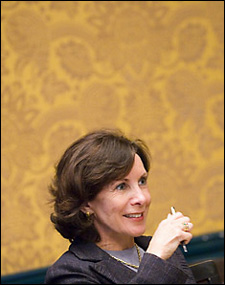 "We need a really transnational conversation going on," agreed Steve Caton, professor of contemporary Arab studies and director of Harvard's Center for Middle Eastern Studies.
Any conversation about the new program has to be grounded in two realities that may seem obvious, said Shahab Ahmed, an assistant professor of Islamic studies in the Department of Near Eastern Languages and Civilizations. One, that Islam existed before the Sept. 11 attacks. And two, that studying Islam means studying "one-fifth of the planet."
In a post-9/11 world, Islamic studies should never be "the study of a problem" and become, as Soviet studies did, "threat studies," said Ahmed.
And in a world where Muslim culture has spread to every continent, he said, "the study of Islam … is no longer the study of a distant object."
Islamic studies is "a field of the future," said Ahmed, and not the study of a marginal culture with nothing to teach the West. "This should not be the study of foreign cultures," he said, "but the study of human cultures."
After the meeting, Mottahedeh said Harvard's Islamic studies program would be the subject of a spring 2007 faculty seminar.
The University-wide Islamic Studies program at Harvard is made possible by a gift from Prince Alwaleed Bin Talal Bin Abdulaziz Alsaud, of Riyadh, Saudi Arabia.
In a statement last year, when the gift to Harvard was announced, Prince Alwaleed said, "Bridging the understanding between East and West is important for peace and tolerance."
As of December, Alwaleed has donated $105 million to eight universities and two medical schools in the United States, England, and the Middle East. The other U.S. recipients are Georgetown and Cornell universities.