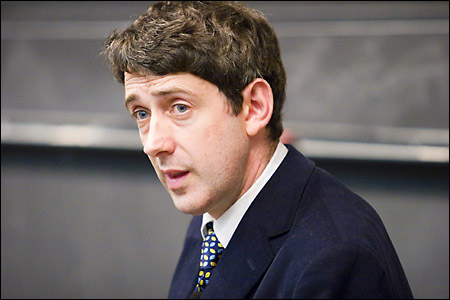 Peace in Sudan's troubled Darfur region depends on rebel groups getting stronger, not weaker, and negotiating a lasting settlement with the African nation's government, experts on the situation said Wednesday (Nov. 29).
A trio of experts on the humanitarian crisis dragging on in Darfur agreed that part of the difficulty in settling the problem stems from the fact that there are several rebel groups operating in the region that have so far been unable to present a united voice to either the Sudanese government or to international players trying to bring the conflict to a peaceful settlement.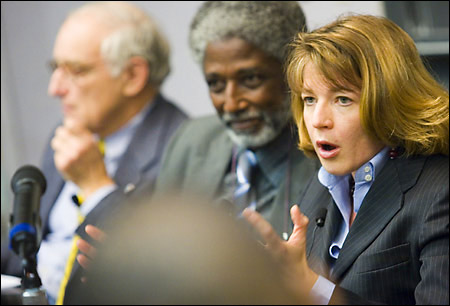 "I do believe that there's hope," said Mudawi Ibrahim Adam, chair of the Sudan Social Development Organization, a nonprofit dedicated to improving human rights in Sudan. "We have a fragmented rebel movement on the ground that is our only hope, our only leverage against the Sudan government."
Mudawi joined Alex de Waal, research associate at the Asia Center's Global Equity Initiative, and Lauren Landis, senior representative to Sudan for the U.S. State Department's Sudan Programs Group, in a discussion moderated by Robert Rotberg, director of the Program on Intrastate Conflict and Conflict Resolution.
The event, held at the John F. Kennedy School of Government's Wiener Auditorium, was part of a yearlong series sponsored by the University Committee on Human Rights Studies on the continuing conflict in Darfur. Jacqueline Bhabha, the committee's executive director, said the series is intended to educate those interested in the problems in Darfur and, hopefully, to get people to join the effort to resolve them.
"I hope those of you not already involved will find a way to become involved," Bhabha said.
Rotberg introduced the current situation in Darfur with the somewhat gloomy assessment that it is, in essence, more of the same.
"I think we all will agree that the killing fields of Darfur are spreading. The massive loss of life continues," Rotberg said, citing a list of violent attacks, whether by men on camelback or by more modern methods such as bombs and helicopter gunships.
Panelists agreed that there is little in Darfur that is simple. The rebel groups operating there, Mudawi said, have been fighting against various enemies since the 1970s. Though it may be in their best interests to do so, the on-the-ground leaders of these groups haven't come together to speak with one voice.
The three also agreed that the failure of peacekeeping efforts so far has as much to do with the political constraints put on African Union peacekeepers as it does with size of the force, just 7,000 soldiers strong.
African Union troops must ask the Sudanese government permission to conduct night patrols, for example. If used more efficiently, Landis said, even a modest force such as this could have a greater impact.
A key missing ingredient in the peacekeeping effort, Mudawi said, is political officers to interact with the local community, identify key leaders, community goals, and problems. Instead of the hundreds, or even thousands, of these officials needed, he said, the current force has only two. De Waal agreed, saying that nine-tenths of the problems facing people in Darfur can be solved by the people themselves, if given the chance.
One thing not on the table, Landis said, is an escalation in armed intervention by the United States, or any unilateral U.S. action at all. Landis said that American policy is to work with international partners to reach an acceptable peace settlement for the region.
"We've learned again and again that you don't go to the dance alone and you don't dance without a partner," Landis said. "We don't do these things unilaterally. We in the U.S. government can come up with plan after plan, but it's not important if they're not coordinated with members of the international community."
Landis added there's little appetite for drastic measures such as establishing a no-fly zone over Darfur or blockading Sudanese ports to stop military equipment coming in, both of which she said amount to acts of war. Further, she said, get-tough measures are generally ineffective, because the Khartoum government gets what it needs from China.
Though the path ahead seems clear – a ceasefire, a credible peacekeeping force, and a political process that results in a lasting solution – Landis acknowledged those are easier said than done.
"The goals are very, very clear. We need to protect civilians and stop the killing," Landis said.
Despite the urgent need for action, however, those seeking peace in Darfur need to be patient, de Waal said, because rushing the process will result in an accord that will ultimately fail.
"You have to be persistent and a little bit patient. If you try to shortcut the process, you will wind up two and a half years down the road exactly where you are now," de Waal said.
De Waal said it's important that all groups are brought into the talks, including armed Arab groups not part of the violent Janjaweed that has been attacking civilians.
"In Sudan, you just have to keep on trying. Of every 10 attempts, nine fail, but it's the tenth one that keeps you trying," de Waal said.
Related links: