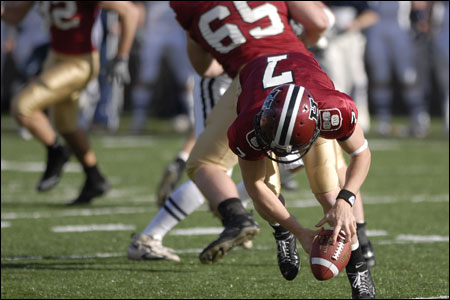 A sharp Yale football team took advantage of seven costly Crimson penalties and five turnovers (three fumbles and a pair of interceptions) to overwhelm the hosts, 34-13, in the 123rd playing of The Game Saturday afternoon (Nov. 18) at Harvard Stadium. The Bulldog defense limited league-leading rusher Clifton Dawson '07 to 60 yards and a touchdown, while giving up just 64 net yards rushing.
After a pass interference call against Harvard advanced Yale to the Crimson 17-yard line, the visitors put together a five-play scoring drive to get onboard first at the six-minute mark of the first quarter. Tailback Mike McLeod capped the drive with a 1-yard dash into the end zone. The score marked McLeod's first of three touchdowns.
Harvard earned the equalizer in the early going of the second stanza, after Dawson took a handoff from quarterback Liam O'Hagan '08 and leapt high over the Bulldog defense from the 1-yard line. Yale responded two minutes later when McLeod scored on a 4-yard run to hand Yale a 14-7 edge (following the extra point). The Bulldogs proceeded to tack on a pair of field goals to close out the half with a 20-7 advantage.
Following a scoreless third quarter, things continued to go Yale's way throughout the final stanza. Forced to punt on fourth down, Harvard's Matt Schindel '08 – deep in the Crimson's own end zone – made the best of a bad snap with a quick, awkward kick that sailed out of bounds at the Yale eight. The Bulldogs capitalized on the very next play when McLeod carried the ball eight yards on an outside route for another Yale score. A little over a minute later, Yale safety Steve Santoro returned a Crimson fumble for 38 yards to further increase the lead, 34-7 (following the extra point).
Harvard, which drops to 7-3 overall (4-3 Ivy) with the loss, tacked on a TD at 11:07 when second string QB Chris Pizzotti '08 connected with wide receiver Corey Mazza '07 from 26 yards out to set up the 34-13 final. Yale (8-2 overall; 6-1 Ivy), meanwhile, grabs a share of the league title with Princeton (9-1 overall; 6-1 Ivy), who out-handled Dartmouth on Saturday, 27-17.