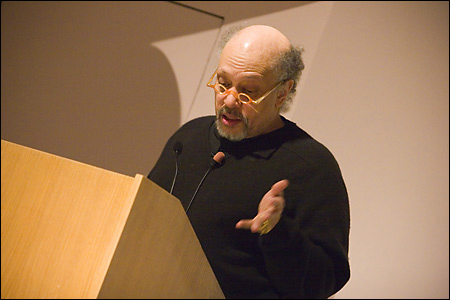 In a series of three talks last week (Oct. 24-26), novelist Walter Mosley explored the themes of redemption, forgiveness, and identity through his character, street philosopher Socrates Fortlow. The occasion was the annual Alain LeRoy Locke Lectures.
Socrates, or "Soco," is a rapist and murderer. On the surface, he would appear to be a monster. However, he is also a vitally introspective man consumed with self-loathing as well as an urgency to find a way to forgive himself. It is this ongoing internal struggle that propels him to help those around him and create a community among the drug addicts, vagrants, and ex-cons who enter his life.
"The stories are about the development of an inner-city school of thought that can rise to respond to major issues plaguing us around the world.  These stories are at once political, personal, and philosophical," said the author.
Mosley is the author of 25 critically acclaimed books that have been translated into 21 languages. His work spans a wide variety of genres including mystery series, science fiction books, political philosophy, books for young adults, and literary novels. He has served on the board of directors of the National Book Awards and is the past president of the Mystery Writers of America. Presently, he is on the boards of the Full Frame Documentary Film Festival, the Poetry Society of America, and TransAfrica.
The Alain LeRoy Locke Lectures are named after the "godfather of the Harlem Renaissance" Alain LeRoy Locke (1886–1954). The lectures honor the memory and contributions of this noted Harvard scholar.