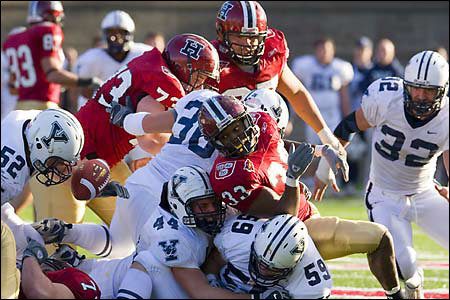 So thoroughly convincing was the Yale football team's owning of the 123rd annual showdown with the Crimson gridironers this past Nov. 18 at Harvard Stadium, it seemed as if the visiting Bulldogs had packed years of frustration into a single afternoon. Yale's five-year drought against the Crimson may very well have fueled their 34-13 winning performance.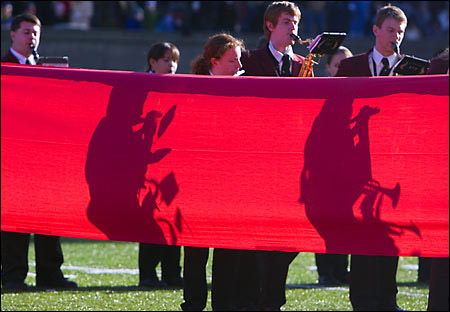 Looking sharp through four quarters, the Bulldogs took advantage of seven costly Crimson penalties and four turnovers (three fumbles and an interception) to overwhelm their hosts in front of a stadium crowd of 30,723. Most remarkably, the Bulldog defense limited league-leading rusher Clifton Dawson '07 to a touchdown and 60 yards – less than half of the senior tailback's average output against the New Haven team over the past three seasons.
A pass interference call against Harvard proved costly early on, advancing Yale to the Crimson 17-yard line to help the visitors put together a five-play scoring drive at the six-minute mark of the first quarter. Tailback Mike McLeod capped the drive with a 1-yard dash into the end zone. The score marked McLeod's first of three touchdowns.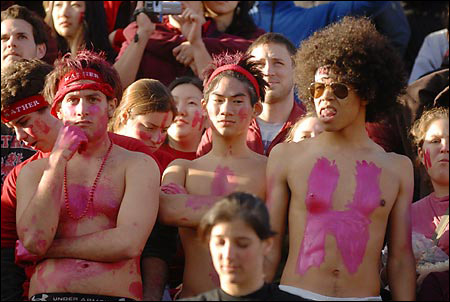 Harvard earned the equalizer in the opening minutes of the second stanza, after Dawson took a handoff from quarterback Liam O'Hagan '08 and leapt high over the Bulldog defense from the 1-yard line. Yale responded two minutes later when McLeod scored on a 4-yard run to hand Yale a 14-7 edge (following the extra point). The Bulldogs proceeded to tack on a pair of field goals to close out the half with a 20-7 advantage.
Following a scoreless third quarter, things continued to go Yale's way throughout the final stanza. Forced to punt on fourth down, Harvard's Matt Schindel '08 – deep in the Crimson's own end zone – got off a quick, awkward kick that sailed out of bounds at the Yale eight. The Bulldogs capitalized on the very next play when McLeod carried the ball 8 yards on an outside route for another Yale score. A little over a minute later, Yale safety Steve Santoro returned a Crimson fumble for 38 yards to further increase the lead, 34-7 (following the extra point).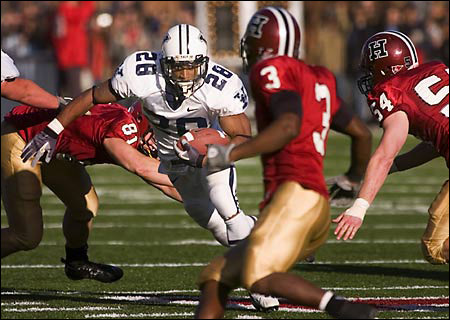 Harvard, which drops to 7-3 overall (4-3 Ivy) with the loss, tacked on a TD at 11:07 when second string QB Chris Pizzotti '08 connected with wide receiver Corey Mazza '07 from 26 yards out to set up the 34-13 final. Yale (8-2 overall; 6-1 Ivy), meanwhile, grabs a share of the league title with Princeton (9-1 overall; 6-1 Ivy), who outhandled Dartmouth on Saturday, 27-17. Yale now owns a 65-50-8 series advantage.
In more uplifting news, coach Tim Murphy was recently reappointed as the Thomas Stephenson Family Head Coach for Harvard Football through the 2011 season. Murphy, who succeeded Joe Restic in December 1993, has registered an 80-49 all-time record with the Crimson. Under his tutelage, the Crimson have captured Ivy titles in 1997, 2001, and 2004.
Lastly, the league recently selected six Harvard players to this year's first-team All-Ivy squad. Making the cut: defensive tackle Michael Berg '07; wide receiver Corey Mazza (who averaged a league-best 17.6 yards per reception); first-time pick Frank Fernandez '07 at center; linebacker Ryan Tully '07; cornerback Andrew Berry '09; and that kid Dawson. A unanimous selection, Dawson becomes the first offensive player in league history named to the first team for four straight seasons. For more on the Crimson selections, visit http://www.gocrimson.com.