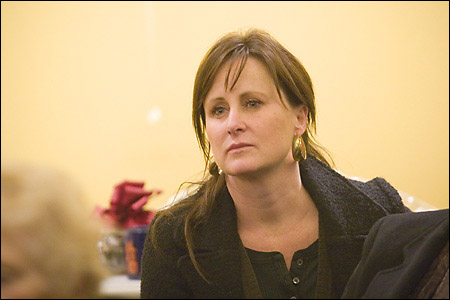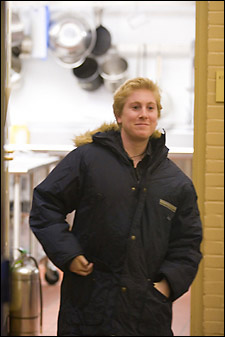 Kelly Stone, co-founder with her sister, actress Sharon Stone, of the philanthropic agency Planet Hope, visited Harvard last week as a guest of the Harvard Foundation and the Harvard public service organization Phillips Brooks House Association.
On Friday (Nov. 2), Stone and her team from Planet Hope donated more than 150 coats to the Harvard Square Homeless Shelter. Harvard undergraduates will distribute these coats to shelter guests in need of warm clothing during the upcoming winter months.
On Saturday morning (Nov. 4) Stone and her team donated new shoes to more than 250 children living in the Newtowne Court Housing Development. Cambridge Mayor Kenneth E. Reeves presented Stone with a key to the city. These children will also receive books donated by the University's Office of Government and Community Affairs.
Stone, who visited Harvard last year when her sister received the Harvard Foundation Humanitarian Award for her work with the American Foundation for AIDS Research, became interested in the community outreach programs of the Harvard Foundation and Philips Brooks House Association, and offered to bring Planet Hope's national program to the Cambridge community.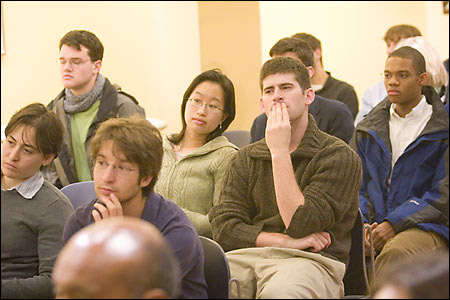 S. Allen Counter, director of the Harvard Foundation, and Gene Corbin, director of the Phillips Brooks House Association, welcomed her offer and arranged for the distribution of clothes, shoes, and books to families in Cambridge.
"We are delighted to welcome Kelly Stone back to Harvard to conduct this charitable initiative with Harvard College students," said Counter. "Through her national philanthropic work she has given hope and inspiration to many families in need."