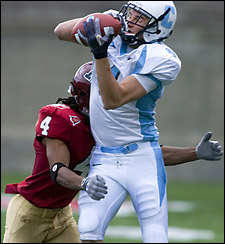 Committing 14 penalties for a loss of nearly 100 yards against a team playing their best football of the season is hardly a formula for success. Luckily for the only recently careless Crimson, the team's defensive corps stuck to the script – shut down the running game – with spectacular results. And for that (along with four forced fumbles), the Crimson got away with a 24-7 victory against visiting Columbia this past Saturday (Nov. 4) at the stadium.
All told, the Division I-AA league-leading Harvard defense (tops in rushing defense, sacks, and tackles for a loss) held the Lions to negative 14 yards rushing, while collecting four sacks for a loss of 28 yards and the aforementioned fumbles. Such stingy play went a long way in balancing out Columbia's deft aerial display. The Lions amassed 320 net yards passing: 45 yards shy of Harvard's total offensive output on the afternoon.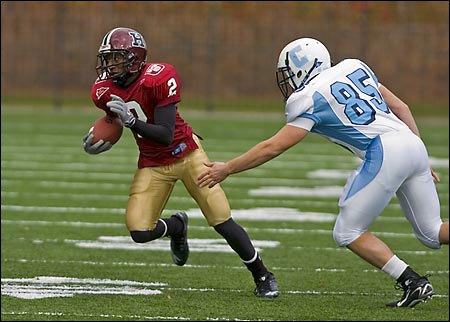 Columbia got on board first with just over three minutes remaining in the opening quarter when quarterback Craig Hormann connected with a lone Lion receiver in the end zone for a 22-yard reception. In the early going of the second stanza, Harvard scored the equalizer after senior tailback Clifton Dawson's three-play drive culminated in a 9-yard touchdown run. With 1:32 remaining in the half, the Crimson tallied the go-ahead touchdown when junior play-caller Liam O'Hagan spotted senior Corey Mazza for a 29-yard touchdown pass.
Up 14-7 in the new half, the Crimson quickly capitalized on a forced fumble and recovery (by sophomores Eric Schultz and Carl Ehrlich, respectively). On the Harvard 12-yard line following a six-play, 34-yard drive, Dawson wove through a series of Lion defenders and into the end zone to extend the home team's advantage, 21-7 (following the extra point). Dawson's second TD of the day bumped up his previously broken league mark for rushing touchdowns (now 59). On the subject of records, Matt Schindel's 36-yard field goal at 12:52 of the final quarter (which set up the 24-7 final), marked the junior's 28th career FG – bettering the Crimson program's previous best of 27.
Harvard improves to 7-1 overall (4-1 Ivy) with the win and are assured of at least a share of the league title if they can defeat host Penn (Nov. 11) and a traveling Yale team (Nov. 18). For the latest scores and updates, visit http://www.gocrimson.com.