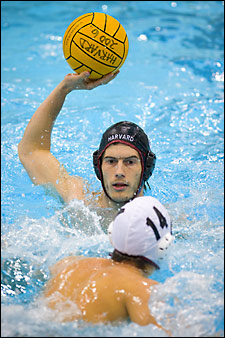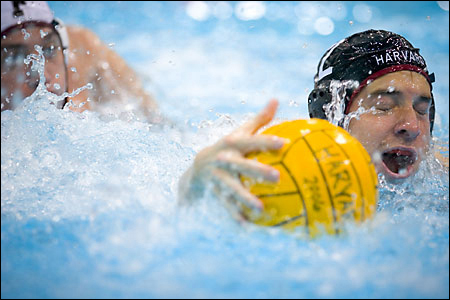 From the looks of Brown's dominating 9-4 win in the first day of action at this past weekend's Northern Championships (Oct. 28-29) at Blodgett Pool, it appears the Bears were taking no chances against the host water polo club. It was the Crimson, after all, who edged Brown, 8-7, with 54 seconds remaining in triple overtime the previous week.
The Crimson still managed a mini-winning record over the weekend, however, upsetting MIT, 11-8, in the quarterfinals the very next afternoon (Oct. 29). The win – Harvard's second of the tourney following the home squad's 8-5 besting of Fordham on Saturday (Oct. 28) – secured for the hosts a third-place showing among the eight schools. St. Francis College came out on top, while Brown, victims of a 22-6 thrashing at the hands of St. Francis, took second.
Harvard's three-goal edging of the Engineers was due largely to a four-goal spurt in the third quarter to break open a 4-4 stalemate. Each of Harvard's four seniors tallied scores in the win, including Michael Garcia, who scored his seventh hat trick of the season against MIT.
Harvard's water boys next travel to Princeton for the Eastern Champs (Nov. 11-12).