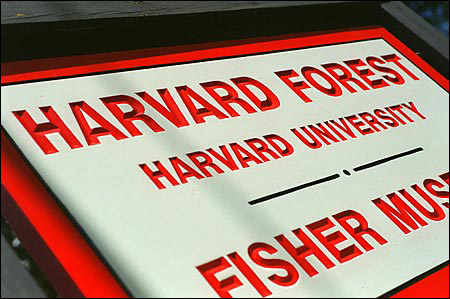 Harvard Forest's "Wildlands and Woodlands" proposal to conserve roughly half of Massachusetts as protected lands has received a boost from a new report detailing seven strategies to finance the ambitious proposal.
The report emerged from an April conference of 40 conservation finance experts from across the nation, hosted by Harvard University's Center for the Environment and supported by the Ash Institute for Democratic Governance and Innovation at Harvard's Kennedy School of Government. Those experts recommended funding forest protection through a mix of conventional financing tools, such as bonds and tax incentives, and innovative mechanisms such as payments for ecosystem services and regulatory reform to facilitate smart growth.
---
'Wildlands and Woodlands' reports
---
The new report's authors are James N. Levitt, director of the Harvard Forest's Program on Conservation Innovation, and Kathleen Fallon Lambert, president of Ecologic, an environmental consulting firm in Woodstock, Vt.
"Massachusetts is emerging as a leader in weaving back together the fragmented landscape of the Eastern U.S.," Levitt says. "As home to the nation's first public park and first private land trust, Massachusetts has a long history in conservation innovation. That tradition continues today with the application of new conservation finance tools that together have the potential to achieve landscape-scale conservation that will safeguard the economic, ecosystem services, and quality-of-life benefits of forests."
Last year's "Wildlands and Woodlands: A Vision for the Forests of Massachusetts" report, authored by Harvard scientist David Foster and colleagues, made the case for protecting 1.5 million acres of forestland above and beyond the roughly 1 million acres of existing protected land in Massachusetts. The cumulative acreage would be roughly half of Massachusetts' total area of some 5 million acres.
"The forest protection envisioned in 'Wildlands and Woodlands' would ensure that the extraordinary environmental, social, and economic values of the forest are sustained for generations to come," says Foster, director of the Harvard Forest, Harvard University's ecology and conservation research center in Petersham, Mass. "It would, in effect, reverse the recent deforestation trend that's occurring in Massachusetts and much of the Eastern U.S. and ensure the continuing provision of clean air and clean water from natural systems at a much more reasonable cost than serving these needs with human-engineered systems."
Much of the forested land in the Eastern United States was clear-cut in the 17th and 18th centuries for farms and fields. This trend was reversed across the region in the 19th century with the westward shift of agriculture.
In recent decades, Foster says, this pattern has again shifted in Massachusetts. A sprawling second wave of human-driven deforestation is consuming the state's woodlands at an estimated rate of more than 40 acres a day.
"Unlike the earlier 'soft' deforestation that produced fields, which could eventually reforest, the results of this 'hard' deforestation are asphalt and strip malls that will occupy the land permanently and eliminate the important green benefits of forestland," Foster says. "With it we lose basic infrastructure and natural services that provide water, recreation, quality of life, resources, community character, and substantial environmental protection. The Eastern forests are also a globally important sink for carbon dioxide that assists in offsetting the increase in greenhouse gases and global climate change."
Some of the most promising conservation finance tools outlined by the panel of experts include increasing state bonding authority for conservation with dedicated revenues from taxes and other sources; passing the Community Preservation Act in additional towns and cities; paying landowners for conserving their land in a way that provides clean water and protects the climate by capturing carbon; reforming regulations to facilitate limited cluster development consistent with smart growth objectives; and bundling land conservation projects to defragment the landscape and expand funding opportunities. The panel also underscored the importance of linking conservation financing with investments in community and economic development.
Lambert estimates that to reach the "Wildlands and Woodlands" goal, the current $100 million spent annually by public, private, and philanthropic sources on land preservation in the Bay State would have to be increased by at least $30 million to $40 million a year for the next 20 years.
"Massachusetts has an uphill climb," she says. "According to the Trust for Public Lands, the commonwealth spends only $7 per capita on land conservation each year, compared to $21 in Maryland and $25 in Florida. While this is in some sense a limitation, it also provides an opportunity to develop new finance tools that will help close this gap."
Groups represented at the April conference included The Nature Conservancy, Trust for Public Lands, Open Space Institute, Wilderness Society, Pacific Forest Trust, Lincoln Institute, Massachusetts Audubon Society, The Trustees of Reservations, Quebec Labrador Foundation, US Forest Capital, Forestland Group, Sustainable Land Fund, LandVest, Conservation Resources Inc., Coastal Enterprises Inc., and Massachusetts Woodlands Cooperative.