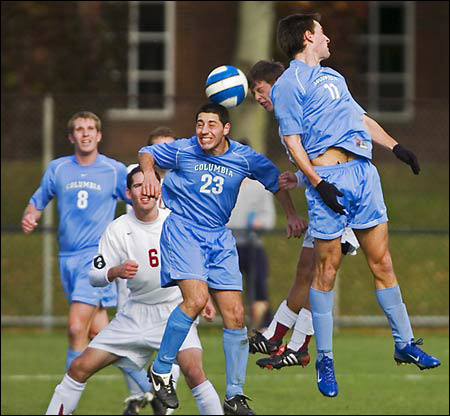 The evolution of this year's Harvard men's soccer team – from 3-1 losers to Penn in their Ivy opener back in September to recent winners of the Ivy League championship – was hardly a smooth and steady progression. On the contrary, the 2006 Crimson, who downed visiting Columbia 3-1 this past Saturday (Nov. 4) to earn the Harvard program its first league title in 10 years and 12th overall, evolved this season with all the subtlety of a thunderbolt.
Since closing out September with a 6-4 record, the Harvard men – paced by reigning Ivy player of the year Charles Altchek '07 (league leader in goals and game-winning goals with 12 and 4, respectively) – have captured seven straight games by an average score of 3-1, including a 6-2 win over an 18th-ranked Brown team on Oct. 14, to finish the regular season 13-4-0 (6-1-0 Ivy). Such production helped the Crimson close out their campaign as the top scoring team in all of Division 1 soccer with 2.59 goals per game.
Against Columbia, junior forward Matt Hoff tallied the opening goal (unassisted) at 9:21 of the first half to put Harvard on top, 1-0. A stubborn Lion club didn't fold easily, however, pushing the ball for the remainder of the half. Junior keeper Adam Hahn was witness to that, recording his two saves on the afternoon before the teams broke for halftime.
Harvard doubled its lead in the 75th minute of play when a sprinting Michael Fucito '09 delivered a pass to Altchek, who promptly sent the ball past Lion goalkeeper Michael Testa. Harvard's 2-0 edge was short-lived, however – lasting just 1:14 to be precise – after Lion defenseman James Pounder found the back of the net to avoid the shutout. Harvard and Altchek responded just over three minutes later when the senior converted an assist from sophomore John Stamatis to set up the eventual 3-1 final.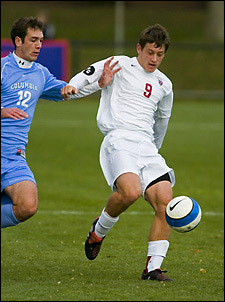 With the win, Harvard earns an automatic bid to the 48-team NCAA tournament, which kicks off Saturday (Nov. 11) at 16 sites throughout the country. The Crimson will play host to the Binghamton University Bearcats (9-6-5), recently crowned champs of the America East conference, for a 1 p.m. match. The winner of Saturday's contest will travel to UCLA (10-5-4) for a second-round game on Nov. 15.
Icing on the cake: Top Drawer Soccer has named Harvard freshman Andre Akpan its national rookie of the year. Akpan led Harvard in points (goal and assists combined) with 32 to set a new freshman scoring record at Harvard. His 10 goals this season led all first-years in Division I.