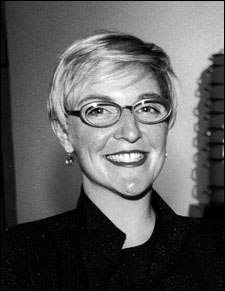 The Harvard University Art Museums (HUAM) recently announced the appointment of Helen Molesworth as its new curator of contemporary art, effective Feb. 5, 2007. Molesworth becomes the first full curator of contemporary art since HUAM established the Department of Modern and Contemporary Art in 1997. A distinguished scholar, writer, and curator, Molesworth comes to HUAM from the Wexner Center for the Arts in Columbus, Ohio, where she has been serving as chief curator of exhibitions since 2003, with oversight of the center's exhibitions, programs, and publications.
"We are delighted to have Helen join our curatorial staff," said Thomas W. Lentz, Elizabeth and John Moors Cabot Director of the Harvard University Art Museums. "She is well respected in the field of contemporary art, and her knowledge and depth of experience will be vital in our efforts to build our collections and increase our ability to exhibit and interpret contemporary art."
In February, the Harvard University Art Museums announced a comprehensive master plan to transform its facilities for teaching, research, and presentation of its renowned collections. Part of the multifaceted plan includes an enhanced commitment to contemporary art including the development of the new Allston-Brighton Center, which will house public galleries primarily for the exhibition of the HUAM's growing collection of modern and contemporary works, as well as other museum operations.
In her new position, Molesworth will join the current curator of modern art, Harry Cooper, in the Department of Modern and Contemporary Art. "I am very excited to join the staff of the Harvard University Art Museums at a moment when the institution is thinking so expansively about the role of modern and contemporary art," said Molesworth.
Prior to her position at the Wexner, Molesworth served as curator of contemporary art at the Baltimore Museum of Art from 2000 to 2003. From 1997 to 1999, she was director and curator of the Amelie A. Wallace Gallery at State University of New York (SUNY), Old Westbury. Molesworth recently served as senior critic at the Yale School of Art and has held teaching positions at the Bard Center for Curatorial Studies; SUNY, Old Westbury; and the Cooper Union School of Art. She was a co-founding editor of Documents, a magazine of contemporary visual culture, and is the author of numerous articles appearing in publications such as Art Journal, Artforum, Documents, Frieze, and October. She received a Ph.D. in the history of art from Cornell University in 1997.