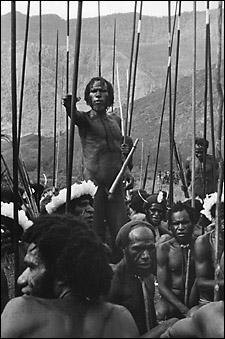 The Peabody Museum of Archaeology and Ethnology presents the first solo show of the photographs of the late Michael Rockefeller in the highlands of New Guinea from March to August 1961. Rockefeller, a 1960 Harvard graduate, was the sound recordist and still photographer on a remarkable multidisciplinary expedition to the Grand Valley Dani of Irian Jaya, Indonesia (formerly Netherlands New Guinea). Organized by filmmaker Robert Gardner, the Harvard-Peabody New Guinea Expedition included anthropologists Karl G. Heider and Jan Broekhuijse, photographer Eliot Elisofon, medical student Sam Putnam, and naturalist and novelist Peter Matthiessen.
This undertaking in the New Guinea highlands was extraordinarily fruitful. These Grand Valley Dani had relatively little contact beyond their valley, producing almost all their own necessities of life while practicing ritual warfare. The expedition lived with and documented these isolated people, eventually producing Gardner's feature-length motion picture "Dead Birds," Matthiessen's nonfiction book "Under the Mountain Wall," and a book of photographs, "Gardens of War," with text by Gardner and Heider.
Tragically, a few months after the Harvard-Peabody New Guinea Expedition concluded, Rockefeller disappeared while on a journey to collect art on the Southern (Asmat) New Guinea coast.
This exhibition presents a selection of Rockefeller's photographs from the Harvard-Peabody New Guinea Expedition chosen from more than 4,000 black-and-white negatives, now housed in the Peabody's collection. Although a few of these photos were published in "Gardens of War," whose text is used in the small exhibit panels at the Peabody, the majority of them have never been publicly exhibited. They capture not only the resilient spirit of the Dani people but also the anthropological and artistic eye of a young man full of promise and curiosity.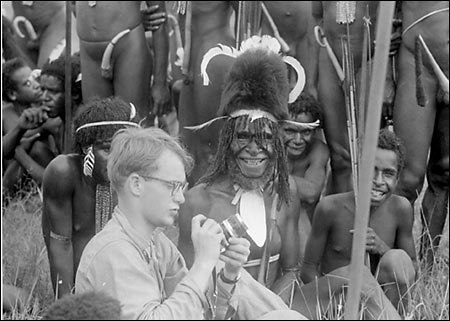 Rockefeller was a son of then-governor of New York (and future U.S. vice president) Nelson Rockefeller. He graduated from Harvard College in 1960. During his first visit to New Guinea in spring 1961 with the Harvard-Peabody New Guinea Expedition, Rockefeller made a side trip to the Asmat with Sam Putnam. That fall he visited Robert Gardner in Cambridge to review photographs of the Harvard-Peabody expedition. Together, they began to select images and agreed that Rockefeller would edit a book of photographs. After a brief sojourn in the United States, Rockefeller returned to New Guinea to revisit the Asmat people, to photograph and continue collecting art. He vanished in November 1961 off New Guinea's south coast when his catamaran accidentally capsized.
Michael Rockefeller: New Guinea Photographs, 1961,' Peabody Museum, 11 Divinity Ave. Opening reception, Nov. 15 from 5 to 7 p.m. Free and open to the public. Exhibit continues through Feb. 27.