Elizabeth Mora, the University's acting vice president for finance since April 1, has been named Harvard's vice president for finance and chief financial officer, interim President Derek Bok announced today (Nov.20).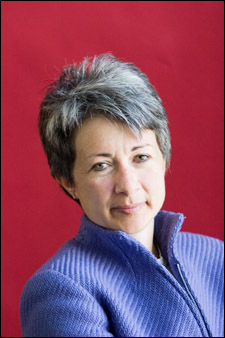 "Beth Mora has served the University exceptionally well in these last few months since taking the place of Ann Berman in leading our financial administration," Bok said. "With the help of her talented colleagues, she has ably analyzed a series of complex financial issues and given sound advice to those charged with making difficult decisions for the University. She fully deserves the recognition that this change of title conveys."
"I have thoroughly enjoyed working with President Bok and Provost Hyman over the past eight months on the important and complex financial challenges facing Harvard," said Mora. "I am excited about the continued opportunity to engage with my colleagues in financial administration and beyond, to support Harvard's financial well-being, and to help the University meet its ambitious goals."
Having arrived at Harvard nearly a decade ago, Mora has held positions of increasing responsibility and scope within the University's financial administration. She began her Harvard career in 1997 as director of cost analysis and compliance. In 2000, she became director of the Office for Sponsored Programs, then was named associate vice president for sponsored programs in 2004. In that role, she was the member of the central administration principally responsible for matters relating to the hundreds of millions of dollars in research support that Harvard attracts each year from government, foundations, and industry.
As vice president for finance and chief financial officer, Mora will oversee one of the principal units of the central administration while working closely with financial officers across the Faculties and Schools. The financial administration comprises a wide array of functions – among them, budgets, financial planning, and institutional research; risk management and audit services; management of the University's debt portfolio and central bank; administration of sponsored research programs; the business requirements and functions of new enterprise-wide financial systems; and a variety of financial control and reporting functions ranging from accounting to tax matters to purchasing, billing, student loans, and payroll processing.
Mora will attend the regular meetings of the Schools' financial deans, while collaborating with the president, the treasurer, the provost, and colleagues across Harvard on questions of financial strategy and planning facing the University. She will also serve ex officio as a member of the board of the Harvard Management Company. She is the senior sponsor of the financial administration's Diversity Council.
Before coming to Harvard, Mora worked for nearly 10 years in public accounting at Coopers & Lybrand (now PricewaterhouseCoopers) as a manager in the firm's national regulatory consulting practice. Her special areas of expertise included federal regulatory research matters such as indirect cost rate development and negotiation, OMB Circular A-133 audits, and pre- and post-award grant and contract administration.
A certified public accountant, Mora holds her bachelor's degree from the University of California, Berkeley, as well as an M.B.A. from the Simmons Graduate School of Management.