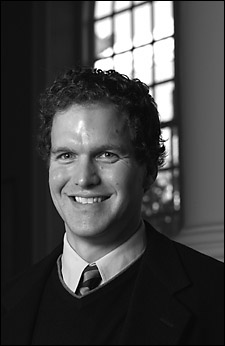 The Rev. Professor Peter J. Gomes, Plummer Professor of Christian Morals and Pusey Minister in the Memorial Church, has announced the appointment of Kent M. French as the second Archie C. Epps Fellow to Harvard College.
Named for the late Archie C. Epps III, senior associate dean emeritus of Harvard College, the fellowship is a one-year appointment as chaplain from the Memorial Church to Harvard's undergraduate community.
In announcing the appointment, Gomes commented, "Throughout his long and distinguished service to Harvard, Archie Epps always championed the importance of the ministry of the Memorial Church and its role as a resource for the spiritual development of Harvard's undergraduates. The establishment of this fellowship in his name serves as a lasting tribute to his concern for all dimensions of student life at Harvard, and to his staunch friendship to the work of Harvard's church."
Funded in part by gifts from the many friends of Epps upon his retirement in 1999, the Epps fellowship is intended as both a permanent tribute to the dean and an extension of the specific ministry of the Memorial Church to Harvard College.
"I am so pleased that our seminarian Kent French has agreed to serve as our second Epps Fellow," Gomes continued, adding, "and I know that this appointment would please my old friend, Archie Epps. Kent has already begun his work among undergraduates and is a nonresident associate of Eliot House. He contemplates a number of initiatives among undergraduates, and that is very much in the tradition of this living memorial to Dean Epps."
The first of these initiatives is an undergraduate fellowship that will begin meeting at the church on Wednesday nights to discuss matters of religious life as well as the intersection of intellect and faith.
French is a native of Independence, Mo., and has lived in Cambridge since the early 1990s. He is in his final year of the master of divinity program at Harvard Divinity School (HDS), where he won the Billings Prize in Preaching last year, and is in process for ordination with the United Church of Christ. French graduated Phi Beta Kappa from Northwestern University with degrees in American history and voice performance. Upon graduation, he worked in fair- trade initiatives with Oxfam America and Equal Exchange Coffee, and served as congregational liaison for the Unitarian Universalist Service Committee. Before attending HDS, French worked as a full-time singer and actor and appeared in numerous stage productions in the region, with such companies as the Huntington Theatre, Trinity Repertory, Commonwealth Shakespeare, and North Shore Music Theater. He most recently appeared in the new Showtime series "Brotherhood."
Asked for his thoughts on the fellowship year ahead, French responded, "My first exposure to the Memorial Church was as a member of its choir, now many years ago. I'm well aware of the vital role that undergraduates play in its weekly life. I want to help the church continue to explore the ways it can play a vital role in the life of undergraduates."