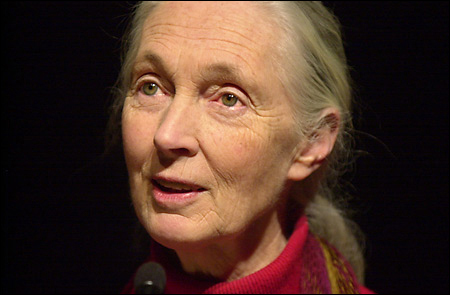 World-renowned scientist and author Jane Goodall will receive the 2007 Roger Tory Peterson Medal presented by the Harvard Museum of Natural History (HMNH). Goodall will deliver the Peterson Memorial Lecture March 18 at 2 p.m. in Sanders Theatre. A book signing at the museum (26 Oxford St.) will follow the lecture.
---
Admission to the Roger Tory Peterson Memorial Lecture is $9 for the general public and $5 for HMNH members and Harvard ID holders. Advance tickets are required. Tickets will be available from the Harvard Box Office (617-496- 2222) beginning on Feb. 27. Both Sanders Theatre and the HMNH are wheelchair accessible.
---
HMNH inaugurated the Roger Tory Peterson Memorial Lecture in 1997 to honor the memory of the pioneering naturalist and author of the legendary "Peterson Field Guide to Birds." This annual event celebrates and perpetuates Peterson's tireless efforts to conserve the planet's biological diversity. Past recipients of the medal have included E.O. Wilson, Jared M. Diamond, Paul R. Ehrlich, Bruce Babbitt, Richard Leakey, Peter Matthiessen, David Attenborough, Robert Bateman, and David Suzuki.
Goodall began her landmark study of chimpanzees in Tanzania in June 1960, under the mentorship of famed anthropologist and paleontologist Louis Leakey. Her work at the Gombe Stream Chimpanzee Reserve became the foundation of future primatological research and redefined the relationship between humans and animals. Among her greatest findings is the use of tools by chimpanzees, a behavior long believed to be unique to Homo sapiens.
In 1977, Goodall established the Jane Goodall Institute (JGI). Today, JGI is a global organization supporting the research at Gombe in addition to many other programs for research, education, community development, and conservation.
In 2002, Goodall was invested by United Nations Secretary-General Kofi Annan as a U.N. Messenger of Peace. Other honors include the Medal of Tanzania, the National Geographic Society's Hubbard Medal, Japan's prestigious Kyoto Prize, and the U.N. Educational, Scientific and Cultural Organization's 60th Anniversary Medal. In 2001, she received the Gandhi/King Award for Nonviolence and, in 2003, the Franklin Institute's Benjamin Franklin Medal in Life and Science and Spain's coveted Prince of Asturias Award. In 2004, Goodall was awarded England's highest honor, Dame of the British Empire, at a ceremony at Buckingham Palace, and in February 2006, she received France's highest honor, the Legion of Honor.