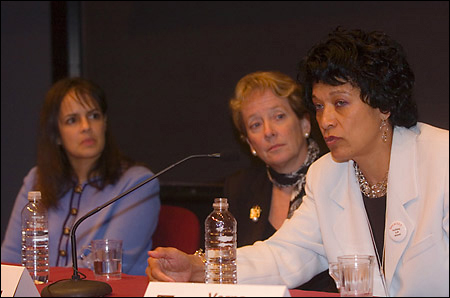 When Julie Freischlag was in grade school, her grandfather, a coal miner, told her that she was smart enough to become anything she wanted and not to let anyone tell her otherwise.
He died six months later, but Freischlag kept his advice close to heart, even as she decided to become a surgeon: a medical specialty viewed as a last bastion of male domination.
Today, Freischlag is surgeon-in-chief and the first woman to chair the Department of Surgery at Johns Hopkins Hospital. Now four years into the post, Freischlag said when word got out that she had gotten the job, she was inundated by calls and e-mails all asking the same question: "How did you get this job?"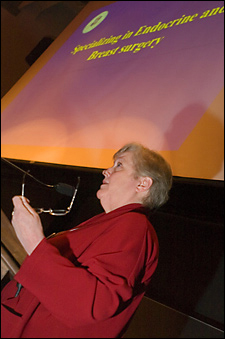 Freischlag, one of five women surgeons who shared their stories of rising to prominence Monday (Nov. 13), said she hopes that the next woman to chair Johns Hopkins' Surgery Department gets a different response.
"What I want for you is when you get this job for people to just say, 'Congratulations,'" Freischlag told an audience of about 100 in Science Center C.
Freischlag was joined by four other women pioneers in the surgical field for "Women Surgeons: Cutting New Paths," the second in the Radcliffe Institute for Advanced Study's annual series about path-breaking women.
The speakers included Myriam Curet, M.D. '82, associate dean for medical education at Stanford University School of Medicine; Verna Gibbs '75, professor of clinical surgery at the University of California, San Francisco; Mary Margaret Kemeny '68, professor of surgery at Mount Sinai School of Medicine and director of the Queens Cancer Center; and Patricia Numann, Lloyd S. Rogers Professor of Surgery, Distinguished Service Professor, Distinguished Teaching Professor, and medical director at State University of New York Upstate Medical University.
Each speaker shared her personal story of overcoming odds to be successful in a field where women weren't thought to belong, and together they urged students in the audience to be persistent, confident, flexible, tough, and pleasant, even when you have to fire someone.
Kemeny said she became interested in surgery as an undergraduate when she worked in the lab of an African-American surgeon who had seen his own share of discrimination. She said she was glad she knew she wanted to be a surgeon before she got to Columbia University's medical school because she got no encouragement there.
"There were no women surgeons at Columbia and no male surgeons who thought that women going into surgery was a good idea," Kemeny said.
Gibbs said she became a surgeon, following in the footsteps of her father and grandfather, even though her father clearly wanted her brother to be the next doctor in the family. Gibbs, who was a Harvard undergraduate and who studied physics in the Science Center C lecture hall where she spoke, urged undergraduates considering a career in medicine to study other topics now. Once they get to medical school, she said, there will be no time to study other subjects and pursue other passions.
Gibbs said academic medicine can be exciting, but it's also political and exhausting, and professors have about a decade to make a name for themselves.
Numann said she missed part of her clinical training when her mother became ill with cancer, but since she wasn't expected to actually become a surgeon, she was told she didn't need to make it up. Numann got into academic medicine because no private practice would hire her. Once there, though, Numann said she enjoyed the teaching aspect and rose to prominence mainly because she always took advantage of opportunities. She counseled young women in the audience to be more than just their profession.
"Follow your heart and do what you love to do, because you'll do that well forever," Numann said.
Speakers agreed that the path for women going into surgery today is easier, having been blazed by an earlier generation. The more women who go into particular specialties, they said, the greater impact they will have on the practice of that specialty, on expectations and on working conditions.
Curet, who has a young daughter, said balancing work and family life as a surgeon and academic dean is tough, but doable. She and other panelists said their children are familiar with the hospital and the staff there and sometimes have to keep themselves occupied while mom is in surgery.
Work-life balance, Curet said, is different for different people. It's also different for the same person at different times in her life. Doing it successfully, however, requires building a network and finding backup systems, she said. Some people have a spouse who works a job whose hours can accommodate the demands of child care. Others live near family and rely on them to help out. Still others hire nannies and use professional care.
Curet urged members of the audience to be flexible and to realize that life doesn't have to be perfect to work.
"You're at this stage of life where you have a sense of perfection," Curet said. "I urge you to go with the flow a bit, and it will be OK."