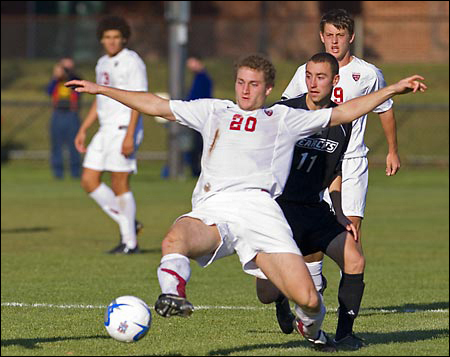 On a beautiful Indian summer afternoon this past Saturday (Nov. 11), the sounds of bagpipes echoed across Ohiri Field as the Harvard men's soccer team warmed up to the score from "Braveheart" before their first-round match in the 2006 NCAA tournament.
It was inspiring music for what would be an inspired performance.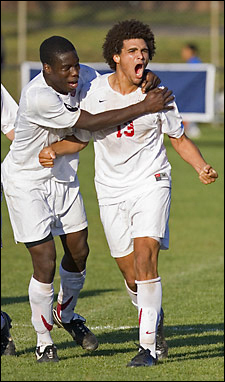 In front of a partisan crowd of more than 1,000, Harvard (14-4-0) came from a goal down to beat a spirited Binghamton team (9-7-5) by a final score of 2-1. Sophomore Michael Fucito and freshman Andre Akpan each found the net in the second half, advancing the 13th-ranked Crimson to a second-round showdown with No. 22 UCLA in the NCAA men's soccer championships.
In what was billed as a matchup between Harvard's high-powered offense and a stingy Binghamton defense, it was the visiting Bearcats who took the game to their hosts in the first half, displaying a high-pressure attacking style that denied the Crimson of both possession and scoring opportunities.
The visitor's pressure eventually paid off, with Binghamton getting on the scoreboard first, just inside the 19th minute. Barry Neville collected a ball just outside Harvard's 18-yard box, unleashing a beautiful shot that left Harvard goalkeeper Adam Hahn '08 high and right, leaving him no chance for the save.
Harvard didn't lack for payback opportunities, but it wasn't until the second half that the Crimson were finally able to put their stamp on the game, getting back to the attacking brand of soccer that had served them so well during the regular season. After Binghamton goalkeeper Jason Stenta turned away several Harvard chances, the Crimson finally broke through in the 57th minute with Fucito scoring just in front of the net off a nice feed from John Stamatis '09.
With the match feeling as if it might be headed for overtime, Ivy League Rookie of the Year Akpan collected a ball on the right side of the field in the 79th minute, displaying great control and a beautiful touch to slot the ball past the Binghamton keeper and just inside the far post to score the game winner for the Crimson.
By game's end, the Crimson held the advantage on shots, corner kicks, and possession.
The victory against Binghamton advances Harvard to the second round of the NCAA tournament. The Crimson traveled to Los Angeles earlier this week to face perennial college power UCLA on Wednesday evening (Nov. 15), just as the Gazette went to press. For Harvard's NCAA tourney results, visit http://www.gocrimson.com.