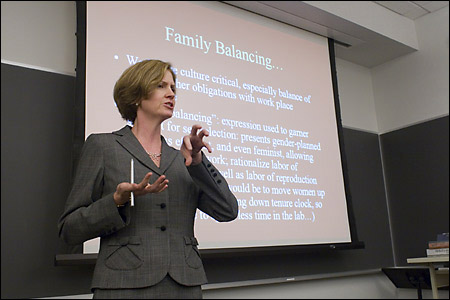 A University of California, Berkeley, professor questioned the widespread opposition to paying women for the eggs needed to conduct embryonic stem cell research Tuesday (Oct. 3) and said there are many unanswered questions such research raises for society.
Charis Thompson, an associate professor at UC Berkeley's Departments of Gender and Women's Studies and of Rhetoric and co-director of the Science, Technology, and Society Center, said that if a particular procedure results in a marketable treatment, everyone involved – the researchers, the institution, and the company that brings a treatment to market – gets paid. Everyone, that is, except the egg donor, who is expected to donate her eggs for free.
---
The Women, Science, and Society seminar series continues on Oct. 19 at 6 p.m. with the second talk, 'Analyzing the Leaky Pipeline: Why Are Women Scientists Under-represented in Senior Positions?' by University of Pennsylvania Professor Phoebe Leboy in room 469 of the Science Center.
Additional talks this fall are:
Nov. 16: 'Issues of Gender in Engineering,' by Lorna Gibson of the Massachusetts Institute of Technology, 6 p.m. in the HIM room at the HMS Conference Center.
Dec. 1: 'Lupus, Snurps, and Women in Science,' by Joan Steitz of Yale University, 6 p.m. in the HIM room at the HMS Conference Center.
---
"If you get a successful therapy, everyone stands to get paid, except these donors who are not getting paid," Thompson said. "I'm in favor of paying women for egg donation – through the nose, frankly."
Thompson acknowledged that her opinion puts her in the minority and also that paying donors for eggs raises other problems, but said it doesn't seem fair that the only person not getting paid would be the donor.
Thompson was the inaugural speaker in a new seminar series, "Women, Science, and Society," co-sponsored by the Office of Senior Vice Provost for Faculty Development and Diversity Evelynn Hammonds, the Graduate School of Arts and Sciences, and by Harvard Graduate Women in Science and Engineering (HGWISE).
"Harvard is committed to supporting all of its young scholars," Hammonds said. "The HGWISE Seminar Series will be a terrific way to encourage community building and interdisciplinary networking among our graduate students and many extraordinary leading scholars."
Thompson's talk drew about 50 to the Science Center's 4th floor. In her hour-long presentation, Thompson reviewed stem cell science as it relates to women's issues. She said the sudden outpouring of concern for the women donors of eggs for embryonic stem cell research is a bit unusual, since a similar societal concern is not apparent for women who donate eggs for in vitro fertilization (IVF).
Women donating for IVF are not only compensated, she said, they're even recruited on elite college campuses. The same is true for sperm donors for IVF, where young men are paid a fee for donating sperm for use by infertile couples.
Thompson noted that stem cell science is a field dominated by men, as are the life sciences generally. At Berkeley, she said, just 20 percent of the senior faculty in the biological sciences are women. Women make up a greater proportion of the biological sciences junior faculty – 40 percent. They remain underrepresented even there, however, since the Ph.D. pool of graduates in the life sciences is roughly evenly split between men and women.
Women are represented more broadly in the areas where stem cell science intersects with other areas of society, she said, including IVF clinics, and areas such as ethics and law.
Although the particular problems faced by women in academia – who are often juggling family responsibilities at the same time they're needing to work long hours in the lab to get tenure – are gaining attention. But Thompson said she's not encouraged by proposed solutions such as lengthening the tenure process, which effectively would leave women in the high-pressure- impossible-hours phase even longer.
Society, she said, needs to think hard about how embryonic stem cell science should be directed: whether toward diseases that have no other avenues for treatment, or toward the most severe diseases, or toward areas that would provide the most cures for certain expenditures.
We must also attend to related "missing issues," Thompson said, which include health care disparities by race and class; prioritization of health care dollars, particularly when public funds are used for stem cell research; accountability and transparency of how public dollars are used; and a consideration of women's special roles in society in kinship and health care situations – as health care guardians, caregivers, and patient advocates.
"Eggs are the best and most perfect raw material and they come from women," Thompson said.
Related links: