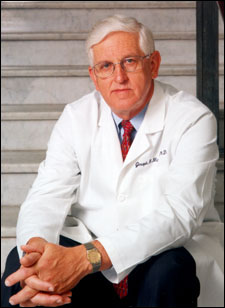 Joseph B. Martin, dean of the Harvard University Faculty of Medicine, who for more than nine years has fostered collaboration, interdisciplinary research, diversity, and the highest standards in research, has announced that he will step down from his position in July 2007.
In an e-mail to the Harvard Medical community, Martin said that the next nine months would be used to focus on key priorities, including education reform, science planning, and major recruitments. Martin also praised colleagues for the dedication and insight they brought to the many projects that have advanced the community during his tenure.
"Joe Martin has served the Harvard Medical School and the University with integrity, imagination, and great distinction," said Derek Bok, interim president of Harvard. "Though I have worked with Joe only briefly, it is clear to me that his successor will inherit a School that is exceptionally strong in terms of medical education, scientific research, and connection to the clinical enterprise."
Martin became dean of HMS in July 1997, a time of great transition in the Boston health care marketplace, especially for the Harvard-affiliated hospitals and their faculties. In 1993, Massachusetts General Hospital and Brigham and Women's Hospital formed the Partners organization. In 1996, the Beth Israel-Deaconess merger was finalized. These and other consolidations and resulting competition jeopardized the kind of faculty collaborations and interdisciplinary approaches needed to advance medical science through shared ideas and resources.
Martin, a neurologist and neuroscientist by training and the former chief of the neurology service at Massachusetts General Hospital, was recruited to Harvard Medical School from the University of California, San Francisco (UCSF), where he served as dean of the medical school and then chancellor of the UCSF system. Martin was known as a bridge builder and champion of interdisciplinary science.
In Martin's first year as dean at Harvard, he went to work to improve relationships with hospital colleagues. He held two major collaboration retreats and, in these and subsequent retreats, identified common areas of concern and of opportunity. One of his first acts was to create a new system of appointments and promotions, putting new emphasis on the value of teaching as a vehicle to promotion. Working with the University, he then increased the payout on the endowment for the 102 endowed professorships based at the hospitals. Over a five-year period, this added $20 million to the affiliates' academic budgets to pay for teaching.
"Dr. Martin has been a wonderful leader of the Medical School and a real consensus builder among all of the Harvard-affiliated hospitals," said James Mandell, president and chief executive officer of Children's Hospital Boston. "He has been the glue for many of the interinstitutional programs that have made Harvard a national leader in clinical care and research."
"Joe will leave many lasting legacies – world-class basic science departments, a new state-of-the-art research building, stronger community ties, and a renewed focus on medical education," said James J. Mongan, president and chief executive officer of Partners HealthCare. "But perhaps his most important legacy will be that he has redefined the relationship between the Medical School and its affiliated hospitals around our shared academic mission. Because of his insights, his decency, and his moral leadership, we are all closer together, and we are all the beneficiaries of that."
Martin also moved to improve diversity, initiating a review of assistant and associate professors that resulted in many well-deserved promotions of women and minorities. Soon after, the Executive Council on Diversity developed a uniform plan to monitor recruitment of minorities in all HMS residency programs. In 2000, Martin and hospital leaders agreed to adopt a more aggressive and collaborative approach for recruiting senior-level minorities to the faculty.
Martin also increased diversity in leadership positions at the School. During his tenure, two female science chairs were appointed: Carla Shatz, head of the Department of Neurobiology, and Joan Brugge, head of the Department of Cell Biology, the School's largest basic science department. Martin also appointed Nancy Andrews the first dean for basic sciences and graduate studies, and he named Cynthia Walker the first female executive dean for administration. In appointing Joan Reede as dean for diversity and community partnership, he was also naming the first female African-American dean in the history of the University.
To nurture a collaborative culture among faculty, the School offered seed grants that paired researchers on the School's research quadrangle with colleagues at the hospitals. Soon after, collaboration began to bloom. As early as 1998, the JDF Center for Islet Cell Transplantation at Harvard Medical School was created through a $20 million, five-year grant from the Juvenile Diabetes Foundation that supported more than 30 researchers from across several Harvard institutions.
In 1999, more than 800 faculty across the entire Harvard Medical School community were pulled together to create the Dana-Farber/Harvard Cancer Center, and the National Cancer Institute awarded it a $50 million grant to fund 15 core facilities, creating the largest cancer research enterprise in the country.
In 2000, the Harvard Clinical Research Institute was launched, a partnership between HMS and the competitors Caregroup and Partners HealthCare to create a single gateway for industry-sponsored clinical research. The Harvard Medical School/Partners Center for Genetics and Genomics was also opened that year, and in 2001, the Harvard Center for Neurodegeneration and Repair (HCNR) was created with an anonymous $37.5 million gift. HCNR links more than 700 neuroscientists across all of the affiliated institutions in an effort to find new therapies for disorders such as Alzheimer's, Parkinson's, and other neurodegenerative diseases.
The leadership of the Harvard hospitals has turned over from the early days of Martin's tenure, and he has been heavily involved in the recruitment of all the new leaders. "Joe Martin has been an inspiration to many," says Paul Levy, president and chief executive officer of Beth Israel Deaconess Medical Center, who previously served Martin as the executive dean for administration and helped shape the resource planning for early collaborative projects. "For me personally, he made possible my transition into the health care field and inspired me to take on the challenge of running Beth Israel Deaconess Medical Center."
Martin also looked to the power of computing to link the more than 10,000 Medical School faculty. An electronic bridge was created in December 1999 when a robust intranet tool, eCommons, was developed to give all faculty quick access to a variety of resources, including the electronic medical and scientific literature at the School's Countway Library of Medicine.
Computing was also used to advance medical education. In 2001, the MyCourses Web portal was introduced, allowing students access to a wide array of course materials. To improve medical education, Martin also shepherded the first comprehensive review of the HMS M.D. curriculum in 20 years. Over the past year and rolling out over the next few years, improvements will be seen, including how the hospital-based clerkships are managed. Students will now spend their principal hospital training year at one Harvard hospital, gaining a deeper understanding of hospital systems. Students will also follow patients they see in ambulatory care settings through all layers of care that they might need. They will see how different specialties function and learn how to work across any barriers that exist between them. Martin also helped introduce the combined M.D.-M.B.A. program that enrolled students for the first time last year.
Martin made remarkable gains in building research facilities that would help foster interdisciplinary and collaborative work. In 2003, the School opened the 525,000-square-foot New Research Building, the largest building in the history of the University. The new building helped ease space limitations created by many new programs, including the first entirely new department in more than 20 years, the Department of Systems Biology. Other collaborative and interdisciplinary programs created during Martin's tenure include the Center for Molecular and Cellular Dynamics, the Harvard Institute for Proteomics, the Center for Genomic Applications and Therapeutics, and the Program in Chemical Genetics.
These facilities and cutting-edge programs have contributed to the strength of the School's Ph.D. programs, which are widely considered the best in the nation. To enhance science education opportunities, the School also launched under Martin's tenure the first Ph.D. programs in systems biology and in chemical biology. These popular, interdisciplinary programs are now in their second year.
Martin will step down in July 2007 and will focus his attention on the efforts of the Harvard Center for Neurodegeneration and Repair. President Bok will convene a faculty advisory committee this fall to begin the search process for a new dean, with the expectation that the ultimate selection will be made by the next president of Harvard.