Arthur Schlesinger Jr. did it. Conan O'Brien did it. So did John Lithgow and Stockard Channing.
That is: graduate from Harvard's elite and venerable History and Literature Program, which is celebrating its 100th anniversary this year.
In 1906, History and Literature became the University's first concentration, and for 13 years it was the only concentration. (Concentrations were formally adopted at Harvard in 1919; today, there are 45.)
As the longest-lived, "hist and lit," as it's informally known, still has immense cache. For one, it's among the few concentrations – once called "honors concentrations" – that require a thesis. (The others: Folklore and Mythology; History and Science; Literature; Social Studies; and Studies of Women, Gender and Sexuality.). And its rigor is well known. It requires oral exams in both sophomore and senior years, proficiency in reading foreign-language literature, and a three-year series of tutorials.
---
In this issue:
Task force suggestions on general education offered
---
Like other programs at Harvard, the program has a long list of famous alumni and alumnae – the kind of influential minds who continue to shape the currents of popular culture and academic life.
Historian and JFK confidant Schlesinger graduated from History and Literature in 1939. Journalist and author James Fallows '70 is a History and Literature graduate, and so is former CBS News President Andrew Heyward '72. Psychiatrist Eric R. Kandel '52 was in the program. In 2000, he received the Nobel Prize in physiology or medicine.
"These are people whose reading of the culture has a place in our lives," said program Chair and Professor of History Jill Lepore, a specialist in early America. Her latest book, "New York Burning: Liberty, Slavery, and Conspiracy in Eighteenth-Century Manhattan," was a 2005 finalist for the Pulitzer Prize.
Along with graduates, she said, the program's tutors – many of them scholars just starting in academe – often go on to be famous and influential thinkers and writers. Daniel J. Boorstin '36 and Perry Miller were tutors in History and Literature, as was Schlesinger. The first female head tutor (now called "director of studies") was Hanna Holborn Gray Ph.D. '57, who went on to become the president of the University of Chicago.
"Our tutors are the future academic celebrities," said Lepore. "They're quite a cast."
On Saturday (Oct. 14), the program will celebrate its origins and longevity with "Beyond the Gates," a daylong series of lectures and panels in Emerson Hall.
On hand will be a showcase of 11 graduates, including New York Times columnist Frank Rich '71; television writer and producer Peter Blake '91; Princeton historian Robert Darnton '60; and author and former White House correspondent Clara Bingham '85.
Then there are the undergraduates, who are the real stars of the show in a program that emphasizes individual instruction and study plans crafted to personal interests.
Said Jeanne Follansbee Quinn, director of studies, "It's a very distinguished program, with a long and distinguished history."
At the core, she said, is producing "well-trained people who are critical thinkers, and good writers and readers."
Writing that sings takes special honors in History and Literature, said Lepore, a regular contributor to the New Yorker.
Concentrators – 162 sophomores, juniors, and seniors in 2006-07 – specialize in the history and literature of specific regions or time periods. Over three years of the concentration, they face required papers that grow in length and depth.
In sophomore year, the required essay ranges from 3,000 to 4,000 words, notes excluded. The word count doubles in junior year. By senior year, the essay has become a thesis and can range as high as 15,000 words, due by March 1.
Senior theses from History and Literature are regular winners of Harvard's Thomas T. Hoopes Prize and similar awards at Commencement for undergraduate research and writing.
The program has conservative roots. It was in the spring of 1906 that Harvard Professor of English Barrett Wendell, Class of 1877, hosted a dinner at Boston's Tavern Club to propose the idea of a History and Literature program. He and others saw it as an antidote to what Wendell called the "anarchy" of President Charles Eliot's free-elective system. (Harvard students could earn a bachelor's degree by taking any 16 college courses.)
In those days, colleges nationwide were facing similar curricular issues. Academic departments were just taking shape, and the number of disciplines was increasing. Undergraduate majors had just recently been invented – in 1885, by Indiana University President David Starr Jordan.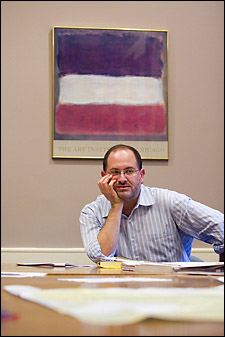 On April 24, 1906, Harvard's Faculty of Arts and Sciences made Wendell's dream a reality, by authorizing History and Literature as the College's first concentration. At its core were close readings of the Bible and great works of European literature, including Shakespeare, works that were considered "canonical." Students were also required to study the history and literature of Greece, Rome, and England, and of historical epochs, beginning with the Middle Ages. This core, with some shifts toward more requirements, survived until the 1950s.
Debates about the canon are an integral part of the concentration's history, which emphasized the stability and primacy of core texts. "Chaos may be mystical and exciting," wrote Sterling Dow, who was chair of History and Literature midway through the 20th century, "but utter chaos is often only bewildering, especially to the young."
Lepore said that Harvard's oldest concentration underwent a series of permutations over the years that saw it slip in and out of the conservative mainstream. In the 1920s, beyond the influence of the Anglophile Wendell, History and Literature adopted a Latin America track, and later one on Russia. Over the next decades, the original notion of canon eventually got "chipped away," said Lepore, as the currents that swept through historical and literary theory were reflected in the program.
"You can see the development of major debates within the humanities, writ small, through the history of the program," she said.
But History and Literature remains "a place whose structure means we can concentrate on teaching, and can innovate in the classroom," said Lepore. "We're not intellectually conservative. We encourage our students to take intellectual risks all the time, and our tutors and faculty to work on exciting and ambitious scholarship."
Quinn credits intensive advising and individualized instruction for the uniqueness of the History and Literature undergraduate experience. "Students have all the advantages of the major university, combined with the ability to craft individual plans of study in conjunction with tutors who are the next generation of experts in their fields," she said.
The heart of the program is the tutorial system. Sophomores, in groups of four or six, attend tutorials co-taught by experts in both history and literature. The intensity and intimacy of the tutorials is evident any day at Barker Center, where first-floor corridors lead to small handsome rooms full of intent students and guiding scholars.
Junior tutorials are one-on-one, "an incredibly intense and wonderful experience," said Quinn, a specialist in 20th century American literature.
By senior year, the one-on-one tutorials come to a sharp point: Researching and writing the honors thesis.
History and Literature senior Emily Simon, a Chicago native, started her thesis this summer with a month of study in England supported by two Harvard grants. She's writing about representations of the Indian Rebellion of 1857, and the tourist industry that this and other British national traumas spawned in the 20th century.
Simon, who is "thrilled" that the centennial coincides with her senior year, praised History and Literature's interdisciplinary studies, small classes, familylike setting, and intense personal contact with faculty. "This is the model of education that students deserve," she said.