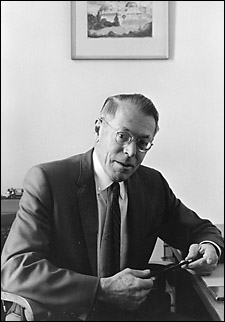 Reginald Henry Phelps '30, Ph.D. '47, former associate dean of the Graduate School of Arts and Sciences (GSAS), director of University Extension, and lecturer on German, died Sept. 28 in a nursing home in Westfield, Mass. He was 97.
Phelps was born in Southwick, Mass., on Aug. 20, 1909, the son of Charles Henry and Musetta Carr Phelps. After attending the local public schools, he went on to Westfield High School, and later Central High School in Springfield, Mass. In 1926, he matriculated at Harvard, and received the A.B. summa cum laude in 1930, A.M. in 1933, and Ph.D. in 1947.
Following his graduation in 1930, Phelps received a University Fellowship that permitted him to travel around Europe for a year. As his concentration was in German literature and history, he spent much of his time in Bavaria, where he heard Adolf Hitler orate twice at the Buergerbrau, a Munich nightspot. He also wrote articles for the Boston Transcript, covering the Italian-Ethiopian crisis negotiations at the League of Nations.
Following his return to Cambridge in 1931, he taught German at Harvard until 1944, while serving in a variety of administrative positions. In 1938, he married Julia Gray Sears, a Radcliffe undergraduate he met in Munich who later also went on to receive her Ph.D. from Radcliffe and teach at Harvard and Trent Universities as well as becoming director of the Wellesley College Art Museum. In September 1944, he and Julia joined the OSS (Office of Strategic Services), and were posted to Washington and later to London, and then to Germany, where he interrogated German POWs.
Following the war he returned to Harvard where he taught while working on his Ph.D. After completing his degree in 1947, he became assistant professor of German at Columbia, where he remained for two years before returning to Harvard once again. At Harvard, he served as associate dean of the Graduate School of Arts and Sciences, director of University Extension, and lecturer on German. As he wrote in his 25th Anniversary Report, "the work is varied, but not disparate; it gives a chance to become acquainted with problems of scholarships and student finances generally [as well as] with the many programs of Government and Foundation aid that support a large proportion of the special students and special auditors; with the international exchange of students; and with the need of offering adult education of high quality, one of the crucial, and most difficult matters with which American education has to deal." He remained at Harvard until his retirement in 1975, leavening his administrative duties with three research sabbaticals in Germany – in 1954, 1958, and 1965 – where he continued research on "my old love, the Weimar Republic."
Phelps was president of the Harvard chapter of Phi Beta Kappa from 1963 to 1965. He was a member of the Modern Language Association, the American Historical Association, the American Association of Teachers of German, and the Adult Education Association of America.
In addition to his Harvard duties and research activities, Phelps raised three children, and spent as much of his (scarce) free time as possible maintaining his ancestral home in Southwick and devoting himself to his beloved garden. He and Julia instituted an event known as "the Bash," during which colleagues and friends came to the farm to eat, drink, and pick berries.
Phelps has been described by colleagues as "the dignified, wry, and erudite dean," and he and Julia were characterized as "inspirations of interdisciplinary risk-taking in fields combining art, literature, culture, and politics … for a generation of Germanists looking to break out of the rut." He leaves three children: William Phelps and his wife Helen, Henry Phelps, and Susan Phelps Napier, as well as three grandchildren. He will be missed by his friends, family, and colleagues.
In lieu of flowers, donations may be directed to the Activities Fund, Renaissance Manor of Westfield, 37 Feeding Hills Road, Westfield, MA 01085.