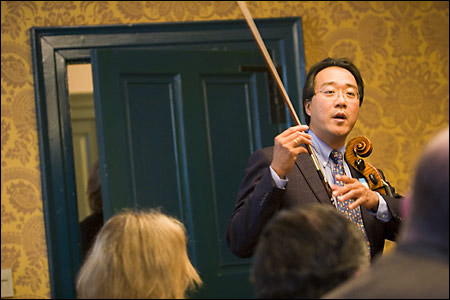 With the sound of traffic on Massachusetts Avenue as a muffled backdrop, Yo-Yo Ma '76 last week (Oct. 18), sat on a folding chair in a room in Wadsworth House and played a few minutes of Bach's Suite No. 1 for Cello.
Afterwards, he gave his audience – 20 humanities professors and a scattering of graduate students – a lesson in art's interconnections.
The sarabande he played on his Stradivarius owes its origins to a slow dance form in triple meter that traveled over time from Central America, through Spain, to the French court, and on to Bach's Germany.
---
Silk Road video:
Real video / Quicktime (1:07)
---
Ma's instrument itself, he said, is an artifact with similar layers of origination – bow wood from Brazil, and ebony for the neck from Africa. Or consider just the 1712 instrument's Florentine varnish, said Ma. "Its origins were many," including ingredients from Egypt, West Africa, Italy, and China.
The cellist's passion these days is for revealing and celebrating the many-ness of art's origins. In 1998, Ma founded the Silk Road Project, a celebration of the migration of ideas and music.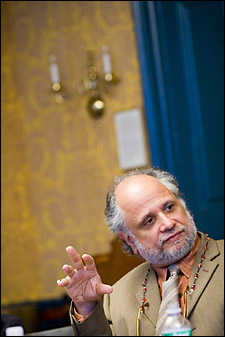 Starting in the second century B.C., the 4,000-mile Silk Road was a shifting network of trans-Eurasian trails and oases. For 1,500 years, it linked what is now China in the East to the Mediterranean in the West. The Silk Road – named in the 19th century – was a commercial highway but also a highway of ideas, technology, and language. And through commerce, it disseminated the products of culture: music, instruments, statuary, ceramics, and jewelry.
Ma was at Harvard this month, in part, to discuss a future set of undergraduate courses that would use the concept of the Silk Road as a model and an inspiration for interdisciplinary courses in music, history, art, literature, and the sciences.
Last year, Harvard announced a collaboration with the Rhode Island School of Design (RISD) and the Silk Road Project. "The breadth and depth of the Harvard faculty is what attracted us," said Laura Freid, CEO and executive director of the Silk Road Project.
So far, one related course is planned at Harvard, "Foreign Cultures 79: Historical and Musical Paths on the Silk Road," to be co-taught in the spring by professors Mark C. Elliott (East Asian Languages and Civilizations) and Richard K. Wolf (music). It will include musical performances.
The Silk Road is an attractive idea for interdisciplinary exploration, said Elliott – but he cautioned that team-taught courses are much harder to organize than to conceive.
"I hope (the Elliott/Wolf course) will be only the first of the historical Silk Road courses," said Kay Kaufmann Shelemay, G. Gordon Watts Professor of Music and Professor of African and African American Studies at Harvard University. She has been part of the curricular discussion since before the RISD collaboration.
Future courses, said Shelemay, might explore just one place along the Silk Road; or could be tied to summer trips; or might include performances by Ma's Silk Road Ensemble, which travels widely with its world-blending music and which has twice had three-day residencies at Harvard.
At RISD, faculty and students this winter will explore the natural history of one color (indigo) – its origins in India and its shifting permutations in the blues of Egyptian tombs, the Roman Empire, and centuries of trade goods.
At Harvard, the meeting of faculty and graduate students this month represents an intensifying effort to establish Silk Road undergraduate courses, 18 months after the RISD-Silk Road Project collaboration was announced. The two-hour meeting in Wadsworth House followed smaller meetings held this spring and summer.
"It's not a brainstorming session – it's a working session," said acting Dean for the Humanities Diana Sorensen, who moderated the meeting. "We want to get to work."
Sorensen, who is a professor of comparative literature and James F. Rothenberg Professor of Romance Languages and Literatures, afterwards invited the group to send along concrete proposals for future courses. "I've already imagined three, four, or five," she said.
A Silk Road curriculum, the group agreed, would either use the ancient highway of commerce as a means to explore the literal facts of geography and history, or as a metaphor to investigate the interchange of world cultures.
"The Silk Road structure is full of surprises and tensions, and a pathway to learning," said Homi K. Bhabha, director of the Humanities Center at Harvard and Anne F. Rothenberg Professor of English and American Literature at Harvard. But it's not part of "curriculum structures" in the humanities yet, he said.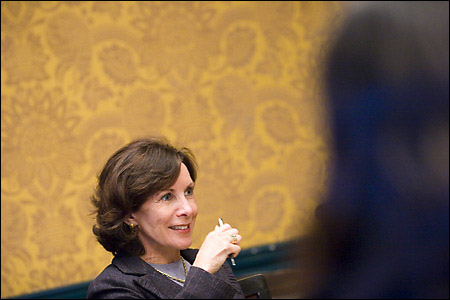 Michael J. Puett, professor of Chinese history and department chair, said the Silk Road idea "pedagogically, opens up everything." Next year, he will teach a course on temple networks and economics based on the idea that East Asia owes its lively trade activity in part to the resurgence of old Silk Road-like trade patterns. "The past looks different, and the future looks different," he said, and the Silk Road metaphor might be a way for a new generation of students to cope with shifting realities in the economic world order.
During the Wadsworth House meeting, conversation on the subject of new courses was sometimes freewheeling. One suggested course would take students on a virtual journey along the Silk Road in the year 650 A.D. Another would examine the years 200 A.D. to 600 A.D., a period of imperial disunion in China, when Buddhism and other influences took root.
Another course, in linguistics, might explore the "sound Silk Road" – the cultural blendings that contributed to the several hundred Indo-European languages that exist today. (Tocharian, a language that flourished along the Silk Road, did not survive in spoken form past the eighth century. Both its variants are taught at Harvard.)
Other courses might investigate cross-cultural aesthetics. Or they might employ playful unifying conceits, like silver, the sari, musical instruments, or even the peach, which was one of the foods that passed from China to the West on the Silk Road, along with spices, ginger, and tea.
"There's the feeling of people having fun," said Ma, to end the meeting. "That is one thing we can't forget."