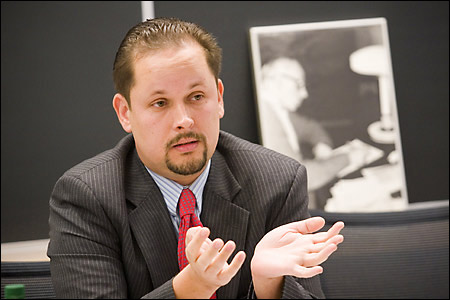 Racial and ethnic hate crimes are a growing problem in Russia, and spell trouble for the multiethnic federation.
So says Nickolai Butkevich, research and advocacy director for the Washington, D.C.-based Union of Councils for Jews in the former Soviet Union (http://www.ucsj.org). On Monday (Oct. 16), Butkevich delivered the first Sakharov Seminar of the 2006-07 academic year at the Davis Center for Russian and Eurasian Studies at Harvard.
"It's gone from almost nothing to quite a bit of violence," said Butkevich, in remarks before his hour-long presentation in a small seminar room in front of 20 scholars and graduate students. Government authorities are doing little to stop it, he said later, and increasing violence threatens the economic and political stability of Russia.
Tatiana Yankelevich, director of the center's Sakharov Program on Human Rights, called the apparent rise of xenophobic violence in Russia "a sadly hot and relevant topic" – marked by at least seven murders and dozens of assaults this year by neo-Nazi groups.
She called Russian President Vladimir Putin's public condemnations of the violence "perfunctory."
The program and lecture series, both in their third year, are named after Andrei Sakharov. The eminent nuclear physicist-turned-activist, who died in 1989, helped develop the Soviet hydrogen bomb before embracing dissent during the Cold War.
Butkevich has testified before three congressional committees about "the very gloomy and ugly topic" of extremist nationalism in Russia and the violence it engenders. He admitted that official data on violence is sketchy, but ticked off a litany of recent crimes associated with bigotry: desecration of Muslim and Jewish graves, attacks on African students, and militarylike assaults on rail passengers in suburban Moscow.
The violence is aggravated by signs that ordinary Russians – inflamed, in part, by Russian police actions in Muslim Chechnya – are losing patience with non-Russian groups immigrating to Russian cities.
Traditional racial and religious prejudices, forced underground during the Soviet era, are beginning to resurface. A recent poll showed 54 percent of Russians in support of restrictions on non-Russians. Another 41 percent agreed there was a need to limit Jewish influence in education, business, show business, and virtually every other facet of Russian life.
At the extreme end of feeling, said Butkevich, neo-Nazi groups and sympathizers are still active both in crowded major cities and in more traditionally tolerant areas of Siberia and the Far East.
Why? In part because Russia is losing ethnic Russians (at the rate of 1 million a year during the 1990s – though only 600,000 last year) – and gaining immigrants. Russia "is becoming darker, and more Muslim," said Butkevich. "This scares a lot of people."
Add to that Russian police actions in Chechnya, which have fanned ethnic suspicion and hatreds. Meanwhile, government officials "are playing footsie with nationalist politics," said Butkevich, including still-influential splinter groups of the once-powerful Russian National Unity, an ultranationalist group.
But in Russia's rural areas or in cash-strapped one-company towns, formal neo-Nazi organizations have given way to loose-knit neighborhood gangs. Members are young men humiliated by poverty; trapped by the difficulty of moving within Russia (de facto internal passport controls are still in place); and angered by what Butkevich called a "weird mix of sex and jealousy." In Russia, perceptions persist that immigrants from the ethnically diverse and oil-rich Caucasus region are sexually aggressive – and rich.
"In these small towns, people do take the law into their own hands," and retribution often has ethnic or racial undertones, said Butkevich. "A lot of people in Russia feel humiliated, and find an outlet by rioting."
Laws exist to punish hate crimes, especially Article 282 of Russia's criminal code, "a de facto hate crimes provision," he said. But the law is little used and poorly understood by judges and prosecutors.
To make matters worse in the legal realm, local police and politicians in remote localities often side with ethnic Russian gangsters, and treat ultranationalist figures as statesmen.
In questions from the audience, Butkevich faced sharp questioning about the strength of his statistics on the upward trend in violence. The data "is not as clean [or] as scientific as it should be," he admitted.
And there were reminders from the audience that some non-Russian ethnic groups embrace their own extremist groups. "But the Russians are in charge," countered Butkevich, whose organization maintains a weekly "bigotry monitor" on its Web site, and updates violence figures three times a day. "What they do is more important."