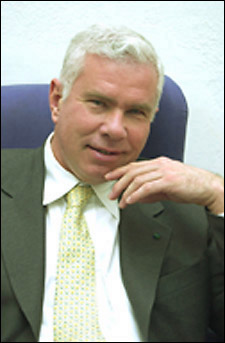 Dean Jamison, an economist internationally renowned for his research on how the field of economics impacts social welfare and global health, has been appointed the T&G Angelopoulos Visiting Professor of Public Health and International Development at the Harvard School of Public Health (HSPH) and the Kennedy School of Government (KSG). Jamison is also a professor of development economics at the University of California, San Francisco, and an adjunct professor at both the Peking University Guanghua School of Management and at the University of Queensland School of Population Health (Australia).
From 1988 to 2006, Jamison was in the Department of Education and at the School of Public Health at the University of California, Los Angeles. He has served as a fellow at the Fogarty International Center of the National Institutes of Health, and is a member of the policy advisory committee of the International AIDS Vaccine Initiative. He is an elected member of the Institute of Medicine of the National Academy of Sciences.
From 1976 to 1988, Jamison worked as an economist at the World Bank. He served in the Development Economics Department, as a health project officer for China, as chief of the Education Policy Division, and as chief of the Population, Health, and Nutrition Division. In 1992, he temporarily rejoined the World Bank to serve as director of the World Development Report Office and as lead author of the "World Development Report 1993: Investing in Health."
From 1998 to 2000, Jamison directed the Economics Advisory Service at the World Health Organization in Geneva, where he was lead author of "World Health Report 1999."
He received his undergraduate and master's degrees from Stanford University and a Ph.D. in economics from Harvard University.
Jamison's appointment at HSPH in the Department of Population and International Health and at KSG was made possible through a gift from Theodore Angelopoulos and Ambassador Gianna Angelopoulos-Daskalaki to support a senior faculty member whose work transcends the traditional boundaries of international development and public health, and addresses issues that are integral to both fields. In addition, the Angelopoulos Professorship was established to help prepare a new generation of leaders to simultaneously strengthen democratic ideals and to understand, anticipate, and resolve future health challenges.
"Public health experts have come to recognize that improving the health of a population can reap economic and educational benefits in a society as a whole," said HSPH Dean Barry R. Bloom. "These relationships are still being explored. Professor Jamison is a remarkable voice for making health a cornerstone of economic policymaking in developing countries."