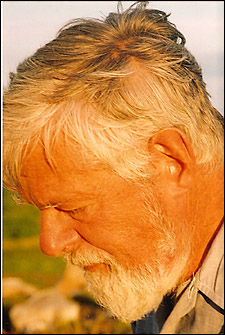 Rodney Gove Dennis, who died on Oct. 12 after a short illness, wrote poetry and made music while curating manuscripts at Harvard's Houghton Library. In his retirement he reconnected with the study of Latin using his poetic skills to translate the works of Catullus, Tibullus, and the Medieval Latin poet Giovanni Pontano. His life was like a diamond, brilliant and many-faceted.
The Rev. Professor Peter J. Gomes, the Plummer Professor of Christian Morals and Pusey Minister in the Memorial Church, writes: "He wore his considerable learning lightly, and with a ready wit, and his capacity for friendship and conversation across the ages was enormous. He was also a man of faith whose theological erudition helped enliven many a discussion. I will miss him in many places and in many ways."
Dennis was born in New York City in 1930, attended the Allen Stevenson School, and graduated from Putney School in 1948. He attended Yale University for two years. Then after one year in a bookstore (where he tackled a book thief fleeing down Fifth Avenue) and another in the Army, he entered the Manhattan School of Music and there took a bachelor's degree in viola and a master's in musicology. He then moved to Germany with his first wife, Joan (Akeeyah) Brown, and their two young children to pursue a doctoral program in music history at the University of Frankfurt. His special study was the music of the Provencal troubadours. While there he worked for the Central Intelligence Agency. After returning from Germany he was employed at Harvard's Houghton Library as a cataloguer and rose rapidly to become in 1965 the curator of manuscripts in the Harvard College Library, a position he held until his retirement in 1991. As curator he oversaw the cataloguing of Trotsky's exile correspondence, brought Robert Lowell's papers to Harvard, and greatly enlarged Houghton's collections of literary, artistic, musical, and historical manuscripts.
Dennis was a student for 26 years of Michael Zaretsky of the Boston Symphony Orchestra. He was also a frequent participant in musical groups. Lewis Lockwood, Fanny Peabody Research Professor of Music, writes: "Especially memorable was our playing together in a string quartet, for many years, with Martha Kim as first violinist and with the late Adrienne Galimir Krasner, wife of Louis Krasner and sister of Felix Galimir. We played regularly in that group and on occasions, Rodney and I, in other chamber music groups."
With Elizabeth A. Falsey, Dennis edited "The Marks in the Fields: Essays on the Uses of Manuscripts." In this publication, they chose 35 Houghton Library manuscripts to illustrate various scholarly principles and methods, and commissioned scholars to write them up. Falsey writes: "Pleasure and pride in the catalogue work, fascination with the expressiveness of the objects, and appreciation of the team of people immediately around him – the energy and creativity of his partnership with Roger Stoddard is especially legendary – gave him work he loved every day until he retired at the end of 1991."
Dennis also edited "Poemata Humanistica Decem," translations of Neo-Latin poets with the Latin facing. "The translators," he wrote in his introduction, "classicists, poets, librarians, and amateurs, were chosen with a strict rigor not unmixed with the power of affection." Among them were John Updike, David Ferry, Mason Hammond, and himself.
Dennis's translation of the poem "Baiae" by the foremost (in his opinion) Renaissance Latin poet, Giovanni Gioviano Pontano, was published in 2006 in the I Tatti Renaissance Library by the Harvard University Press. His translation of Catullus was published in a collector's edition by the Thornwillow Press; the trade edition is due to be published by David R. Godine in December 2007. He also translated from the Medieval Latin "The Epistle of Secrets" (circa 1487), the earliest text of the Christian kabbalah. Dennis's translation of the poems of Tibullus has yet to be published. His books of poetry include "Domestic Poems" (1991), "Five Old Poems, 1960-1963" (1991), "Carolyn: Poems" (1996), and "City Limits" (2001).
Dennis held a teaching appointment in the English Department at Harvard. Beginning in 1985 and through 1992 he offered, with Roger E. Stoddard, Medieval Studies 105, the production of manuscripts and printed books before 1600. Stoddard writes: "He was a natural on account of his early and extensive readings of English poetry, his research under German masters, his wide-ranging kulturgeschichte: he seemed to know just everything!"
After retirement he was a student in the Harvard Classics Department and was one of the founders and the poetry editor of the journal Persephone. This publication, now in its 12th year, offers the general reader prose, poetry, translation, and artwork relevant to the classics. His co-founder, John Cobb, writes: "He was the spark without which the engine could not have run."
David Ferry, poet, translator, and frequent contributor to Persephone, writes: "When he was alive Rodney Dennis was about twice as alive as everybody else. It's said that when he was curator of manuscripts at Harvard his 'special fields' were 'medieval paleography and codicology.' Well, yes, but his special fields were also his poems, as in his wonderful book of poems 'Carolyn,' and his translations (Catullus and Tibullus and Pontano), his love of language, English, German, Latin, and of the way human life keeps getting kept alive by poems, whether his own or those of the others he translated. His love of music was like this too."
In the early '90s, Dennis converted to Catholicism. Sister Mary Frances, a Benedictine nun of the St. Scholastica Priory in Petersham, Mass., met Dennis in 1988 in search of some medieval manuscripts. She writes: "His generosity at that first meeting, his boundless well of knowledge and lively joy in sharing it, in learning and teaching, continued through the years of our friendship."
There was something Roman about Dennis' relationship with Harvard Square. He would attend Mass at St. Paul and walk from there to the Greenhouse Coffee Shop for breakfast, then to Widener for work, to Bartley's or Grafton Street for lunch on his own or with an old friend, then on to Starbucks on Massachusetts Avenue to chat with a waitress he had befriended. In all these places he had friends who could count on his returning.
He was president of the Club of Odd Volumes, and the Signet Associates; and a member of the Grolier Club, the Century Association, the Tavern Club, and Harvard Shop Club. He is survived by one half-brother, Charles Dennis; by his wife, Christie; by Rodney Strong ("Sam") Dennis of West Roxbury and Sarah Dennis of Cambridge, children by his first marriage; by Simon Dennis, a son by his second marriage; by two stepsons, John Lafleur and Nicholas Lafleur; and by one granddaughter.