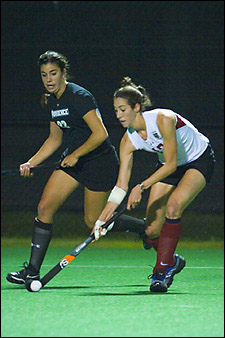 Winless away and repeatedly defeated at home, it seems the woes of Harvard's field hockey team know no bounds. Still, final tallies and records aside (0-9 overall heading into Wednesday evening's [Oct. 4] battle against Northeastern), tiny victories continue to surface here and there for the struggling Crimson.
In the team's past two contests against visiting Providence (Sept. 27) and host Duke (Oct. 1) – both nationally ranked teams at No. 15 and 4, respectively – the Crimson fielders avoided shutouts, no small feat considering Harvard's prior three-game scoreless slide against Holy Cross, 3-0; Connecticut, 1-0; and Brown, 1-0.
Down 2-0 against Providence, the Crimson found some redemption in co-captain Gretchen Fuller '07, who tallied a goal in the 66th minute of play to cut the lead in half before the final whistle. Days later in Durham, N.C., Harvard – though soundly pounded in the shot department (Duke outshot the Crimson 39 to 2) – managed to cut the lead to 2-1 after Devon Shapiro '08 scored off the penalty corner. And though the Blue Devils poured on another pair of goals before halftime, the Crimson traded goals with the hosts in the second stanza for the 5-2 final.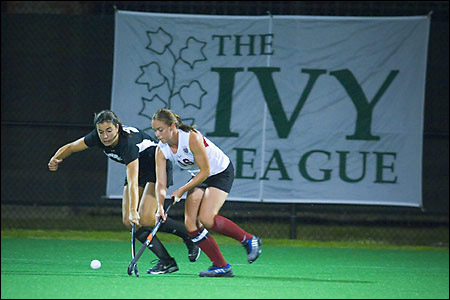 Helping to contain one of the top offenses in the country was Harvard's Kelly Knoche. The sophomore goalkeeper recorded a career-high 20 saves against Duke, 14 in the second half alone. Following her play over the past week, Knoche is now ranked 16th in the country.