With a record 800 Allston-Brighton residents turning out for Saturday's (Oct. 7) Harvard vs. Cornell game, it's clear that Harvard's Allston-Brighton Family Football Day has become a great local tradition. For 17 years, Harvard has welcomed its neighbors to enjoy a hearty lunch, impromptu entertainment by the Harvard Band, and a spirited football game – usually won by Harvard, of course (and this day was no exception as the Crimson made the faces of the Big Red scarlet with a 33-23 victory).
To help make the day especially special, the Harvard University Band celebrated its fourth annual Trombone Day, hosting – no, not 76, but nearly 25 Boston and Cambridge trombonists, who joined forces with the band for a halftime performance.
The musicians, of all ages and musical ability, were treated to lunch and a clinic with Ron Barron, principal trombonist of the Boston Symphony Orchestra, prior to the performance at the game.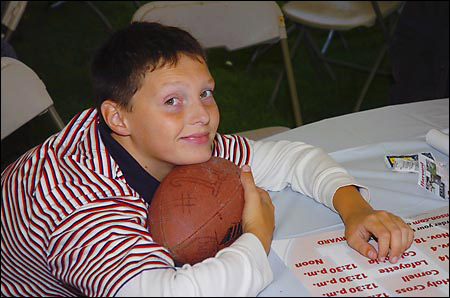 "This event gives players the chance to learn from Ron Barron, meet and make music with other trombone players, and perform in front of an audience with the Harvard University Band. This will hopefully inspire students to continue to play and practice and look for other opportunities to be involved in music," said Mark Olson, assistant director of bands.