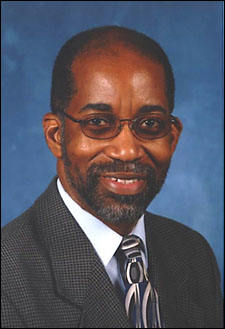 David Williams has joined the Harvard School of Public Health (HSPH) faculty as the Florence Sprague Norman and Laura Smart Norman Professor of Public Health in the Department of Society, Human Development, and Health. His work explores social influences on health, including trends and specific mechanisms by which socioeconomic and racial differences affect physical and mental health, as well as interventions that might reduce those health disparities.
Williams has served on six panels for the Institute of Medicine of the National Academy of Sciences, including the committee that prepared the influential "Unequal Treatment: Confronting Racial and Ethnic Disparities in Health Care" report.
Williams comes to HSPH from the University of Michigan, where he was the Harold W. Cruse Collegiate Professor of Sociology, a senior research scientist at the Institute for Social Research, and an associate professor of sociology at the university's School of Public Health. According to ISI Essential Science Indicators, he was one of the top 10 most-cited researchers in the social sciences during the past decade.
In recent work, Williams has found that residential segregation and neighborhood quality contribute to racial disparities in the death rates of white and black Americans. He has reported on how everyday encounters with discrimination diminish the mental and physical health of African-American women, and on how even small changes in socioeconomic status and social conditions can significantly improve health.
Williams' research spans individual and societal determinants of health. His work includes the impact of religion and, in South Africa, the additional effects of torture and violence. In one line of inquiry, he is seeking to understand the extent to which the stress of unfair treatment has health consequences. He has begun to explore cultural heterogeneity within the black population, traditionally treated as homogenous by researchers. In addition, Williams and his colleagues have finished collecting data for a large national mental health study in South Africa and are now seeking correlates of mental health problems.
Williams received his Ph.D. from the University of Michigan, an M.P.H. from Loma Linda University, and an M.Div. and B.Th. from Andrews University and Caribbean Union College, respectively.