The presidents of Serbia and Croatia shared a stage for the first time at the John F. Kennedy School of Government Friday (Sept. 22), together espousing regional stability, European Union membership, and economic development.
The event also marked the first time in Kennedy School history that two heads of state shared the same stage. It allowed the audience a unique opportunity to see the interaction between two men whose nations were engaged in a brutal war just over a decade ago.
Despite their nations' recent differences, however, both Serbian President Boris Tadic and Croatian President Stjepan Mesic said their nations' futures depend on regional cooperation and respect for their differences. It was apparent, however, that tensions remain in the region, with Mesic referring to Croatian elements that are resistant to the "fundamental changes" within his country and with Tadic opposing independence for the ethnic-Albanian dominated region of Kosovo, whose future remains in doubt.
Kennedy School's Senior Associate Dean and Director of Degree Programs Joseph McCarthy moderated the event, sponsored by the Kokkalis Program on Southeastern and East-Central Europe. McCarthy said that a new highway joining the Croatian capital of Zagreb and the Serbian capital of Belgrade crosses a former war zone and is a symbol of how far the two countries have come.
"Today, in 2006, the capital cities of Serbia and Croatia are connected by a beautiful new highway that traverses a region that a few years ago was a war zone," McCarthy said. "It is a symbolic highway to the future, a hopeful future of peace and prosperity."
McCarthy said the presence of the two leaders was also symbolic of "a new era of enlightened leadership in what has been a troubled part of the world."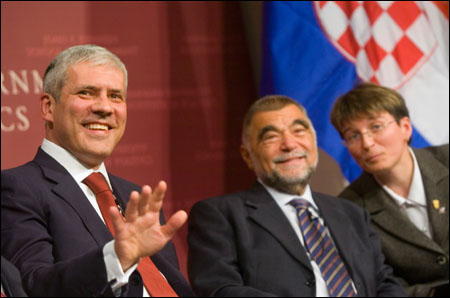 The two leaders took turns speaking – Mesic first – and seemed at ease with each other. Each spoke of the importance of cooperation and European Union membership as crucial to the region's future.
During his talk, Mesic, in office since 2000, said the region has been "fundamentally changing." It has been 10 years since normalization of relations between Croatia and Serbia began, he said, and it has evolved from the normalization of governmental structures only to a normalizing of relations between the nations' peoples.
Croatian democracy has changed over the same period, he said, going from a government with authoritarian tendencies to one that is more fully democratic with even application of law, cooperation with war crimes prosecutions, and freedom of the press. In short, Mesic said, Croatia has gone from being democratic only in words to democratic in deeds as well.
The focus of Croatia's attention is changing also, Mesic said, with the government becoming more interested in relations outside its borders: within the region, with Europe as a whole, and with the wider world.
Tadic, in office since 2004, said he believed that Zagreb-Belgrade relations are key to the region's stability, saying that too often Serbs and Croats have embraced hatred of the other. Serbia has been coming to terms with atrocities committed during the 1990s, he said, and must remain dedicated to protecting the rights of ethnic minorities.
"Democracy is about civilized people choosing to be governed as civilized people," Tadic said.
Serbia will continue to work with regional and global allies against terrorism, he said. He also called for a negotiated solution to the future of Kosovo, which some believe should become fully independent. He warned that an imposed solution that grants Kosovo independence could sow the seeds for future unrest in the region. He said any resolution of the issue of Kosovo should take into account not only its effects today, but also its effects into the future.
Mesic agreed that Kosovo's future status should be negotiated rather than imposed, saying: "It is better to negotiate for 10 years than to wage war for 10 days."
In response to a question about what the world can do to help the two nations in their quest to stabilize the region, Mesic said that they don't need aid so much as they need economic development. Fostering the two nations' international reputations as stable places for large corporations to do business, he said, may be of the most help.
Mesic also hailed the European Union as a means to unite Europe's fragmented nations into a whole large enough to partner with and rival the United States on the world stage. Mesic said he's also looking forward to a region with freer borders where it doesn't matter which side a Serb or Croat lives on.
Related links: