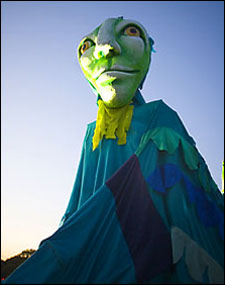 On Thursday (Sept. 21), as the sun began to set, an ethereal female voice called out over the Charles River, sending a shiver through the hundreds of spectators standing on its banks. It was a call to fall.
The occasion was RiverSing, an annual event organized by the Charles River Conservancy and the Revels Choral Troop to celebrate both the fall equinox and the Charles River. This year the Weeks Footbridge was again a lively venue for area choruses and musicians. Overseeing the festivities were enormous, vivid puppets, one of the West African goddess of love and the sweet waters Oshun, and the other an aqua, vaguely extraterrestrial-looking Poseidon.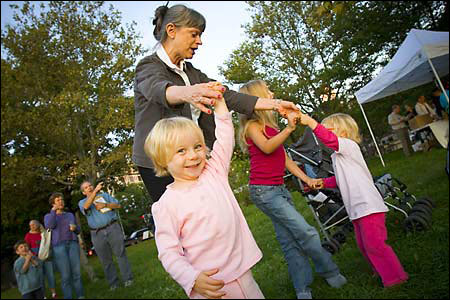 Folks of all ages stood along the banks, picnicking, dancing, or just watching the sunset.
The evening was succinctly – if simply – captured by a 2-year-old Cambridge resident: "Wow!" said Hayden, as mesmerized by the scene as the other onlookers.
The event represents the coming together of a community to protect and beautify the Charles River, an important shared resource, and is supported each year by a variety of community partners, including Harvard.
-Lauren Marshall