This year is Rembrandt's 400th birthday, and to honor the occasion, the Busch-Reisinger Museum has put together an exhibition of nearly 50 of the great Dutch artist's prints and drawings.
The exhibition also features one painting, "Bust of an Old Man," to remind us of the profound compassion and insight into human character that Rembrandt was able to convey in the medium of oils. But it is the prints and drawings (nearly all from Harvard's collections) that occupy center stage and that have been carefully arranged to illustrate an aspect of Rembrandt's art that is often overlooked. That aspect is technique, the tool kit of skills and methods that enabled Rembrandt to achieve his artistic effects.
Of course, no one would seriously suggest that Rembrandt was deficient in technique, but it is the premise of the exhibition's curators, Ivan Gaskell, the Margaret S. Winthrop Curator in the Department of European Painting, and William Robinson, the Maida and George Abrams Curator in the Department of Drawings, that in the case of a universally acknowledged genius like Rembrandt, the consideration of technique often takes a backseat to more philosophical and spiritual concerns.
"By ascribing genius to an artist, people often feel they've accounted for what they've done, but in fact they've overlooked what they've actually achieved," said Gaskell.
To counteract this tendency, the curators have grouped the works into 10 categories, encouraging us to look closely and to compare one piece with another, often focusing on small but significant details, such as the way a series of curved lines suggests the folds of a garment or the way a dense screen of parallel lines casts an ominous pall of darkness over a dramatic scene.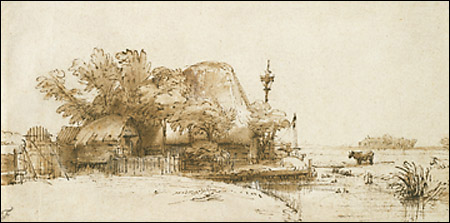 Studied in this way, even works that appear to be swiftly rendered sketches of landscapes or human figures reveal deliberate technical choices that show Rembrandt constantly exploring the limits of the medium to find the most effective ways of representing reality.
For example, in a little sketch titled "Houses on the Schinkelweg," Rembrandt tones down the brightness of the paper with a grayish brown wash, then delineates the houses with broken ink lines that suggest the shimmer of sunlight on a slightly overcast day.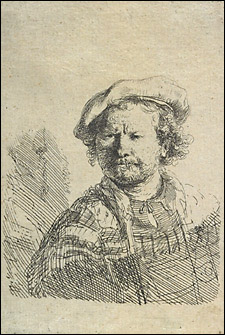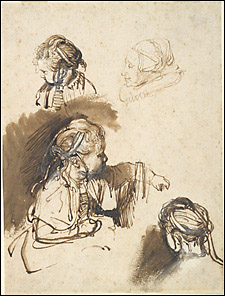 Another grouping brings together etchings in which Rembrandt used printmaking techniques to obtain the kinds of chiaroscuro effects that characterize many of his paintings.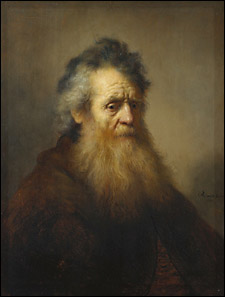 In "The Three Crosses," Rembrandt creates an intense curtain of diagonal lines to suggest the darkness that enveloped the earth at the moment of Jesus' death. He made four versions of the print, the one featured in the exhibition being the fourth and most dramatically shadowed of the group. The etching reminds us how much effort Rembrandt put into his work.
"There are lots and lots of lines," Robinson said. "He was constantly proofing, making different states of the print, sometimes scraping the plate clean and starting over. He really worked hard at it."