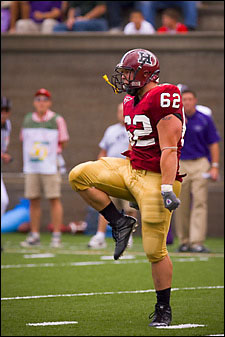 With all the personnel changes both on and off the field, including a new quarterback, a new captain, five new assistant coaches, and a relatively green offensive line and linebacker corps, the Harvard football team could reasonably expect to feel a sense of uncertainty heading into the 2006 season. So when QB Chris Pizzotti '08 – already a replacement for regular starter Liam O'Hagan '08 (currently serving a five-game suspension) – suffered an MCL injury in the second quarter of Saturday's (Sept. 16) season opener against visiting Holy Cross, the Crimson suddenly appeared to be in disarray.
Fortunately for Harvard, freakishly consistent running back Clifton Dawson '07 and third-string quarterback Jeff Witt '09 converged to restore some order en route to a 31-14 Harvard victory.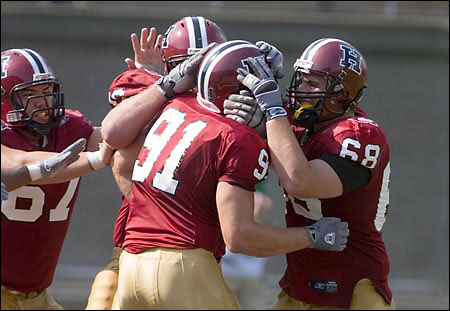 During the flag-filled afternoon (16 penalties in all), the two conspired for three touchdowns, as Dawson amassed 170 rushing yards on 24 carries to justify his seventh career player of the week nod from the Ivies. Witt, meanwhile, playing in just his second collegiate game, confidently completed 7 of 13 passes for 105 yards with no turnovers to help the Crimson to their 1-0 start. Harvard's offensive line, meanwhile – a big question mark heading into the game – allowed zero sacks.
---
Numbers game
The Harvard football team is one win shy of collecting its 400th victory at the stadium.
More sports photos
---
Striking first, Holy Cross closed out a quiet first quarter with a five-play, 72-yard scoring drive. Harvard's Matt Schindel '09 responded with a field goal from 33 yards out in the early going of the second quarter (after Pizzotti went down) to close the gap, 7-3. With Witt calling signals, Dawson capped a seven-play, 59-yard drive with a three-yard dash to give Harvard the lead, 10-7 (following the extra point), at 6:04 of the second stanza.
Following a missed field goal attempt by Harvard and a short offensive set by Holy Cross, the Crimson kept the pressure on in the final 1:25 of the first half. Starting on their own 44-yard line, Harvard entered the red zone on second down when Witt hit wideout Matt Luft – Harvard's intriguing 6-foot-5-inch freshman – for a 38-yard gain. Dawson tallied his second TD of the game on the subsequent play, powering through the Holy Cross guard to give the Crimson a 17-7 advantage.
Harvard tacked on a pair of touchdowns in the third quarter, including a 17-yard end-zone reception by Matt Farbotko '07 soon after the break and a 28-yard run from Dawson to overwhelm the visitors, 31-7, with 20 minutes of football remaining. Linebacker Eric Schultz '09, meanwhile, paced the Harvard defense with seven unassisted tackles.
The Crimson next face Brown in Rhode Island this Saturday (Sept. 23). Witt is expected to start.