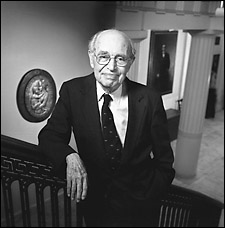 The Harvard Medical School Department of Social Medicine, together with the Harvard School of Dental Medicine, the Harvard School of Public Health François-Xavier Bagnoud Center for Health and Human Rights, and the Center on the Developing Child at Harvard University, will co-host a symposium on Sept. 26 from 8 a.m. to 5 p.m. at the Harvard Club, 374 Commonwealth Ave., in Boston. Admission is free.
"Child Health and Development in the 21st Century" will celebrate the 90th birthday of Julius B. Richmond, Harvard professor of health policy emeritus. The goal of the symposium is to establish a scientific and action agenda to advance the healthy development of children through research, education, policy, and practice.
---
For more information, or to register, visit http://www.hsph.harvard.edu/richmond. E-mail inquires to richmond_symposium@ hms.harvard.edu.
---
Speakers will include Michael Meaney, the James McGill Professor of Medicine at McGill University; Megan Gunnar, Regents Professor and Distinguished McKnight University Professor at the University of Minnesota; Arthur Rolnick, senior vice president, Minneapolis Federal Reserve Bank; and Joy Phumaphi, assistant director general for family and community health, World Health Organization, among others.