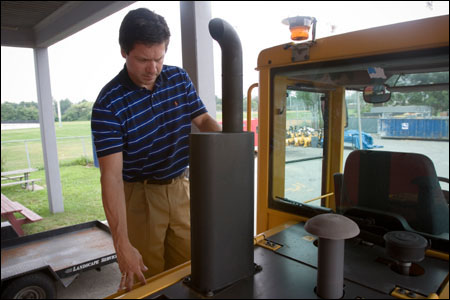 Breathe easy. This summer, Harvard became the sole university test site for a new Canadian-made exhaust filter that soaks up the fine soot, hydrocarbons, and odors that normally puff out of diesel engines.
A few other MINE-X(r) Ultra nonblocking filters are being tested on trucks in North America, and in a small fleet of taxicabs in London, England.
The nonblocking diesel particulate filter is an experimental hybrid of two common diesel-filter technologies: the Diesel Oxidation Catalyst (DOC) and Diesel Particulate Filter (DPF). One drags more soot out of exhaust than the Canadian filter, but is twice as expensive. The other is cheap, but lets too much soot out the tailpipe.
"As a sustainability project, this is pretty sexy to us," said Michael Crowley, an environmental scientist with the Harvard Green Campus Initiative (HGCI), where the idea for the nonblocking diesel particulate filter trial emerged a year ago. The experiment soon evolved into a partnership that includes Harvard; Greater Boston Breathes Better (GB3), a federally funded clean-air coalition; and DCL International Inc., the filter's Toronto-area manufacturer.
In his Blackstone Street office, Crowley hefted an example of a MINE-X Ultra nonblocking filter. At about four pounds, the device is the size of a large soup can and crammed with filtration media. Alternating tapered trapezoidal ducts of stainless steel coil inside the cylinder like a clock spring.
The nonblocking filter is little but acts big. It strips as much as 60 percent of fine soot out of diesel exhaust; captures 80 percent or more of other common diesel toxins, including carbon monoxide, hydrocarbons, and nitrous oxides; reduces odors; and – when built into mufflers – makes less noise than conventional exhaust systems.
All that will have "a direct impact" on health and quality of life for Harvard workers, subcontractors, and neighbors, said Crowley.
DCL gave Harvard the experimental nonblocking filters for free, in exchange for doing the field trial. The devices were built into 50-pound mufflers and in late June installed on three University-owned diesel vehicles – a shuttle bus, a recycling truck, and a front-end loader. The new exhaust systems popped on as easily as new shoes. (DCL maintains a "design library" of 2,000-plus mufflers that can be fitted with the nonblocking filters.)
"We've tried to make a device that's practical to retrofit," said John Muter, technical manager at DCL, a 20-year international company that specializes in emissions-control technologies.
After a 12-month field trial at Harvard, he said, DCL will do laboratory tests to test the efficiency of the used MINE-X Ultra nonblocking filters. By the end of 2007, the company will submit its filter design to the federal Environmental Protection Agency, which so far lists about 20 approved diesel-retrofit technologies.
Coming soon from the EPA are strict new rules governing emissions from new highway and off-road diesel engines. In the meantime, the agency has a clean-diesel campaign to encourage voluntary retrofits. About 11 million diesels in the United States, protected by a grandfather clause, can legally evade the new rules.
Unaltered, these older engines could create decades more of intense pollution. An average bulldozer working now may last up to 30 years, the EPA says, and is 500 times more polluting than the average car.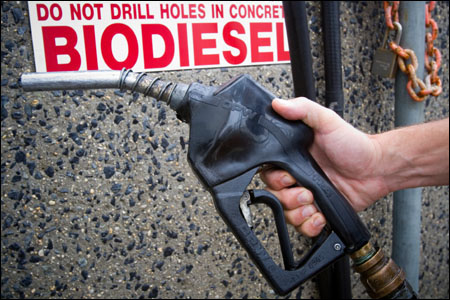 The technology being tried out at Harvard seems elegantly simple. Hot combustion products stream through coils in the filters. Fine soot and other pollutants collect and oxidize on fleece-like steel fibers coated with a porous catalyst. At the tailpipe, exhaust emerges as water, carbon dioxide, and a scattering of soot. That result is more benign than diesel's familiar plume of black smoke. No maintenance or electronics are required.
David E. Harris Jr., general manager of Harvard University Transportation Services in Allston, said the MINE-X Ultra nonblocking filters are robust, easy to install, and represent the best per-dollar investment for reducing pollution.
Each pollution solution currently in use has its own shortcoming. Diesel particulate filter technologies yank more soot out of exhaust than the MINE-X Ultra nonblocking filters (90 versus 60 percent). But they cost $11,000 each and are hard to maintain. Diesel oxidation catalysts are common retrofits, and cost as little as $1,000 each. But they eliminate only a small fraction of soot from exhaust (10 to 40 percent).
At about $5,000 each, MINE-X Ultra nonblocking filters are in the mid-range of cost and remove soot with acceptable efficiency. The filters do come with a potential limitation: They work best only with ultra-low sulfur fuels, which are not yet standard in the U.S. marketplace. But federal law will soon require this low-polluting fuel in most diesel engines.
If the trial is successful, about 40 of the 60 diesel trucks, buses, and heavy machines in the Harvard fleet will be fitted with the new filters. (For technical reasons involving exhaust temperatures and other "duty cycle" factors, the filters can't be used with all diesel engines.)
Especially important to the trial, said Harris, is the fact that the non-blocking filters take a big bite out of fine-soot diesel emissions. These nanoparticles, called PM2.5, are less than 2.5 microns in diameter; 1,000 of them would fit on the head of a pin.
The smaller the soot particle in exhaust, the more damage it can cause to the respiratory system, by penetrating deeper and staying longer. PM2.5 is already an issue in the six New England states, where vehicles create half of all air pollution and asthma rates are higher than in any other U.S. region, according to the EPA. To add icing to this toxic cake, the federal agency now calls ultra-fine diesel soot a likely human carcinogen.
To counter pollution trends outside Harvard's city-size ecological footprint, University vehicles and related protocols are getting greener. "We're trying to walk the walk and talk the talk," said Harris. The filters "will compound our emissions benefits," he said, and nicely synchronize with other Harvard fleet initiatives:
Since February 2003, all the University's diesel vehicles have run on low-polluting B20 biodiesel. It's a mix of low-sulfur petroleum (80 percent) and soybean oil (20 percent).
Harvard trucks and other vehicles are washed with rainwater reclaimed from a rooftop tank in Allston, saving up to 700 gallons of municipal water with every hose-down.
In the maintenance bays, Harvard fleet services use only soy-based lubricants and parts cleaners.
And in the near future, Harris said, Harvard will likely convert its 160 gasoline-powered vans, cars, and pickup trucks to E85 fuel, which is 85 percent corn-based ethanol.
The transportation fleet is trying to reduce its consumption of renewable resources, trim its air emissions, and cut down a dependence on foreign oil, he said. All are ideas in the spirit of the Green Campus Initiative (in its sixth year) and the University's sustainability principles, adopted in 2004.
Ideas for a green campus don't have to be as impressive as a rooftop solar array (Shad House at the Harvard Business School) or big clean-energy contracts (which account for 100 percent of electricity at the Kennedy School of Government). Brand-new ideas with an anti-pollution punch can be the size of a soup can, and hidden in rumbling mufflers.
"Harvard being Harvard," said Harris of the filter trial, "it's fair to say we like to be on the cutting edge."
For more on the diesel filter trial, go to http://www.greencampus.harvard.edu/emissions/