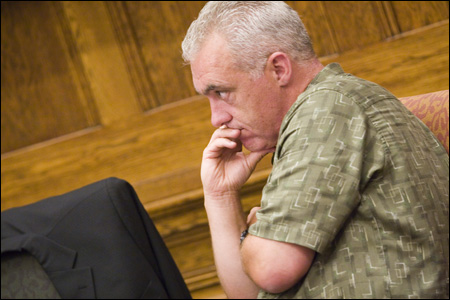 A panel of prominent journalists presented a passionate yet dismal view of investigative journalism's future Wednesday evening (Aug. 2), saying that ongoing cutbacks to newspaper budgets make it harder to devote manpower to long-term watchdog projects.
The reporters, whose investigative work has touched on INS abuses, the Catholic Church's sex abuse scandal, corporate deception, and the medical care of American veterans, said despite the increasing popularity of television and online media sources, it has traditionally been newspapers that conduct in-depth investigations into a single issue, such as government corruption or a pressing social concern.
As newspapers continue to cut back on both resources and on the amount of news in the paper, fewer are able to cut reporters loose for months to work on a single story, making the investigative reporter an endangered part of today's newsrooms.
"I will frequently work on a story for six months, a year, even two years," said David Heath, a 2005-06 Nieman Fellow from the Seattle Times. "[But] those types of jobs are really disappearing."
The event, held at the Barker Center's Thompson Room, included three 2005-06 and one 2002-03 Nieman Fellows, two who won Pulitzer Prizes for their reporting and two who were finalists for the honor.
"We're really [taking advantage of the fact] that we have these extraordinary Niemans here," said Pat Bellanca, director of the Harvard Writing Program, which sponsored the event with the Harvard Summer School. "It seemed an extraordinary opportunity not to be missed."
The panelists included Kevin Cullen of the Boston Globe, who won the 2003 Pulitzer for public service as part of the team that broke the Catholic Church sex abuse scandal; Heath, who received three Pulitzer nominations and Harvard's Goldsmith Prize; Cathy Grimes of the Walla Walla Union-Bulletin, who was nominated for the Pulitzer in explanatory reporting and community service reporting; and Brent Walth of the Oregonian in Portland, Ore., who won the 2001 Pulitzer in public service as part of a team that investigated abuses by the Immigration and Naturalization Service.
Heath, Grimes, and Walth are each teaching journalism classes at the Harvard Summer School.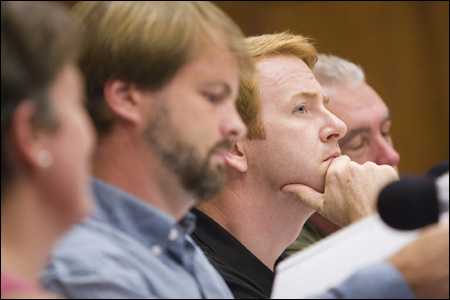 Part of the problem is that today's society values immediacy over the quality of content, Walth said, leading to glib reporting rather than in-depth investigations.
Cullen said that he believes investigative reporters aren't doing anything different from other reporters, they're just given the time and resources – two rare commodities in newsrooms – to fully report important stories.
Newspapers' jobs, he said, are to stand up to the powerful on behalf of the powerless, which is difficult for a reporter to do when resources are thin and he or she is writing several stories a day, running from meeting to meeting to do the basic reporting.
"Investigative reporting is a high and lofty title for people who get the time and resources to get the story," Cullen said. "I'm one of the luckiest people in American journalism because increasingly that luxury is taken away from us."
Cullen and Heath both said they believe the newspaper business model is broken, meaning an uncertain future for both the industry and the role it plays as a watchdog on government. The two also agreed that, though television, radio, and Internet news overlap with newspaper journalism, only newspapers regularly do the kind of in-depth reporting that gets behind the increasingly sophisticated spin on government activities. When investigative reporting is gone, so will be an important check on government.
"The only place we see it is in the print media and I don't know if we'll see it five or 10 years down the road," Cullen said, "and that scares the hell out of me."
While Cullen said the basic skills of an investigative reporter are no different than other reporters, Heath and Grimes said persistence and a willingness to dig for the story are key.
"It's primarily being absolutely persistent, tenacious, and not giving up on a story until you get it," Heath said.