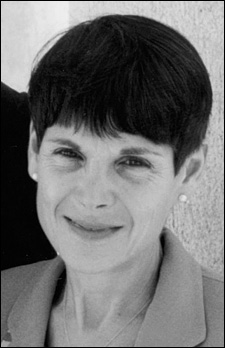 Delba Winthrop Mansfield, a lecturer at Harvard Extension School for 27 years and director of the Program on Constitutional Government since 1984, died of cancer on Aug. 16 in Cambridge, Mass. As a teacher, Mansfield will be remembered by generations of students for her sharp wit and deep learning, as well as her graciousness and generosity. As director of the Program on Constitutional Government, she brought to the University a stellar roster of intellectuals, among them Tom Stoppard, Saul Bellow, and Tom Wolfe. To be invited, she used to say with a mischievous twinkle, you've got to be so "incorrect" that no one else would invite you.
Nancy Rosenblum, Senator Joseph S. Clark Professor of Ethics in Politics and Government and chair of the Government Department, said, "Delba was a graduate student in the Government Department and a regular lecturer in the department over the years, in addition to her teaching at the Extension School. She has been an intellectual presence at Harvard for the whole course of her career, in short, and mine. Her work on women in political thought was among the earliest interpretive work in this area, and despite decades of scholarly writing on Tocqueville from every political perspective, her essays hold up as the very best. That was my introduction to Delba's erudition and quiet, provocative intellectual style, which continued in full force to the end of her life.
"Delba's great learning, her insights, her sharp comments, sometimes blunt queries, and always dry humor gave texture and life to political theory at Harvard. She was also a great hostess and a wonderful cook; she designed one of the most beautiful, functional kitchens I have ever had the pleasure of seeing. That room, like her essays, is the mark of her care and concern for near-perfection. I will miss her."
Anne T. and Robert M. Bass Professor of Government Michael Sandel said, "Delba Winthrop's contributions to political theory — from her writings on Aristotle to Tocqueville to Solzhenitsyn — helped us understand the legacy and the limits of democratic politics. She was a galvanizing figure in Harvard's long-running colloquium on constitutional government, an intellectual home to conservative faculty and graduate students that was always open and hospitable to curious liberals. She was also a splendid gourmet cook, a formidable intellectual partner and collaborator with her husband Harvey Mansfield, and a cherished friend."
The daughter of Marvin and Estelle Winthrop, Mansfield was born in Chicago in 1945. She received her B.A. from Cornell University in 1967, where she was a student of the celebrated Allan Bloom. She received her doctorate from Harvard in 1974, working with Harvey Mansfield and Judith Shklar. Her dissertation, titled "Aristotle: Democracy in Political Science," won the 1975 Leo Strauss Award from the American Political Science Association.
In addition to teaching political science to Harvard Extension School students for many years, Mansfield also taught at the University of Virginia, Duke University, and Colorado College.
She is the author, along with her husband, of a widely praised translation of Tocqueville's "Democracy in America" (2000). She also wrote a number of articles about Tocqueville, Aristotle, and Solzhenitsyn, several of which have been republished in anthologies.
To those who knew her, Delba Winthrop Mansfield was a fine teacher, an intelligent and giving friend, and a witty, charming hostess — as well as a maestro in the kitchen. Yet surpassing these qualities was the greatness of heart she showed in her last illness.
She is survived by her husband, Harvey C. Mansfield, a professor of government at Harvard; by her sister and brother-in-law, Donna and Richard Loundy, of Glencoe, Ill.; and by four step-children and five grandchildren.
Contributions to establish a book prize may be made to "The Delba Winthrop Fund" and sent to Ken Weinstein, The Hudson Institute, 1015 15th St. N.W., 6th floor, Washington, D.C. 20005.