The Hopkinton Reservoir's surface shimmered with the moon's silvery light Aug. 4, but the 50 to 60 people gathered at Hopkinton State Park weren't there to take in terrestrial sights.
Their eyes were turned to the sky.
As the half-moon hung bright over the outline of the trees on the reservoir's far side, a dozen telescopes scattered around the parking lot examined its surface, showing its lunar mountains and seas in stark relief.
Visitors circulated slowly among the telescopes, chatting with the amateur and professional astronomers who manned them and peering at the lunar surface as well as four large moons of Jupiter — three crescent-shaped slivers of light hanging around Jupiter's disk and a shadow on Jupiter's face as the fourth transited the solar system's largest planet.
"To me, it's like going to church," said John Sheff, a volunteer at Harvard's Center for Astrophysics. "It's so peaceful. It gives you a sense of being connected with the vastness around us."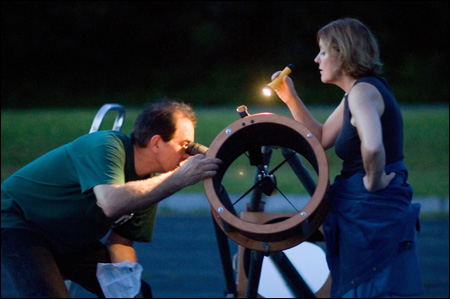 As Sheff and other volunteers shepherded people to their telescopes, David Aguilar, the center's director of public affairs, was at the helm of a larger telescope provided by the center, maintaining a running narration of the night sky.
Aguilar freely mixed natural history and popular culture as he spoke, pointing out the reddish star Vega, almost straight overhead, featured in the Jodi Foster movie "Contact." Aguilar told the crowd to keep a sharp eye out, as meteors were likely to pass overhead.
No sooner were the words out than an excited "OOOOH!" arose from the crowd as a shooting star briefly appeared.
"That was probably big enough to land on the Earth's surface," Aguilar said. "It'd be about the size of a lemon."
Aguilar, the volunteers, and the public were gathered at Hopkinton State Park for a community outreach program sponsored by the Harvard-Smithsonian Center for Astrophysics. The event, a "Summer Star Party," ran from 9 p.m. to 11 p.m. and is one of a wide variety of outreach activities sponsored each year by the center.