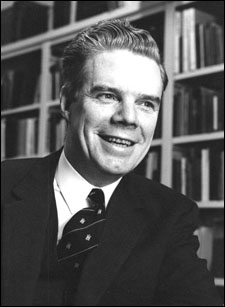 Charles W. Dunn, the Margaret Brooks Robinson Professor of Celtic Languages and Literatures Emeritus, died July 24 at Beth Israel Deaconess Medical Center in Boston at the age of 90.
Chairman of the Department of Celtic Languages and Literatures from 1963 until his retirement in 1984 and master of Quincy House from 1966 to 1981, Dunn was renowned for his teaching, his scholarship, and for his engaging and convivial personality.
Jeremy R. Knowles, dean of the Faculty of Arts and Sciences, said, "Charles Dunn was one of Harvard's unforgettable figures – deeply woven into the lives and learning of our students, passionate about his field, and with an energy and magnetism that helped to knit our community together. A truly exceptional man."
"Much of what I saw in Charles' undergraduate teaching influenced my own pedagogy and manner in the classroom," said Patrick Ford, who succeeded Dunn as the Margaret Brooks Robinson Professor. "He had a fine sense of the dramatic, and while he treated the texts with the respect they deserved, he was quick to explore the humor or irony he found in them. His direction of my doctoral dissertation shaped the direction of my career, and we continued to stay in touch over the years. His friendship and warmth will be missed."
Ford also emphasized Dunn's success in attracting students to Celtic studies and in raising money to allow them to pursue their interest. His success in securing government funding (NDEA Title IV fellowships) for students to study Celtic languages and literatures at Harvard created a cadre of trained Celticists that endures to this day. Many of those early students, including Ford, went on to found the Celtic Studies Association of North America (CSANA), which now enjoys a wide membership.
Marlyn McGrath Lewis, director of admissions for Harvard College and a member of the Faculty of Arts and Sciences, studied with Dunn in the 1970s as a graduate student in the Celtic Department.
"His great generosity made my five years of graduate study wonderfully stimulating, exciting, and fun," Lewis said. "He carried his immense learning very lightly, to a degree that was quite remarkable. He was a great host, and, I think, saw his mission as chairman of Celtic to make connections among all those with any interest in the field. He knew that such relationships provided important foundations for scholarly work. And Charles had a gift for making events memorable and fun – even oral examinations! Mine was one of the pleasantest occasions of my graduate school years, because he treated it as a rite of passage, personally as well as intellectually."
Geoffrey Movius, deputy director of University Capital Giving who joined Quincy House as a tutor in 1966-67, remembers Dunn as a colorful impresario as well as an effective leader.
"He brought a taste of Scotland to the House, initiating an annual rite of exorcism in September to cleanse the place of evil spirits, during which a Scots bagpiper led a march of residents around the courtyard and Charles intoned an incantation while waving a large baton, banishing ghosts and other harbingers of ill will. His leadership was at its best during magnificent evenings in the Master's lodging when he taught guests Scottish country dances. Students were fond of him, and he of them."
Born in Arbuthnott, Scotland, the son of a Presbyterian minister, Dunn began his schooling in Aberdeen and Edinburgh, then moved with his family to Boston and attended the Rivers School in Brookline.
The family next moved to Canada where Dunn earned a B.A. degree with honors in English and German from McMaster University in Hamilton, Ontario. He came to Harvard to pursue graduate work in English and Celtic philology under Fred N. Robinson, a pioneer in Celtic studies in North America. It was Robinson's wife for whom the Margaret Brooks Robinson Professorship was named. Dunn earned an A.M. from Harvard in 1939 and a Ph.D. in 1948.
Dunn served as an assistant in English at Harvard, 1939-40, and as a tutor, 1940-41. He taught at Stephens College in Columbia, Mo., 1941-42, and as an instructor in English at Cornell University, 1943-46. He was associate professor of English, University of Toronto, 1946-56, and professor of English, New York University, 1956-63.
Among his published works are "Highland Settler: A Portrait of the Scottish Gael in Nova Scotia," "The Foundling and the Werewolf: A Study of Guillaume de Palerne" (Chicago Folklore Prize, 1960), "Middle English Literature" (with Edward Byrnes), and "The Role of the Poet in Early Societies" (with Morton W. Bloomfield). He was also editor of "A Chaucer Reader," "History of the Kings of Britain," "Chronicles (Froissart)," "Romance of the Rose," "Lays of Courtly Love," "Poems of the Vikings," and "Ancient Irish Tales."
He was a member of the American Folklore Society, the Modern Language Association, the Medieval Academy of America, the Early English Text Society, and the Royal Scottish Country Dance Society, among others. In 1955, he received the Canada Award of the Federation of Gaelic Societies.
Dunn leaves his wife Elaine (Birnbaum) Dunn and their son Alexander Joseph Dunn. He also leaves two children by the late Patricia Campbell Dunn, his first wife: Deirdre Dunn Strachan and Peter Arthur Dunn. He is survived by two grandchildren and two great-grandchildren.
A memorial service will be held in the Memorial Church Nov. 3 at 2 p.m. Donations may be made to the Charles W. Dunn Book Fund, 110 Widener Library, Harvard University, Cambridge MA 02138.