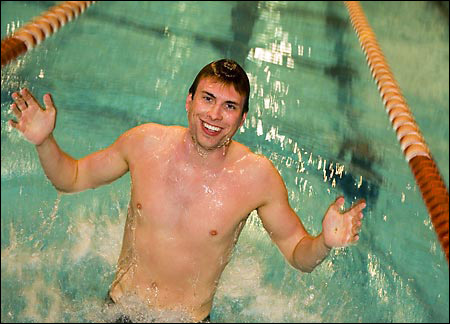 For your average college senior, 20 years is literally a lifetime. It's also about the same amount of time it took fifth-generation Montanan David Cromwell '06 of the Harvard swimming and diving team to realize he actually enjoyed the aquatic life.
"It's hard for swimmers to separate swimming from the rest of their lives," explains the senior backstroke specialist, who cites the intense training schedule (5:30 to 7 a.m. three times a week on top of afternoon practices and weekend meets during the Crimson's season) and the solitary nature of the sport as particular challenges. "By my senior year, I realized that when I took swimming too seriously, I ended up not performing at the level I feel I'm capable of."
Then again, throughout his career – from the time he was first introduced to the pool at just 6 months of age, to his fourth-place finishes at the NCAA champs this past March – it seems the lean, 6-foot-5-inch tall glider always had high expectations for what his level of performance ought to be. "I'm kind of a perfectionist," Cromwell admits.
Helping to shape this outlook was a host of Harvard-affiliated mentors, not least Cromwell's older brother Charlie '02, a Crimson swimmer and water polo player, who, long before either boy had thought of college, first roused Cromwell's interest in the water when they were kids. In high school, Cromwell trained under Harvard backstroke champion and gold medal Olympian Dave Berkoff '89, who was studying at the time in Missoula as a grad student. Under Berkoff's tutelage, Cromwell was soon swimming the backstroke nearly as fast as the top freestylers in the state. "I realized I wasn't satisfied with being the best in Montana," he says. Once in Cambridge, Cromwell found another mentor in teammate Dan Shevchik '03. "I never had trained with someone that was that much better," says Cromwell. "He could nearly lap me."
It's strange then, that after successful freshman and sophomore seasons, including two straight Eastern Intercollegiate Swimming League (EISL) team titles and a first-place performance in the 200-meter backstroke consolation at the NCAA champs during his second year, Crowell began to feel the sting of burnout, or, in Harvard swim team parlance, that he was "chasing the black line" – a reference to the tiled streak running along the bottom of pools.
Calling it a "weird time," Cromwell began to question his passion for the pool. "I was questioning it and yet I was meeting the most success I had ever had," he explains.
In summer 2004, between his sophomore and junior years, Cromwell competed in the Olympic trials in Long Beach, Calif., where he failed to qualify, placing 23rd in a field of 45. According to Cromwell, the experience actually helped him rebound from his disinterest. Spending the remainder of the summer in Montana without so much as getting his foot wet, Cromwell returned to Cambridge completely rejuvenated.
"I learned the difference between training hard and training smart," the history concentrator says. "Twenty years after starting [swimming], I realized that I don't just do swimming because I'm good at it. … I actually like it."
Over the past two seasons, Cromwell's newfound maturity and excitement for the sport has translated into continued success for the Crimson program. As a junior, Cromwell helped Harvard to its 19th EISL title, and this past March, the senior co-captain – along with just one other Crimson swimmer, breaststroker Geoff Rathgeber '08, paced Harvard to a 20th-place showing (out of 49 schools) at the NCAA championships in Atlanta. While in Georgia, Cromwell captured fourth in the prelims in the 200-yard with a time of 1:43.17, before shaving more than a second off his time in the finals event to earn his seventh All-American honor.
Next up, Cromwell will train this summer in Austin, Texas, ultimately competing in August for a spot on a U.S. team. Look for the All-Ivy swimmer to bring his newfound philosophy to the Lone Star State: "Harvard kids in particular tend to overanalyze, so I'm just trying to go down there, work hard, train smart, and hope for the best."