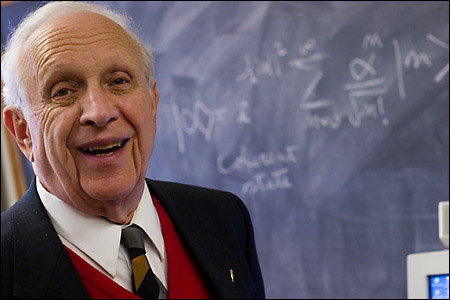 These days, every year seems packed more full of incident than the last. Around the world and here at Harvard, the academic year of 2005-06 was no exception. Now, as we celebrate the culmination of the academic calendar, it¹s an ideal time to pause a moment to take a look at some of the high points of this eventful year.
Disasters that hit overseas – and closer to home – inspired the Harvard community to reach out. The University opened its doors to students shut out of their own schools by Hurricane Katrina. Faculty and students from virtually all Harvard Schools traveled South to offer an array of assistance – providing medical, legal, and financial advice, as well as food and medical supplies to ride out the hard times, and elbow grease for rebuilding. Harvard students also traveled a lot farther afield, to Pakistan after the October earthquake, and to Africa and other destinations in response to a host of disasters, both natural and man-made.
At home, Harvard welcomed a predictably brilliant procession of guests to the University, including Nobel laureates Wole Soyinka and Wangari Muta Maathai, Peruvian President Alejandro Toledo, political types ranging from Noam Chomsky to William Kristol, authors such as Jared Diamond and Salman Rushdie, news people such as Dan Rather and Jim Lehrer, and actor and designer Tommy Lee Jones and Tommy Hilfiger. Did we mention Bono? All of these visits, and many more, enrich the lives of everyone in the Harvard community.
The University continues to attract stellar faculty, and research at Harvard continues to make worldwide news almost weekly. Faculty members and affiliates garnered two Pulitzer and Nobel prizes. Research findings this year influenced evolutionary thinking, economics, and the treatment of HIV/AIDS, cancer, tuberculosis, and many other maladies.
And the students keep doing what Harvard students are bound to do – excel. Harvard students were named Rhodes, Marshall, Fulbright, and Gates scholars and fellows. A third of the 30 graduate students chosen for the Paul and Daisy Soros Fellowships for New Americans are affiliated with Harvard. Modesty (and space) forbids a listing of all awards and honors enjoyed by University students and faculty this year.
As we look back at this timeline, we also look toward the future. Congratulations Class of 2006! And bon voyage!
– Jessica Baumgart and Max Daniels
July 2005
The Bill & Melinda Gates Foundation grants Christopher Murray, Richard Saltonstall Professor of Population Policy in the Department of Population and International Health, $18.8 million over five years to work on ways to evaluate the health of people in developing countries; and Faculty of Arts and Sciences Gordon McKay Professor of the Practice of Biomedical Engineering David Edwards $7.6 million to work on an inhaled nanoparticle spray to deliver vaccines.
Librarian and women's historian Marilyn Dunn becomes executive director of the Schlesinger Library at the Radcliffe Institute for Advanced Study.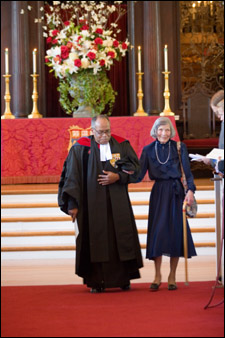 August 2005
The Arthur M. Sackler Museum hosts an exhibit of Hilaire-Germain-Edgar Degas' work held by various Harvard entities. During the four months of the show, more than 40,000 people visit.
The Broad Institute and Washington University announce they've decoded the chimpanzee genome, finding that humans and chimps share 96 percent of their genetic code.
September 2005
Working Mother Magazine names Harvard one of its "100 Best" employers for working mothers for the third year in a row.
The National Institutes of Health grants Beth Israel Deaconess Medical Center and biotechnology company Crucell Holland BV scientists $19.2 million to work on an HIV/AIDS vaccine.
Students from Tulane, Loyola, the University of New Orleans, and Delgado Community College – all displaced by Hurricane Katrina – begin tuition-free semesters at Harvard University.
After being closed for two years for extensive renovations, the building housing Harvard Business School's Baker Library reopens with updated and expanded services.
Researcher Sue Goldie of the Harvard School of Public Health (HSPH) is awarded a $500,000 MacArthur "genius" grant for her work identifying effective and cost-effective approaches to cervical cancer, the most common cause of cancer death in women worldwide.
President Lawrence H. Summers names Christopher M. Gordon chief operating officer for the Allston Development Group, a new Harvard organization formed to implement Harvard's evolving plans for an extended campus in Allston.
Fifty new units of affordable housing become available in Allston-Brighton with the opening of the Brian J. Honan Apartments at 33 Everett St. A few years ago, Harvard gave an early grant of $2.8 million to help get the project off the ground.
October 2005
Roy J. Glauber, Mallinckrodt Professor of Physics, wins the Nobel Prize in physics for his work in quantum optics. Thomas C. Schelling, Lucius N. Littauer Professor of Political Economy Emeritus, is awarded the 2005 Nobel Prize in economics for his work on game theory.
Harvard Hillel opens its doors to younger students in the community with the new Bar/Bat Mitzvah Institute, a program to prepare 12-year-olds for the Jewish coming-of-age ceremony.
Mohamed El-Erian is named president and chief executive officer of the Harvard Management Company.
Jack Gorman becomes president and psychiatrist-in-chief of McLean Hospital and chair of Partners Psychiatry and Mental Health.
Harvard Medical School (HMS) and Massachusetts Institute of Technology (MIT) researchers win a $21 million, five-year grant from the National Cancer Institute to establish a Center of Cancer Nanotechnology Excellence with the purpose of applying nanotechnology to cancer research.
With funding from the National Science Foundation, the Graduate School of Education (GSE) launches a new initiative to place more science and math teachers in the Boston public schools.
An international team of researchers, including affiliates of the Broad Institute and MIT reveal the publication of an important catalog of common disease-related genetic changes.
Iraq's ambassador to the United Nations, Feisal Amin al-Istrabadi, visits the Kennedy School of Government (KSG) to enlighten people about the development of Iraq's constitution and the future of democracy in that country.
November 2005
The Stowers Medical Institute names Kevin Eggan, one of Harvard's key stem cell researchers, an assistant investigator. The honor comes with approximately $5.9 million in funding for his lab over the next five years.
Harvard University marks the opening of the Center for Government and International Studies (CGIS) with a ceremony to recognize project contributors. The building on the north side of Cambridge Street honors the 1996 founding gift of Sidney R. Knafel '52, M.B.A. '54.
Joel Spicer of HSPH and Sinisha Brdar of the Graduate School of Design (GSD) become 2005 Canada-U.S. Fulbright Scholars.
Students from Anthropology 1130: "The Archaeology of Harvard Yard" excavate a variety of objects from the ground near Massachusetts and Matthews halls.
The Ivy League's soccer coaches name Harvard junior striker Charles Altchek Ivy League Player of the Year.
In the first-ever triple-overtime Harvard-Yale football game, Harvard beats Yale 30-24 – an unprecedented fifth straight victory over Yale. Harvard ends its season behind Brown and tied for second place with Princeton, 5-2 Ivy and 7-3 overall.
KSG student William Kelly wins a Rhodes Scholarship. After studying at Oxford University, he plans to enroll in Naval Flight School.
Touted as the largest physical space for African-American research in the world, the W.E.B. Du Bois Institute's new space unites all of the institute's research projects under one roof for the first time in years and includes the new Neil L. and Angelica Zander Rudenstine Gallery.
Lauren Schuker '06 wins a two-year Marshall Scholarship. She plans to earn a doctorate in art history at the Courtauld Institute of Art in London.
Eli and Edythe Broad, whose gift launched the Broad Institute in 2003, announce the doubling of their gift to $200 million with a $100 million donation to Harvard for research at the institute.
December 2005
The National Institute of Child Health and Human Development of the National Institutes of Health awards HSPH researchers $30 million over five years to study the effect of antiretroviral drugs administered during pregnancy on children.
A three-year, $1.19 million grant from the Bill & Melinda Gates Foundation is funding Nieman Fellowships in global health reporting as a venture of the Neiman Foundation for Journalism and the HSPH.
Harvard Law School (HLS) launches the Petrie-Flom Center for Health Law Policy, Biotechnology, and Bioethics with a gift of $10 million from the Carroll and Milton Petrie Foundation and alumnus Joseph H. Flom.
The trust Horace Dwight Chapin A.B. 1871, LL.B. 1875 established in 1937 transfers its remaining amount of $12 million to the Harvard University Art Museums.
In the indoor 5,000-meter run, Lindsey Scherf '08 breaks Harvard's 22-year-old school record, gets the second-fastest time by an American woman in 2005, and qualifies automatically for the NCAA Championship.
MIT and Broad Institute scientists announce they have sequenced the DNA of a domestic dog.
United Nations High Commissioner on Human Rights Louise Arbour visits the KSG to have a public conversation with Michael Ignatieff, Carr Professor of Human Rights Practice.
The Fairbank Center for East Asian Research celebrates its 50th anniversary with the conference "Studying Modern China: Past, Present, and Future."
Harvard extends the Learning Support Program, part of the Harvard After School Initiative (HASI), to 10 after-school programs in Cambridge. Participating centers receive learning materials and ongoing support from the HASI team.
The Harvard dance program inaugurates its new space, the Harvard Dance Center at 60 Garden Street, with a gala performance.
Prince Alwaleed Bin Talal Bin Abdulaziz Alsaud donates $20 million to Harvard University for the formation of a University-wide program on Islamic studies.
Peabody Museum researcher Bill Saturno announces the discovery of an elaborate Mayan mural at San Bartolo in Guatemala. The 30-foot mural depicts the Mayan creation myth.
Changing a 1998 policy, the Harvard Business School (HBS) decides to allow students the ability to disclose their grades to recruiters and potential employers.
The Medical and Business Schools launch a joint M.D./M.B.A. program.
January 2006
At the Harvard Film Archive, alumnus, actor, and now director Tommy Lee Jones '69 premieres his film "The Three Burials of Melquiades Estrada" before a full house.
James Duncan Phillips Professor of Early American History Laurel Ulrich becomes 300th Anniversary University Professor, and Peter Galison, the Mallinckrodt Professor of the History of Science and of Physics, is named Joseph Pellegrino University Professor.
William C. Kirby, dean of the Faculty of Arts and Sciences (FAS), shares his plans to step down at the end of the academic year to return to teaching and scholarship. He will serve as director of the Fairbank Center and take on a University-wide role in guiding Harvard's expanding academic initiatives focused on China.
Michael Gilmore takes over as Schepens Eye Research Institute's new president and CEO.
February 2006
Jay A.H. Butler '06 is named Bermuda's Rhodes Scholar. The senior will study law at Exeter College, Oxford, and plans to specialize in human rights.
The Andrew W. Mellon Foundation grants the Harvard University Library $600,000 to develop a registry of authoritative information about digital formats.
To support its work on Internet filtering through the OpenNet Initiative, the John D. and Catherine T. MacArthur Foundation awards the Berkman Center for Internet & Society $3 million.
Darlene and Jerry Jordan '61, M.B.A '67 give $10 million to strengthen FAS programs, enrich student life, and support the Harvard Stem Cell Institute (HSCI).
Harvard College alumna Penny Pritzker '81 and her husband, Bryan Traubert, provide $5 million toward a nationwide childhood exercise program based on one the HSPH and YMCA piloted.
The Institute of Politics opens an online archive of forum events, making nearly 30 years of speeches by world leaders available to the public.
The Pediatric AIDS Foundation gives HIV/AIDS researcher David Evans, assistant professor of microbiology and molecular genetics at the New England Primate Research Center, one of three Elizabeth Glaser Scientist Awards: a five-year, $682,500 prize.
For the first time since 1999, Harvard women's hockey does not win the Beanpot. Perhaps the loss is in part due to three team members playing hockey at the Olympics in Torino instead of being in the tournament. Former Harvard skater Jennifer Botterill '02-03 and Crimson forward Sarah Vaillancourt '08 help carry Team Canada to the gold medal after a 4-1 win against Sweden at the Torino Olympics. Skaters Caitlin Cahow '07-08, Julie Chu '06-07, Jamie Hagerman '03, and Angela Ruggiero '04 on Team USA shutout Finland 4-0 to win the bronze.
Saudi Arabian ambassador to the United States Prince Turki Al-Faisal talked about terrorism at the KSG's John F. Kennedy Jr. Forum.
HMS and University of Pennsylvania researchers show that the "widower effect" where a spouse's illness affects the partner's health, is real.
The Hasty Pudding Theatricals announce Halle Berry will be the Woman of the Year and Richard Gere will be the Man of the Year.
A group of generous donors establishes a $50 million Professorship Challenge Fund to encourage others to endow named professorships at the University. The fund will match gifts of $3 million with $1 million.
By raising almost $600 million, the Business School breaks the record of the most money raised by a business school and exceeds its goal in its first-ever capital campaign.
The Bill & Melinda Gates Foundation names Krishnan Subrahmanian '03, Inna Zakharevich '06, and the Law School's Adam Jed among its 40 Gates Scholars to spend a year at the University of Cambridge, England, beginning in October 2006.
President Summers shares the selection of Behnisch Architekten to design Allston's science complex and the creation of interim arts and cultural facilities as planning for a permanent arts and culture complex in Allston is further refined.
Harvard's men's hockey wins its first Ivy League championship since 2000 after defeating Cornell 4-3.
President Summers announces he will leave the presidency at the end of the academic year. Derek Bok, Harvard's president from 1971 to 1991, will serve as interim president beginning July 1.
Gordon McKay Professor of Bioengineering David Mooney devises a method of using synthetic scaffolds to transplant cells and get them to migrate to specific places in a controlled manner.
To improve the health of American Indians and Alaska Natives, Charles W. Grim, assistant surgeon general and director of the Indian Health Service, and Provost Steven E. Hyman sign a memorandum of understanding about areas of collaboration.
Members of the Boston Ballet perform their upcoming show "Grand Slam: Four Powerful Works, Four Intriguing Choreographers" for Harvard dance students and include a discussion with Mikko Nissinen, artistic director, and Jennifer Glaze, ballet mistress.
The Harvard Foundation for Intercultural and Race Relations honors Salma Hayek as its 2006 Artist of the Year at its annual Cultural Rhythms celebration.
After the Ivy League swimming and diving championship, the Harvard women received the dual-meet trophy because of their unbeaten Ivy campaign (10-0 overall, 7-0 Ivy).
Harvard fencing takes first place at the Intercollegiate Fencing Association championships in Philadelphia.
March 2006
The Francis A. Countway Library of Medicine launches a new campaign to provide better awareness of and access to the treasures in its collection.
At the John F. Kennedy Jr. Forum, U.S. Deputy Secretary of State Robert Zoellick M.P.P. '81 discusses the future of U.S. foreign policy.
Harvard University Art Museums (HUAM) announce a new plan, which strives to better integrate the museums' collections into the University's academic life and details the renovation of the building currently housing the Fogg Art Museum and Busch-Reisinger Museum.
After winning Eastern Intercollegiate Wrestling Association titles, wrestlers Bode Ogunwole '07 and Andrew Flanagan '09 join Max Meltzer '07 on the All-Ivy first team. Robbie Preston '07 and Louis Caputo '09 make the second team. Later, Ogunwole captures All-American status at the 2006 NCAA championships, where he finishes in sixth place.
The Kennedy School creates a new full-tuition Native American Public Service Fellowship for someone committed to matters of concern to Native American tribes.
Funded by the British Foreign and Commonwealth Office, University of Cambridge stem cell researchers visit stem cell scientists at Harvard for three days of collaboration.
The Ivy League names women's squash player Lily Lorentzen '09 Player and Rookie of the Year. Three other players make the All-Ivy League team with her.
The Crimson women's and men's ice hockey teams earn ECAC Hockey League titles. For the women, it's their third straight title. It's the men's third in five years.
After analyzing the baby industry, business professor Debora Spar suggests it needs more regulation.
Thirteen members of Harvard men's and women's fencing teams earn berths on All-Ivy squads, including seven first-team picks.
The Harvard Krokodiloes, the University's oldest a cappella singing group, celebrates its 60th anniversary with a four-day fete featuring current members and alumni.
Harvard fencing snags its first-ever NCAA championship in Houston, topping off its Ivy League and Intercollegiate Fencing Association championships.
In a special ceremony, the French Consul General bestows on clinical professor of ophthalmology emeritus Charles L. Schepens the Knight of the Legion of Honor, a medal rewarding his patriotic service to the Nazi resistance in World War II and his contributions to research about retinal diseases.
The Harvard Corporation Committee on Shareholder Responsibility announces its decision to advise the Harvard Management Company to divest from China Petroleum and Chemical Corp. (Sinopec Corp.).
Barbara Lee endows the Barbara Lee Women in U.S. Politics Training Program and Lecture Series at the Kennedy School with a $1.5 million gift.
During President Summers' journey through India, he attends the ribbon-cutting ceremony for the new Harvard Business School Research Center and the Harvard University South Asia Initiative, gives an address at the Reserve Bank of India, kicks off the School of Public Health's China-India Comparative Project, and speaks at a Harvard Alumni Association event.
Expanding its initiative to reach out to students from lower-income families, Harvard amends its special financial aid program so parents with incomes of less than $60,000 will no longer have to contribute to their children's educational costs and the contribution requirements of families with incomes from $60,000 to $80,000 are lower.
April 2006
Elizabeth Mora begins serving as acting vice president for finance while the University looks for a replacement for Ann Berman, who retired.
With a donation of $1.3 million, Harvard University joins the city of Cambridge in efforts to improve Harvard Square.
FAS votes to allow students to have secondary concentrations – a recommendation related to the curricular review.
Christo and Jeanne-Claude, artists famous for large outdoor art installations, tell Business School students about being entrepreneurs.
Paleontologists declare fossils they found on Ellesmere Island in Arctic Canada belong to a new species, Tiktaalik roseae, that fills in part of the evolutionary gap between aquatic and land animals.
Professor of History of Art and Architecture Alina Payne receives the 2006 Max Planck Research Award because of her work in art history.
KSG students work with Hull officials to help the town qualify for a federal flood insurance program that would benefit the community.
The David Rockefeller Center for Latin American Studies (DRCLAS) announces plans to open an office in São Paulo, Brazil, in July. Alumnus Jorge Paulo Lemann '61 gives $5 million to support the effort.
With increases in the number of women and minorities, the admitted Class of 2010 is the most diverse class in Harvard history. The new financial aid initiative continues to help many students with limited financial resources attend the University.
The Harvard School of Dental Medicine receives a gift of $5 million from the Dental Service of Massachusetts to try to increase the number of minority oral health professionals and address disparities in dental health care.
Graduate School of Education students attempt to turn Massachusetts Comprehensive Assessment System (MCAS) scores into a teaching tool.
The Fogg Museum show "American Watercolors and Pastels, 1875-1950" contains some pieces from the collection not shown since 1936 because of their delicate nature.
The Supreme Court of the Navajo Nation holds court at HLS's Ames Courtroom in order to educate law students and the public about its work.
The Center for Astrophysics wraps up the 11-year AST/RO (Antarctic Submillimeter Telescope and Remote Observatory) project that, from the South Pole, examined the heart of the Milky Way.
FAS votes to rework undergraduate life science education by broadening degree options, enhancing advising, and stimulating research.
Robert G. Stone Jr. '45, LL.D. '03, Harvard Corporation member from 1975 until 2002 and a prominent figure in the Harvard community, died at the age of 83 following complications from a stroke.
The Andrew W. Mellon Foundation grants the I Tatti Renaissance Library $1.2 million for the production of bilingual editions of 14th, 15th, and 16th century Latin writings.
For the first time in program history, a Harvard golfer, Emily Balmert '09, wins the Ivy League's individual championship.
Jay O. Light, the Dwight P. Robinson Jr. Professor of Business Administration, becomes the ninth dean of Harvard Business School.
For the fourth straight year, Harvard women's tennis remained in perfect Ivy play for the entire season, earning its 17th Ancient Eight title and a berth in the NCAA tournament.
Nobel laureate and John Franklin Enders Professor of Neurobiology Emeritus David Hunter Hubel is inducted into the Canadian Medical Hall of Fame.
The Carnegie Corporation of New York includes Assistant Professor of the History of Science Marwa Elshakry in its 20 Carnegie Scholars, who will receive grants of $100,000.
President Summers announces a doubling of the Green Campus Loan Fund to $12 million. It finances conservation projects across campus.
Noted economist, author, adviser of presidents, former ambassador, and Paul M. Warburg Professor of Economics Emeritus John Kenneth Galbraith dies at the age of 97.
Harvard baseball wins the Red Rolfe Division title, placing itself in the Ivy championship series against Princeton.
May 2006
Carmack Waterhouse Professor of Law, Medicine, Ethics, and Public Policy at Georgetown Law Center Patricia A. King joins the Harvard Corporation, replacing Conrad K. Harper, who stepped down last summer.
The John F. Kennedy Jr. Forum hosts the Bush administration's assistant for homeland security and counterterrorism, Frances Townsend.
In Mexico, four GSE professors study key education policy initiatives.
The Robert Wood Johnson Foundation's Physician Faculty Scholars Program selects HSPH Assistant Professor of Health Policy and Management Ashish Jha as one of its inaugural class of 15 to improve leadership and academic productivity.
With a gift of more than $6 million, Richard T. Watson '54, J.D. '60, endows the Richard T. Watson Professorship of Science and Religion to encourage multidisciplinary thinking about religion and science.
President Summers presents the Harvard Arts Medal to playwright Christopher Durang '71 during the 12th annual Arts First, a festival of the arts featuring a panoply of artists and performances.
To further support the DRCLAS's teaching, research, students, and publishing, David Rockefeller '36 donates an additional $10 million to the center, bringing his total donations to $25 million.
Kathleen McCartney, who has served as acting dean of the Graduate School of Education since Ellen Condliffe Lagemann stepped down last summer, becomes the new dean.
HUAM selects Daly Genik Architects of Los Angeles to design the first Harvard visual arts center in Allston-Brighton.
Former FAS Dean Jeremy Knowles agrees to serve as interim FAS dean.
Radcliffe Fellow Geraldine Brooks and Hugo K. Foster Associate Professor of African Studies and former Radcliffe Fellow Caroline Elkins win Pulitzer Prizes.
The University shares a proposal to transform the Division of Engineering and Applied Sciences into the Harvard School of Engineering and Applied Sciences within FAS. Venkatesh Narayanamurti, who was planning to step down in June, agrees to stay on as dean.
– Compiled by Jessica Baumgart