College science instructors from around the country met at Harvard June 15 to see how technology can help retain freshmen interested in science, many of whom switch majors before completing introductory courses.
Director of Life Sciences Education Robert Lue, senior lecturer in molecular and cellular biology and dean of Harvard's Summer School, opened the two-day "Symposium on Technology in Undergraduate Science Education" with an overview of both the problem and of Harvard's response to it.
Lue said that between half and a third of freshmen who come to college interested in science lose that interest before they reach the advanced classes typically taught in the junior and senior years. While some of those students doubtlessly discover new passions, Lue said it may be the large introductory courses themselves that are at least partly responsible for the losses.
"This is an opportunity to talk about how technology can be applied to one of the critical challenges of undergraduate education," Lue said. "Are we doing as good a job as we can in making freshman year as engaging as it can be?"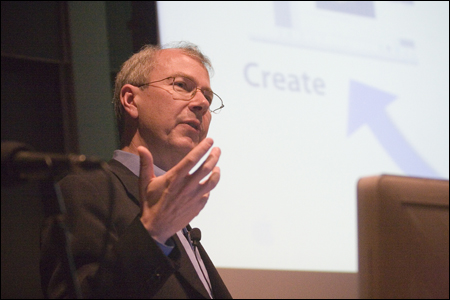 Lue addressed a group of faculty, students, and administrators interested in the issue who gathered in the Pfizer Lecture Hall of the Mallinckrodt Laboratory. The two-day event featured a wide variety of talks and demonstrations on how technology can be used to improve undergraduate education, particularly in introductory classes.
Participants heard talks about interactive teaching, visually expressing science, using media and technology to keep students interested in class, virtual laboratories, and a panel on student perspectives. Speakers included Gordon McKay Professor of Applied Physics and of Physics Eric Mazur, whose classroom teaching has been recognized by Harvard College and the National Science Foundation, Bud Tribble of Apple Computer, Tarynn Witten, of Virginia Commonwealth University, Felice Frankel of the Massachusetts Institute of Technology, and Dennis Liu of the Howard Hughes Medical Institute, among others.
Harvard's life sciences faculty has struggled with how to improve undergraduate science teaching for two years now, Lue said. The process resulted, this year, in new introductory course in the life sciences that combine elements traditionally taught in separate introductory biology and chemistry courses.
Designing a new curriculum for introductory life sciences, Lue said, was part of the larger curricular review going on at Harvard College. After faculty began to examine the introductory courses, Lue said, they realized that their content hadn't changed to reflect the dramatic changes and greater integration across traditional discipline boundaries that had occurred in the lab.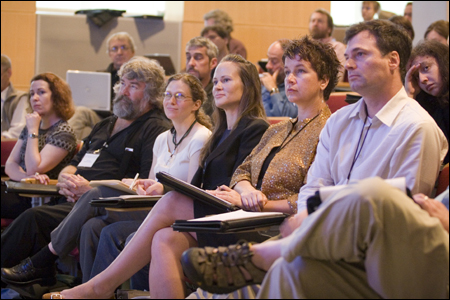 "We asked the question whether the curriculum is truly representative of science as we do it today. The answer that came back from the faculty was a resounding 'no,'" Lue said. "The curriculum has remained almost the same over the last 20 to 25 years despite a revolution in science."
The result, Lue said, was a new class in introductory life sciences, which combined elements of introductory biology and chemistry courses. Some ideas traditionally taught in introductory courses were dropped to make room for other concepts and will be incorporated in later advanced classes.
"Students will begin their engagement in science with this feeling of integration," Lue said.
In addition to reshaping what was taught, Lue said the faculty began to rethink how concepts were taught. They took advantage of the promise that technology holds to illustrate complex concepts through streaming video, flash animations, and three-dimensional animations.
Lue showed several examples of traditional graphics and photographs in textbooks designed to explain complex biological and chemical processes. Then he showed new 3-D animations created to illustrate the same thing. The difference was dramatic, with the animations bringing to life the flat, sometimes confusing textbook images, showing not just the structure of complex processes, but allowing students to watch them at work.
To evaluate whether the animations improve learning, faculty set up an experiment in which two groups of students studied the same concept and then were tested on it. The first group had notes augmented by the animation and one hour in which to study. The second group had a textbook with assigned readings and two hours in which to study.
The results showed the students who saw the animation did better, Lue said, scoring an average of 93 percent on a test of facts, compared to 79 percent for those who used the textbook. On a test of experimental interpretation, the gap was even larger, with the animation group scoring 88 percent versus 59 percent for the textbook group.
"This is compelling for us and has encouraged us to continue with this approach," Lue said.
Such a transformation of science teaching, while it appears to be effective, also requires an enormous commitment, Lue said. In addition to a commitment from the faculty, it requires a commitment from the departments involved and from the institution. Further, he said, the technology requires professional involvement. He credited the help of Apple Computer, which co-sponsored the symposium along with Harvard's Life Sciences Division.
Apple's Bud Tribble, vice president of software, discussed some of the Apple programs used in the classroom and said that the immense popularity of the iPod among college students has created an opportunity to reach students in new ways. "Podcasting" or creating audio and video clips of lectures, experiments and other educational materials, can be a new, effective way to reach them.