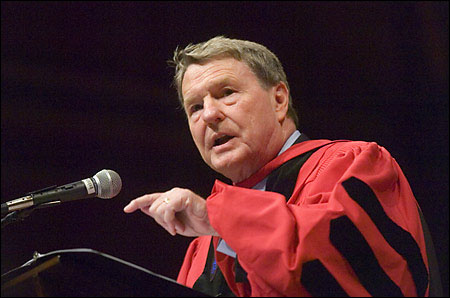 In speeches delivered during afternoon Commencement Exercises (June 8), Harvard President Lawrence H. Summers and journalist Jim Lehrer called for change at Harvard and across the nation.
Summers, who is leaving office after five years at Harvard's helm, used the president's annual address to the Harvard Alumni Association to say farewell and urge the University to change with the times.
Lehrer, this year's Commencement speaker, made a case for instituting compulsory national service in the United States, saying it would act to reconnect individuals in a society whose members are growing increasingly apart.
"I have never seen us more disconnected from each other than we are now," Lehrer said.
Lehrer and Summers were the two main speakers during Thursday's Afternoon Exercises. The speeches, which occur during the annual meeting of the Harvard Alumni Association, were moved inside Memorial Hall's Sanders Theatre after hours of rain and drizzle during Morning Exercises soaked students, alumni, family members, faculty, and guests.
---
---
The change from the large outdoor venue meant canceling the annual Alumni Procession from the Old Yard and relegated many parents and students to overflow seating in the Science Center lecture halls.
Summers, who was presented with a special Harvard Medal for service to the University, said that Harvard faces a time of great challenge and opportunity. Despite the University's considerable accomplishments, Summers said, Harvard's greatest days may still be before it. But the University must not be complacent, he said, it must change to take advantage of new opportunities.
"We can spur great deeds that history will mark decades and even centuries from now," Summers said. "If Harvard can find the courage to change itself, it can change the world."
Summers cited several opportunities, including the ongoing revolution in life sciences and biomedical research and the enormous concentration of talent in those fields in the Greater Boston area. It is embodied, as well, by the physical possibilities in the coming expansion into Allston. The University's great financial strength gives it the capacity to respond to challenges that other institutions cannot, he said.
Among the changes he urged are an expansion of financial aid to lessen the burden on low- and middle-income families and an increase of aid to students who pursue public service-oriented careers. He also urged a continuation of the review of undergraduate education, with the aim of providing excellent education and an international experience for each student.
Summers said he is sad to be leaving the president's office and that there was more he had hoped to accomplish. Still, he said, there are many with the ability to lead Harvard into the future.
"I am honored to have served as your president during the early days of what I hope and believe will be Harvard's greatest epoch," Summers said.
Following Summers' talk, Lehrer's assessment of the United States wasn't as rosy as Summers' was of Harvard. Increasingly, Lehrer said, people are divorced from each other. Instead of coming together, people are breaking into like-minded splinter groups, economic disparities are widening, and politics are exacerbating the situation.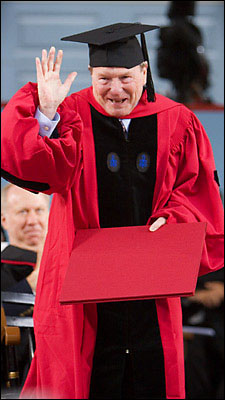 Lehrer drew on his own experience as a freshly minted college graduate 50 years ago, when, shortly after getting his diploma, he signed up for the Marine Corps. It was that or be drafted, he said.
Though he entered the Marines reluctantly and during peacetime, the experience changed his life. He had grown up around people just like him. The Marines threw him together with men from a wide variety of racial, ethnic, economic, and social backgrounds. In addition, he said, he traveled around the country and the world.
"I am grateful my country forced me to serve my country. Not for my country's sake, but for my own," Lehrer said. "In that diverse company, I learned to be responsible for others. I learned to be dependent on others. I learned there was more to life than me, me, me, me."
Lehrer called for a national discussion about implementing a new compulsory service. He didn't offer specific guidelines, but said the service could encompass the military, the Peace Corps, and other areas.
"I believe we need a new, hard, real-world dose of shared experience," Lehrer said.
Recent national tragedies of the 9/11 terror attacks and the ravages of Hurricane Katrina created a shared national experience but it has been fleeting, he said. He argued against making such a national service voluntary, saying we have voluntary service now.
The problem with voluntary service, he said, is it presents those wanting to serve with two options. Those with money and leisure time can choose how they want to serve. Those without money are forced by economic circumstances to choose the military. Others, he said, are too busy working to volunteer.
"I say let that debate and all others around national service begin," Lehrer said.