With evolution under attack, policymakers blind to scientific consensus on global warming, and faith-based terrorists roiling international peace, Harvard's graduating seniors must make their voices heard as people of reason, Harvard President Lawrence H. Summers said Tuesday (June 6).
Summers said he hoped their years at Harvard have taught seniors to think outside of their comfort zone, to recognize the power of thought and a well-reasoned argument to change the world, and to bear the discomfort of standing alone against the majority when the majority is wrong.
---
---
President Summers' Baccalaureate address
  Listen to the address
---
"Stand up for what makes sense and risk seeming unreasonable now and then," Summers said. "Live with the discomfort, sometimes, of having made others squirm, and respect and listen, too, to those who leave you ill at ease. … As creators and implementers of thought, we can make a difference in the world."
Summers delivered his message during his annual Baccalaureate Service speech to the graduating class, the last he will make as Harvard president. The annual service, one of Harvard's oldest Commencement rituals, gives Harvard's president and clergy a last chance to address graduating seniors before the more formal ceremonies of Thursday's graduation. Clad in cap and gown, seniors lined up in the Old Yard before the service as the Memorial Church's bells pealed.
Led by Summers and the Rev. Peter J. Gomes, Plummer Professor of Christian Morals and Pusey Minister in the Memorial Church, the students walked through the Yard, past the John Harvard Statue, through Tercentenary Theatre, and up the steps into the Memorial Church.
The service itself reflected Harvard's diversity, with readings from the Hebrew Bible, Hindu Scripture, the Quran, and the New Testament.
Gomes welcomed the students to the service and said the prayers and well-wishes offered on the graduating class' behalf are "designed to speed you on your way."
Summers peppered his speech with humorous references to the well-publicized troubles with the faculty that led to his decision to resign, effective July 1. Summers joked that he was also member of the Class of 2006, leaving with mixed feelings after years of accomplishments and trials.
His greatest joy, Summers said, was the time he interacted with students, in the classroom, during study breaks, at sporting events, and during informal conversations.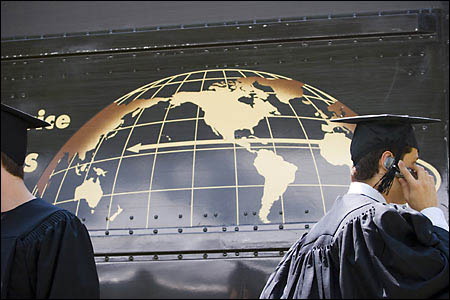 Interactions with students reminded him that Harvard is a place that celebrates the "authority of ideas," rather than the "idea of authority." Summers recounted a story where a student in his economics class analyzed a paper Summers wrote as treasury secretary, saying the data didn't support Summers' conclusions.
Summers recalled other specific events, such as a multiple-overtime victory by the women's hockey team, dancing with students, and students asking him to sign dollar bills issued when he was treasury secretary. Overall, he said, there is little one can do more important than educating Harvard students.
"There is not much anyone can do that is more important than to provide students with minds like yours with an education experience commensurate with your excellence," Summers said. "For you are remarkably gifted, deeply committed, and, as history suggests, more likely than any other group of 1,650 22-year-olds to change the world."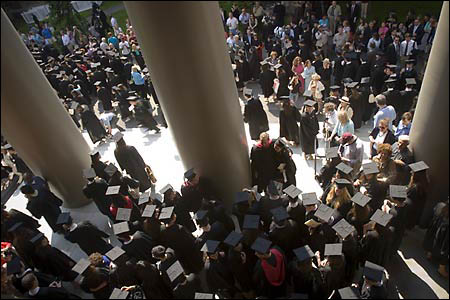 Students were enthusiastic about Summers' speech, saying the humor and serious message were balanced well. Students gave Summers enthusiastic applause on several occasions and a standing ovation when he finished.
"I think we saw that President Summers is extremely popular with the student body. He did a good job balancing the humorous aspects of the speech with an inspirational message," said Daniel Kahn, a Slavic studies concentrator from Dunster House.
Other students said that the speech was a good "personal" way to end their Harvard careers and, though Summers kept the speech light, it delivered an important message about the state of the world and their coming role in it.
Summers urged students to leave Harvard with a "reverence" for the power of human thought to change the world, but also with an understanding of the power of misguided ideas to do wrong. People acting without thinking things through properly or considering all the options have started disastrous wars and committed large-scale atrocities, he said.
He cautioned the students that though there is value in consensus, embracing many points of view without an analysis of their merit convinces no one and doesn't allow an argument to move forward to action. Harvard students, trained to think critically, should stand up for reason, alone if necessary, Summers said.
"The world has high expectations of anyone who spends time here," Summers said. "Let us strive to be beacons of reason in our lives and in the lives of those we touch."