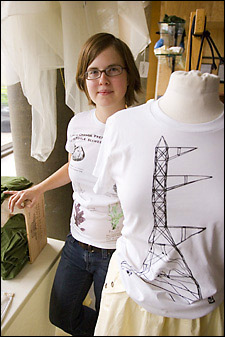 If the purpose of art is to challenge and disturb, to push viewers beyond the borders of their comfort zone, then Jane Van Cleef is certainly an artist. The odd thing is that she manages to be unsettling using the most domesticated of materials – fabric and thread.
Van Cleef's senior honors thesis as a Visual and Environmental Studies (VES) concentrator bears the title "Climate Change Preparedness Center: Gear for a More Aquatic Lifestyle." She has transformed the area outside the Carpenter Center's Sert Gallery into a store where visitors can see, examine, and actually buy such items as a waterproof riding jacket, a long-sleeved shirt with attached webbed gloves, and a pair of nylon wading tights.
The concept behind these garments is that in the future the Earth's temperature will rise, melting the polar ice caps and raising the level of the oceans, and since we will all be living in a warmer, wetter world, why not be ready for this global disaster with an appropriate wardrobe?
Does Van Cleef's postapocalyptic fashion show trivialize the problem of global warming? In a word, yes. But that is just one of the ways her installation keeps us off balance. How are we to understand this bizarre synthesis of environmental catastrophe and fashion?
In person, the apple-cheeked, wholesome-looking Van Cleef has no problem talking about her work but resists providing a straightforward, unambiguous explanation.
"OK," she says when pressed for her real opinion on climate change. "Global warming is bad, and we should stop it. Ignoring it is really absurd."
But confronting the problem without the aid of irony and imagination seems to hold little interest for her. Instead, her way of dealing with this terrifying future is to embrace it.
"Global warming doesn't scare me," she insists. "I prefer balmy weather."
Van Cleef grew up in northern New Jersey near the swampy Meadowlands, and as a youngster she used to think about what it would be like if the swamps rose and engulfed the surrounding community. Her interest in designing and sewing clothes began then as well, although at the time there was little connection between the two. It was her father who taught her to use a sewing machine, and once she had mastered that skill, she took off on her own, making bags, pillows, and clothes for both dolls and humans. In high school, she developed her own clothing line, featuring prom dresses and everyday wear.
At Harvard, Van Cleef began as a biology concentrator. The subject interested her, but just not enough.
"I was slowly becoming more honest with myself about what my favorite things to do are," she said.
She knew she wanted to learn practical skills and to make things, and for a while thought of becoming an architect. But when she asked herself the question young people in search of a career are encouraged to meditate on – What is it you really love to do? – the answer came back loud and clear: Sew!
Van Cleef indulged her affinity by designing and making costumes for student theatrical productions, including "Ghosts," "The Oresteia," "Medea," "Top Girls," "Iolanthe," "Tartuffe," and "Hedwig and the Angry Inch."
But for her VES senior thesis, Van Cleef started on the more conventional route of producing a series of oil paintings. It soon became clear to her, however, that her ideas could be expressed more effectively with needle and thread than with a paintbrush. Her adviser Nancy Mitchnick, the Rudolf Arnheim Lecturer on Studio Arts, was supportive of her change in direction.
"She told me, you don't have to paint if you don't want to. She gave me carte blanche."
One of Van Cleef's inspirations for her clothing designs was a United States government publication, "U.S. Army Field Manual, No. 21-76, Survival," which instructs readers on topics like which seaweeds and marine animals can be eaten safely and how to create a fishing lure from a coin and a safety pin. Van Cleef has incorporated some of the book's public-domain illustrations into her designs.
Van Cleef decided to present her clothing designs as items for sale because she wanted to blur the distinction between an art gallery and a store.
"I was interested in a store as an art project because when people are shopping they interact with the creative pieces in a more empowered way. They naturally touch things and relate them to their body and to their life. People rarely do that in a gallery. I suppose I could have had a sign that said 'Please touch the art,' but it wouldn't have been the same."
It is this "please touch" aspect of Van Cleef's project that is perhaps its most subversive feature, for as one fingers the waterproof material of her rain dress or reads the earnestly descriptive prose of her catalog, one is induced to "try on" the idea of global warming in a particularly intimate way, one that abstract accounts of rising temperatures and liquefying glaciers may fail to suggest. What is the future going to look like, how will my day-to-day life be affected, and most of all, what will I wear?
As for her immediate future, Van Cleef has it all sewed up. After graduation, she plans to move to New York City and start manufacturing her global warming line for what she hopes will be a larger public.
"I think this project has a little more mileage in it," she said.