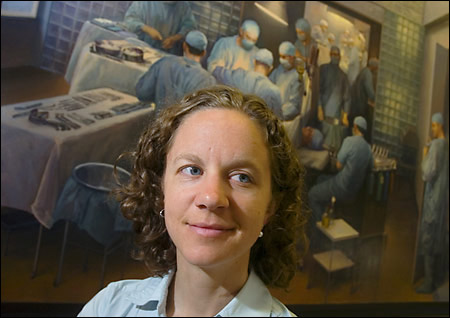 Sarah Billmeier got off to a good start in competitive skiing, winning a gold medal in a world championship race in France at age 14. By the time she was 25, she was a six-time world champion and had won 13 Olympic medals. In 2002, she put aside her skis to enter Harvard Medical School. Today (June 8), four days before her 29th birthday, she becomes Sarah Billmeier, M.D., with the intent of specializing in surgery.
And she's done it all on one leg. Billmeier lost her left leg above the knee to bone cancer when she was 5 years old.
Growing up in Maine, her family, including three brothers, was active in skiing. With their support, Billmeier started down the slopes when she was 8, and began racing at 10. "I was addicted to the speed and freedom of being on the snow," she recalls.
At age 14, Billmeier made the U.S. team that competes at the Paralympics, the disabled athlete's equivalent of the Olympic Games. "It was the first time I realized I could do well," she recalls. "You can believe in yourself, but until it happens you don't know."
Her coach at the time, Jennifer Zanca, was not too surprised. "Sarah has a really good head for ski racing, or for [all] sports for that matter," Zanca noted.
At one time or another, Billmeier has been involved in soccer, softball, swimming, bicycling, and whitewater kayaking. "She has always been competitive, always looking for new challenges," said her mother, Nancy. "She is very driven, somewhat stubborn, and very focused."
Winning medals and learning
Billmeier won Paralympic medals in France in 1992, Norway in 1994, Japan in 1998, and Salt Lake City in 2002. "My most memorable win," she says, "was the 1994 downhill in Lillehammer, Norway. I broke my stump [for the second time] on a super-G race the preceding January and had only a couple of weeks of snow time before going to the Paralympics. My stump had healed, but my confidence was shaken. Somehow, I pulled it together enough to win the downhill, the fastest and my favorite event."
The year after Lillehammer, she enrolled in Dartmouth College. For the next six years, she learned in the spring and summer and skied in the fall and winter.
"I have to admit that during my first few years at Dartmouth, I worked harder at exploring the New England wilderness than I did in my classes," Billmeier says. "I learned how to paddle a kayak and rock climb. I took literature classes and enjoyed drawing. I changed my major a couple of times. Having sampled different possibilities, I was able to be more confident in my eventual decision to become a surgeon."
Billmeier graduated cum laude in 2001. She applied to Harvard Medical School with, she admits, "very low expectations of getting in. When I did, I was pleasantly surprised. At Harvard your direction is only limited by your imagination."
At first, orthopedics seemed a natural for her. However, she says, "Treating the whole patient. … I like the fact that surgeons treat people of all ages and both sexes. I enjoy addressing a defined problem and the gratification of seeing the impact of my actions over a short time period."
After her first year, Billmeier volunteered to work at the Family Van, a mobile service center that provides health education and screening for people in poorer Boston neighborhoods.
Dean of Students Nancy Oriol, who started the program in 1992, gave high praise to Billmeier for her work on the van. "Her ability to communicate across divides of age, race, and social class made it clear that she honored the humanity in everyone," Oriol notes. "She engendered a sense of trust in both the van staff and patients."
After graduation, Billmeier will begin a residency in general surgery at Brigham and Women's Hospital in Boston. "It is an honor to be entrusted with the responsibility of operating on another person's body," she comments. "I will work throughout my career to be someone worthy of that trust."
Billmeier has won numerous awards and honors, including inductions into the New England Women's Sports Hall of Fame in 2005, U.S. Olympic Committee skier of the year in 2000, and the Arete Award for Courage in Sports in 1992.
Many organizations consider her an ideal role model for one group, but Billmeier sees herself in a broader role. "I'm not necessarily sending a message to young disabled people," she says, "It's a message for anyone. If you follow your dreams, if you work hard to do something, you can do it."