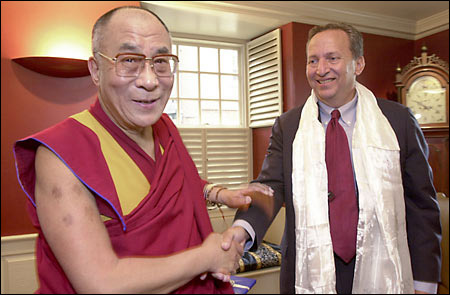 ---
---
Also in this issue:
• Summers lays foundation for renewal and expansion
• Summers is remembered by many…
---
2001
Lawrence H. Summers takes office as Harvard's 27th president.
Following the Sept. 11 tragedy, the University pledges $1 million in scholarship funds for the children and spouses of the victims.
Summers appoints Steven E. Hyman, former professor of psychiatry at Harvard and director of the National Institute of Mental Health (NIMH), as provost of the University and asks him to coordinate University-wide academic planning with a focus on integrated life sciences.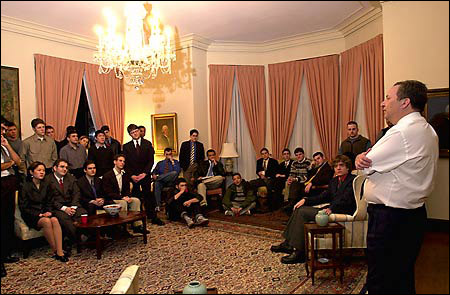 2002
Harvard adopts the Committee on Employment and Contracting Policies' core recommendations for Harvard's lowest-paid workers.
Summers leads Harvard delegations to the first major alumni event in China; publicizes a program to train up to 60 Chinese civil servants at the John F. Kennedy School of Government.
Summers works with the University Committee on Human Rights Studies to establish Scholars at Risk program to assist scholars who face persecution in their home countries.
Harvard launches Curricular Review to undertake a comprehensive review of the undergraduate curriculum and ensure Harvard's continuing prominence among institutions of higher education.
Harvard opens the David Rockefeller Center for Latin American Studies' (DRCLAS) regional office in Santiago, Chile, the first Harvard-run study abroad program office. A second center will open July 1, 2006, in S"o Paulo, Brazil.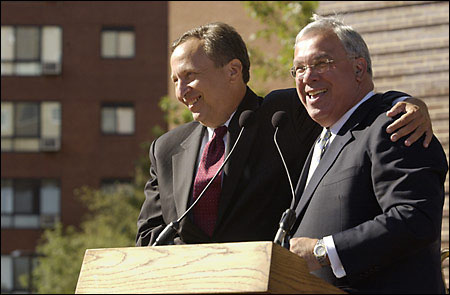 2003
Harvard leads seven other universities, files an amicus brief in Supreme Court case in support of the right of institutions of higher education to consider race as one factor in a careful and individualized admissions system. Summers appoints Elena Kagan, first female dean of the Law School.
Presidential Scholars program created in an effort to make a Harvard education more accessible and affordable for students who wish to pursue careers in public service. The University establishes new financial aid initiatives.
The Law School launches a $400 million capital campaign.
South Asian studies expands to enhance global studies at Harvard.
A new concentration in African studies is established by a cooperative arrangement between the Department of African and African American Studies and the Committee on African Studies.
Harvard Medical School establishes the Department of Systems Biology, one of the first department-level systems biology programs in the nation.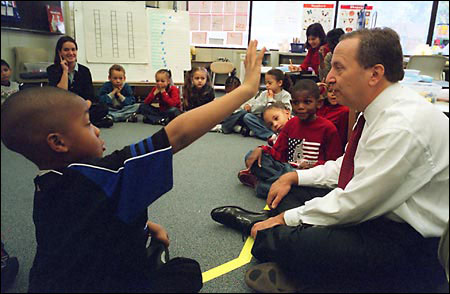 Summers outlines programmatic assumptions to guide the University's thinking about its future in Allston and creates five task forces to examine the feasibility of each idea.
The Harvard Graduate School of Education and the Harvard Business School join forces to establish the Public Education Leadership Project, a professional education program for the leadership teams of nine urban school districts from across the country. The University opens graduate housing for 365 students at One Western Avenue in Allston, part of a larger effort to alleviate the burden on the local housing market.
The president and other Harvard administrators visit London during what is thought to be the largest gathering of Harvard alumni outside of the United States.
Harvard announces the $100 million pledge from Eli and Edythe Broad to found the Harvard/MIT Broad Institute, an interdisciplinary initiative in genomics and medicine.
Working in collaboration, Harvard, the city of Boston, and the Allston Brighton Community Development Corporation break ground on 50 affordable housing units in Allston. Harvard's $2.8 million grant to support affordable housing projects in Massachusetts is one of the largest ever made by a private institution.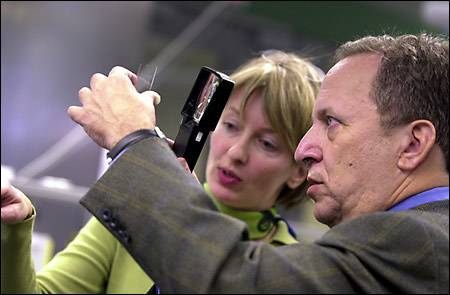 2004
Harvard launches the Harvard Stem Cell Institute composed of seven schools, seven teaching hospitals, and close to 100 researchers and scientists with the goal of using stem cells to help the 150 million people nationally living with or dying from five types of organ and tissue failure.
Harvard establishes the Crimson Summer Academy to prepare talented and low-income students from Cambridge and Boston for the rigors of college academics.
Summers teams up with Michael J. Sandel, Anne T. and Robert M. Bass Professor of Government, to teach ≥Globalization and Its Critics≤ to 400 students.
In the first formal visit to Latin America by a Harvard president, Summers visits Chile and Brazil and lays groundwork for opening a second Rockefeller Center regional office in S"o Paulo.
The Graduate School of Arts and Sciences receives its largest financial commitment in history in establishing a partnership agreement with the government of Mexico, creating a premiere fellowship program at Harvard for outstanding Ph.D. students from Mexico.
Harvard celebrates the rededication of Widener Library following a five-year renovation project.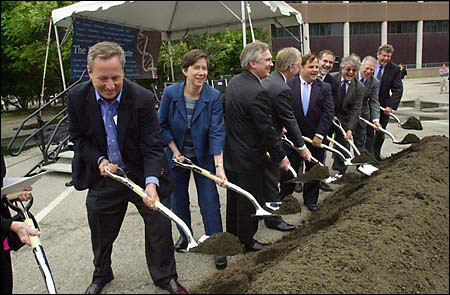 The University establishes the Harvard Integrated Life Sciences (HILS) program in order to bring together faculty and students from 11 Ph.D. programs across four faculties to pursue interdisciplinary studies.
Harvard implements a financial aid plan eliminating the contribution of families making less than $40,000 and lowering the expected family contribution for families making between $40,000 and $60,000.
Harvard partners with Google to digitize a substantial number of the Harvard Library's volumes.
2005
Summers establishes task forces to study ways to reduce barriers faced by female Harvard faculty and to examine the issue as it relates more broadly to academic careers.
The Faculty of Arts and Sciences begins construction on the Northwest Science Building with the intention of encouraging collaborative, cross-disciplinary research.
The Task Force on Science and Technology releases a report recommending science initiatives to take the University into the 21st century, including stem cell research. In response to the Darfur crisis, Harvard divests from PetroChina, a company with ties to the Sudanese government.
In response to task force recommendations, Harvard creates the position of senior vice provost for faculty development and diversity. Evelynn Hammonds, professor of the history of science and of African and African American studies, is appointed. Harvard unveils new funds to ≥green≤ the campus aimed at making Harvard the nation's top university purchaser of renewable energy.
The University releases a report on Allston proposing preliminary options for a basic campus and urban framework in Allston.
The Allston Exhibit Room is opened to encourage community engagement in the planning process.
Harvard completes new Center for Government and International Studies (CGIS), a 249,000-square-foot complex that provides a space for dozens of researchers affiliated with Harvard's Department of Government and various centers devoted to international and regional studies.
The Business School completes a $600 million fundraising drive.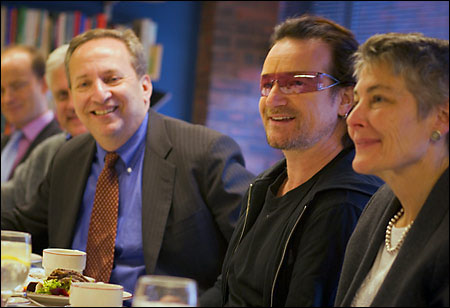 2006
Harvard announces first steps in Allston, including the selection of Behnisch Architekten to design the science complex, and the creation of interim arts and cultural facilities.
Harvard establishes a $50 million Professorship Challenge Fund, supported by alumni, to encourage gifts from alumni and friends to endow named professorships across the University and provide other critically needed faculty support.
The Harvard Business School Research Center and the Harvard University South Asia Initiative open offices in India. Summers travels to India to kick off the Harvard School of Public Health's China-India Comparative Project, and speaks at a Harvard Alumni Association event.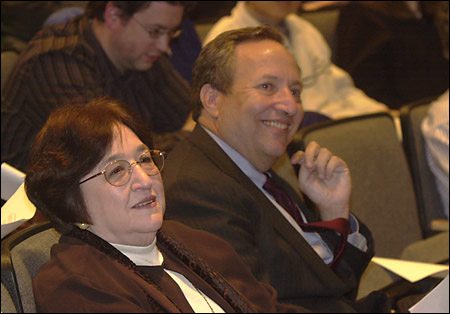 Harvard expands 2004 special financial aid initiative eliminating the contribution of families making less than $60,000 and lowering the expected family contribution for families making between $60,000 and $80,000.
Harvard proposes that the Division of Engineering and Applied Sciences become the Harvard School of Engineering and Applied Sciences, thus establishing its first new School in 35 years.