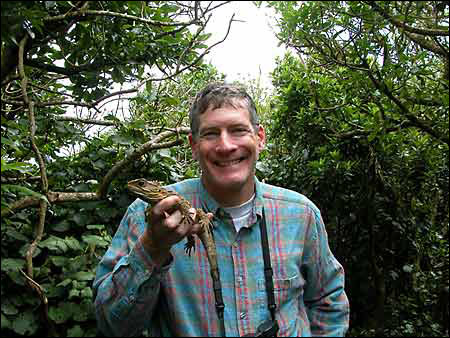 Leading evolutionary ecologist Jonathan B. Losos, whose study of Caribbean Anolis lizards has profoundly shaped our understanding of ecology's impact on species biodiversity, has been appointed the first Monique and Philip Lehner Professor in the Department of Organismic and Evolutionary Biology in Harvard University's Faculty of Arts and Sciences, effective July 1.
Losos, 44, is currently professor of biology and chair of the Environmental Studies Program at Washington University in St. Louis, where he has taught since 1992.
"As his peers attest, Professor Losos is an outstanding animal ecologist," says William C. Kirby, Edith and Benjamin Geisinger Professor of History and Dean of the Faculty of Arts and Sciences. "Almost single-handedly, he has propelled his field strongly forward through his study of the intersection of ecology and evolution. His teaching has been superb, distinguished by two graduate teaching prizes at Washington University and his mentoring of more than a dozen undergraduates who have conducted research in his lab."
Focusing on the behavioral and evolutionary ecology of the widespread tropical Anolis lizards, Losos has used this genus to test fundamental questions about specialization, niche, and evolutionary change in species far beyond lizards. His major areas of inquiry have concerned how species interact with their environment and how lizard subgroups have diversified evolutionarily.
Losos has teased out concrete connections between species' morphology, niche, and interspecies competition, augmenting the conventional wisdom that morphological differences reflect differences in ecological niche. His work has also greatly strengthened ecologists' understanding of the relationships between species and land area, a subject that is of particular importance in conservation planning. He is currently carrying out landmark studies on the loss of biodiversity due to storms and the recovery process following such disturbances.
Characterized by broadly integrated studies that incorporate behavioral, ecological, morphological, and molecular phylogenetic approaches, Losos' work has produced numerous seminal publications in top research journals, and is now also finding its way into college and high school biology textbooks.
Losos is a graduate of Harvard College, which awarded him an A.B. in biology in 1984, and the University of California, Berkeley, where he received a Ph.D. in zoology in 1989. He was a postdoctoral researcher at the Center for Population Biology at the University of California, Davis, from 1990 to 1992, during which time he received the prestigious Dobzhansky Prize of the Society for the Study of Evolution. He joined Washington University as an assistant professor in 1992, rising to associate professor in 1997 and professor in 2001. From 2000 to 2003 he was also director of the Tyson Research Center, Washington University's 2,000-acre field station in Eureka, Mo.
Losos received a five-year fellowship in science and engineering from the David and Lucile Packard Foundation in 1994. Since 2002 he has served as editor of the journal American Naturalist, widely regarded as the most prestigious in animal ecology.
The Monique and Philip Lehner Professorship for the Study of Latin America in the FAS was created in 1999 by the Lehners to support the David Rockefeller Center for Latin American Studies. It can be allocated by the dean in consultation with the center to any FAS department. Mr. Lehner '46, A.M.P. '69, is chairman and CEO of Leigh Fibers Inc.; Mrs. Lehner is a consultant specializing in historic preservation.