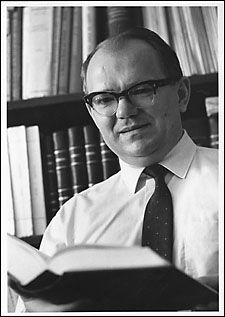 Omeljan Pritsak, co-founder and longtime director of Harvard's Ukrainian Research Institute, died May 29. He was 87.
Born in Ukraine and educated in Ukraine and Germany, Pritsak became an internationally recognized scholar in historical and comparative Turkic and Altaic linguistics, and a leading authority on the history and culture of the Eurasian Steppe. A professor of Turkology at the University of Hamburg, Germany, Pritsak joined the Harvard faculty in 1964 as professor of linguistics and Turkology.
At Harvard, he resumed his earlier study of Ukrainian history, drawing on his extensive knowledge of Central and East Asian languages to flesh out that history with material previously underrepresented or unknown.
In 1967, Pritsak proposed the establishment of three endowed chairs in Ukrainian studies at Harvard (history, literature, philology) and the creation of a research institute. Financed largely by the Ukrainian diaspora community, the Ukrainian Research Institute came into being in 1973 with Pritsak as its first director. In 1975, he was appointed the Mykhailo Hrushevsky Professor of Ukrainian History.
In 1977, Pritsak helped to launch the journal Harvard Ukrainian Studies. He was instrumental in the organization of a weekly seminar series, building up the Ukrainian library collections, and in developing a new series of publications that made primary texts, facsimile editions, and translations of important works of the Ukrainian past available to scholars worldwide.
A scholar of enormous erudition and a dedicated teacher, Pritsak helped to train and influence many generations of students who have gone on to fill important academic positions in the United States, Canada, Europe, and Asia.
When he retired in 1989, Pritsak became increasingly involved in the revival of academic studies in Ukraine itself. He was elected the first foreign member of the Ukrainian Academy of Sciences. He revived the Institute of Oriental Studies in Kiev, introducing new programs in that field and many other neglected areas of historical scholarship.
Pritsak's first wife was the late Nina Moldenhauer Pritsak.
He is survived by his wife, Larysa Hvozdik Pritsak; his daughter, Irene Pritsak; and two grandchildren. A memorial service is planned for the fall of 2006.